Data has become a strategic asset for businesses striving to thrive and compete in the fast-paced realm of modern business. But here's a twist – raw and unstructured data is a treasure trove of untapped potential. In other words, data in its raw form, no matter how powerful or vast, is like a goldmine waiting to be discovered and excavated. This is where the need for data visualization comes in, facilitating users to extract meaningful patterns and insights from the data deluge. With the help of visualization tools, raw data that remains elusive, complex, and overwhelming can be quickly transformed into a compelling story that resonates with everyone across the organization, from the boardroom to the frontlines. This may be the reason behind the surging demand for data visualization tools among organizations of all sizes. In fact, a recent research report indicates that the global data visualization tools market size is predicted to grow from 10.39 billion USD in 2023 to 22.12 billion USD by 2030 at a double-digit CAGR of 11.4% during the forecasted period.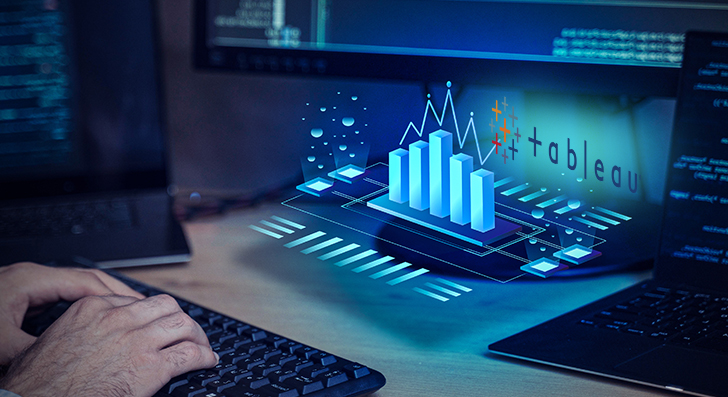 When it comes to data visualization, there is an overwhelming number of tools that can transform raw data into meaningful insights for actionable decision-making. Amidst a plethora of tools, Tableau has emerged as a game-changer since it allows anyone to create rich and interactive visualizations without being a data expert. The intuitive interface and drag-and-drop functionality of Tableau not only democratizes data visualization but also bridges the gap between data and decision-making. Furthermore, data visualization with Tableau allows users to turn chaos into clarity and uncertainty into untapped opportunities that position organizations ahead in the dynamic landscape of the digital realm.
Key Features of Tableau That Redefine Data Visualization
1. Data Connection and Integration
Tableau excels in data connectivity, allowing users to connect and fetch data from disparate sources, including local files, relational and non-relational databases, spreadsheets, data warehouses, Cloud-based platforms, and web services. This feature ensures that users can access and analyze data from various sources, providing a holistic view of the information. The interesting thing to note is that Tableau also supports a wide array of data connectors such as Presto, MemSQL, Google Analytics, Google Sheets, Dropbox Salesforce, SQL Server, Cloudera, Hadoop, Amazon Athena, and many more.
2. Sharing and Collaboration
Tableau makes it simple to collaborate with other users by instantly sharing data in real-time in the form of sheets, visualizations, and dashboards to platforms like Tableau Online, Tableau Server, or Tableau Public. This facilitates easy data sharing and collaboration with both internal and external stakeholders, allowing users to disseminate insights effectively and get reviews or feedback in real-time, resulting in a better overall analysis.
3. Rich Visualization Capabilities
Tableau offers a rich library of data visualization options, including line charts, bar charts, pie charts, Gantt charts, motion charts, scatter plots, heat maps, treemaps, geographic maps, and much more. These are highly customizable, enabling users to effectively represent data in the form of rich and interactive visualizations.
4. User-friendly Interface
Another impressive feature of Tableau that makes it standout in the market is its user-friendly interface. It offers a drag-and-drop functionality, making it accessible to users with varying technical skills and backgrounds. With its intuitive design, users can effortlessly create both simple and complex data visualizations, making it an ideal choice for business professionals and data professionals alike.
How to Make Data Democratization a Reality with Tableau
Illuminating the Path to Data-driven Excellence: Key Advantages of Tableau
I. Cost-efficient
Tableau is a relatively affordable data visualization software solution compared to its counterparts such as Qlik and Business Objects, making it an attractive choice for small and mid-sized businesses. It offers an array of licensing options to meet diverse organizational needs. By providing flexible licensing models, this data visualization tool ensures that organizations of varying sizes can leverage its capabilities without breaking the budget.
II. Mobile Responsive
In the mobile-first world, it becomes imperative to have data visualization software that allows users to access or view reports and dashboards right from their smartphones. Tableau is one such tool that allows users to access and interact with visualizations across all mobile devices including smartphones and tablets. The mobile responsiveness optimizes the data reports tailored to the device size and serves as the best viewing option for decision-makers, enabling them to access critical insights on the go.
III. Integration With Multiple Scripting Languages
Tableau integrates seamlessly with popular statistical and programming languages to enhance the computation speed while overcoming the performance issue. For instance, users can take the load off the visualization software using Python scripts and perform data cleansing tasks with ease. The thing important to note is that Python is not a native scripting language of Tableau, however, users can still import the visual packages of the language. Besides this, Tableau integration with scripting languages empowers users to perform predictive modeling and advanced data analytics directly within the data visualization software to gain deeper insights and make more informed data-backed decisions.
The 8-Step Guide to Create Stunning Visuals From Raw Data Using Tableau
Step 1: Install and Set Up Tableau
The journey to creating rich visualizations from raw data begins with Tableau installation and setup.
Step 2: Connect to Data
Tableau is designed to work with disparate data sources, including databases, spreadsheets, data warehouses, cloud-based platforms, web services, and more. To get started, click on "Connect to Data" and select the data source to establish the connection.
Step 3: Prepare Data
Leverage the data preparation tools to cleanse and shape data. Remove duplicates, handle missing values, and ensure the dataset is well-structured.
Step 4: Build a Worksheet
Now, start creating visualization by dragging and dropping relevant fields from the data source onto the Rows and Columns. Select the type of data visualization (e.g., scatter plot, histogram, bar chart, Gantt chart) from the Show Me panel.
Step 5: Customize Visualizations
Customize the appearance of visualizations by adjusting fonts, colors, labels, and formatting. Add captions and titles to make visualization more informative.
Step 6: Create Tableau Dashboards
To present multiple visualizations in a single view, users can simply create dashboards by clicking on the "Dashboard" tab", dragging worksheets onto the dashboard canvas, and arranging them as needed.
Step 7: Implement Storytelling
Use the "Story" tab to create compelling data narratives by combining worksheets and dashboards. Organize visualizations in such a manner that they resonate with the audience.
Step 8: Publish and Share
Save the Tableau worksheet and share it with other stakeholders by publishing the same to the Tableau Server, Tableau Online, or export it as a Tableau packaged workbook (.twbx).
Summing Up
Tableau is not just another data visualization tool, it is the compass that allows users to identify trends, uncover hidden patterns, and discover opportunities that would otherwise remain hidden. In other words, Tableau empowers users with the ability to navigate through the intricacies of raw and unstructured data to cut through the noise and lead with data-driven confidence. If you are also planning to embrace Tableau as your data visualization ally, it's wise to seek end-to-end consultation from a reliable BI and Data Analytics partner that can help you streamline operations, enhance customer experiences, and seize untapped opportunities.