The modern banking sector is not just limited to cash deposits, account openings, or loan processing. Over the past few years, it has evolved exponentially to launch several new verticals including fraud detection, fraud mitigation, recovery, credit card, and more. Each of these departments involves a slew of transactional processes that are time-sensitive, repetitive, and mundane.
One of the major challenges for the professionals working in banking and financial services is to perform their duties sans any mistake, since even a minor error can incur significant losses. That's why, many banks and financial institutions are on the lookout for a robust automation tool that not only addresses the challenges faced by banking and financial personnel but also offers improved operational efficiency, 100% accuracy, and reduced costs.
This is where the role of RPA comes into the fore. As per a report published by McKinsey, RPA can fully automate 42% of finance activities. In fact, some banking and financial institutions are already leveraging RPA to automate repetitive, laborious, and time-intensive tasks such as mortgage processing, claims processing, transactional data management, collections, billings, compliance, operational accounting, accounts receivables, and whatnot.
How RPA in Finance Can Be a Game Changer
1. Automatic Report Generation
Regularly, banking and financial institutions have to prepare compliance reports for all the fraudulent transactions in the form of SARs (suspicious activity reports). Earlier, compliance officers used to read such detailed reports manually to fill out the pertinent details in the suspicious activity report form. This extremely laborious and mundane task demands an enormous amount of effort and time. However, with implementing RPA, this cumbersome task can be done in a quick turnaround time. In other words, the digital workforce will skim all those lengthy compliance documents and extract the precise information that needs to be filled in a SAR form. This will not only cut down the operational cost but also save a significant amount of time.
2. Customer Onboarding or Account Opening
Opening a new bank account is a lengthy process since a lot of documents need to be verified manually. However, this lengthy process of customer onboarding can be automated with implementing Robotic Process Automation (RPA). The RPA tools will quickly extract the relevant data of customers from the KYC documents by leveraging the popular OCR (optical character recognition) technique. The extracted data can further be validated with the data given by customers in the account opening form. If there is no discrepancy found post data validation, the same data can be automatically fetched into the CRM portal of banking and financial institutions. In a nutshell, financial services automation with RPA will not only help in reducing manual errors but also save a lot of productive hours and effort invested by a banking staff.
3. Credit Card Processing
Similar to account opening or customer onboarding, credit card processing is a lengthy and cumbersome process because of multiple validation checks conducted by banks. However, with implementing Robotic Process Automation (RPA), banks can quickly approve or disapprove the request of an applicant by simply using a rule-based approach.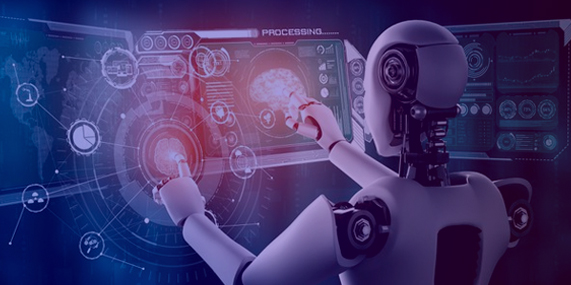 4. Loan Processing
Loan processing is another tedious process that eats up most of the productive time of an employee. Though many banks have embraced intelligent automation in financial services and automated the cumbersome loan process to a certain extent, however, with RPA implementation, they can further automate it and bring it down to barely 10-15 minutes.
Benefits of Robotic Process Automation (RPA) in Banking
Cost-effective solution
Cost-saving is critical to every business domain. The banking industry is also emphasizing on cost savings. While some have a perception that Robotic Process Automation (RPA) doesn't help in cost savings but is useful only in operational efficiency, various survey reports suggest otherwise. The incorporation of RPA in the banking system can save around 25-50% of the overall costs.
Higher adaptability towards changes
In business, adaptability towards something new requires a good amount of time. When you've a rigid system in place, it becomes quite challenging to implement the suggested changes in a process, however, in the case of RPA, software bots are flexible enough to integrate any change, and that too, in a lesser period of time.
Rapid implementation
Robotic Process Automation (RPA) in the baking industry is quick and easy to implement. In fact, the software bots could be tested in short cycle iterations. Thus, banks can save a great amount of time, when it comes to implementation.
Wrapping Up
The key takeaway from the RPA use-cases discussed in this insightful piece is that Robotic Process Automation holds immense potential and if implemented properly can help banking and financial institutions increase productivity, improve work efficiency, cost-saving, and customer satisfaction. In short, RPA is poised to transform banking and the financial industry. So, don't get left behind. Seek a consultation from our seasoned RPA professionals today itself.