When it comes to streamlining sales, marketing, and customer service operations, there is no better option than Salesforce. Despite being a game-changer, Salesforce can become a costly investment when not managed in an efficient manner. This is where Salesforce managed services come into picture.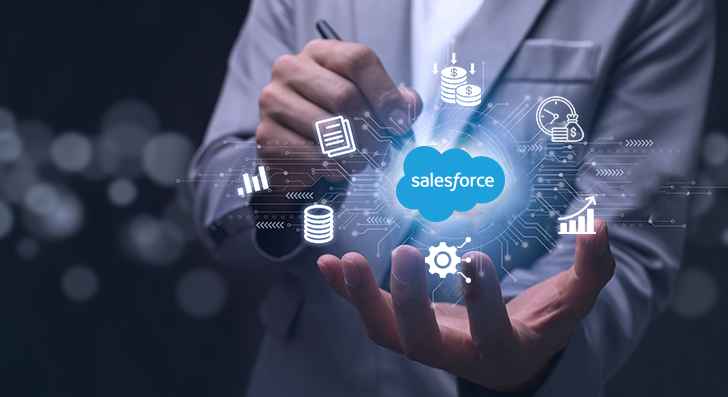 In this blog, we'll explore the concept of Salesforce managed services, the role of Salesforce managed service providers, and how partnering with a Salesforce managed services partner can help you optimize costs while maximizing the benefits of your CRM platform.
Salesforce Managed Services refer to the practice of outsourcing the ongoing management and maintenance of your Salesforce platform to a third-party provider. These services are designed to help organizations optimize their Salesforce instance, improve user adoption, boost functionality, and reduce operational costs.
Top Advantages of Salesforce Managed Services
1. Proactive Maintenance
Managed service providers (MSPs) keep an eye on your Salesforce setup in order to spot problems early and fix them. This aids in avoiding expensive disruptions and downtime.
2. Cost Efficiency
By outsourcing Salesforce management, organizations can reduce their internal IT costs, such as hiring and training in-house Salesforce administrators and Salesforce developers.
3. Adaptability
Managed service providers can scale their services up or down based on the evolving needs of your organization. This adaptability allows you to adapt to changing business requirements without the hassle of hiring and training new staff.
4. Access to Expertise
MSPs work with certified Salesforce specialists who are knowledgeable about the most recent platform features and best practices. This ensures that your Salesforce instance is always optimized for peak performance.
The Role of Salesforce Managed Service Providers
Salesforce Managed Service Providers (MSPs) play a critical role in helping organizations harness the full potential of their Salesforce investment. Let's delve into the key responsibilities and advantages of partnering with an MSP.
1. Comprehensive Support
System Administration

MSPs handle routine tasks such as user management, security configurations, and data backup to ensure your Salesforce instance is running smoothly.

Custom Development

Skilled developers can create custom solutions to address your unique business needs, enhancing the functionality of Salesforce without the need for in-house development resources.

Data Management

MSPs ensure data integrity and cleanliness by implementing data validation rules, deduplication, and data migration services.
2. Strategic Guidance
Best Practices

MSPs offer guidance on best practices for Salesforce implementation, helping you make the most of the features of your platform.

Roadmap Planning

They assist in creating a strategic roadmap for your Salesforce instance, aligning it with your business growth plans and objectives.

User Training

MSPs provide training sessions to improve user adoption and ensure your team is using Salesforce efficiently.
3. Monitoring and Optimization
Proactive Monitoring

MSPs continuously monitor your Salesforce instance to identify performance issues and potential bottlenecks.

Optimization

They optimize workflows, processes, and configurations to boost the overall performance and user experience.
Start Your CRM Transformation Journey
Proactive Cost Management with Salesforce Managed Services
Salesforce Managed Services play an important role in cost management for organizations using the Salesforce platform. Here's how these services help control costs:
1. More Predictable Costs
Salesforce Managed Services generally operate on a subscription-based model with predictable monthly or annual fees. This cost predictability helps organizations to budget more effectively, eliminating unexpected expenses related to system issues and downtime.
2. Decreased Resource Costs
One of the most considerable cost-saving advantages of Salesforce Managed Services is the reduction in staffing costs. By outsourcing Salesforce management to an experienced Managed Service Provider (MSP), organizations can reduce or eliminate the need to hire, train, and retain in-house Salesforce administrators and Salesforce developers. This results in significant savings in salaries, benefits, and recruitment expenses.
3. Improved Expertise and Efficiency
Managed services providers employ certified Salesforce experts who specialize in managing and optimizing the platform. These professionals have in-depth knowledge and experience, enabling them to resolve issues quickly and efficiently. This decreases the amount of time and effort needed to maintain and troubleshoot the Salesforce instance, resulting in cost savings over time.
4. Improved Scalability in Operations
Managed service providers can tailor their services to meet the specific needs and growth trajectory of your organization. As your business evolves, you can easily scale their services up or down, ensuring that you only pay for the support and resources you require. This scalability eliminates the need to hire additional personnel during periods of growth, saving on recruitment and training costs.
5. Better Risk Mitigation
Proactive monitoring and issue resolution by managed service providers help mitigate the risk of costly occurrences, such as data loss, system outages, or security breaches. The financial impact of these incidents can be significant, including potential regulatory fines and reputational harm. By preventing these issues, Salesforce Managed Services can spare your organization from large financial losses by preventing these problems.
6. Increased Efficiency
MSPs help streamline processes, optimize configurations, and improve system performance. These efforts result in greater overall efficiency across your organization. When your Salesforce instance operates more efficiently, your teams can accomplish tasks faster, decreasing labor costs and freeing up employees to focus on more strategic activities.
7. Reduced Opportunity Costs
Opportunity costs occur when resources are diverted from core business activities to manage and troubleshoot Salesforce. Managed Services allow your staff to allocate their time and energy to revenue-generating tasks, customer engagement, and innovation, rather than dealing with technical issues.
8. Up-to-Date Knowledge
Salesforce is a platform that is always changing and adding new features. Continuous learning and training are necessary to stay up to date with these changes and best practices. MSPs make sure their employees stay informed of new developments, enabling your business to take advantage of the newest Salesforce features without having to spend money on continuous training and certification fees.
9. Minimal Downtime
Proactive monitoring and maintenance by Salesforce Managed Service Providers help prevent system downtime and performance issues. Downtime can be quite costly, especially for businesses that depend on Salesforce for critical operations. The ability to maintain high availability and performance can save your organization from potential losses associated with downtime.
10. Customized Cost Controls
MSPs work with you to understand your unique business requirements and budget constraints. They can help you implement cost controls and optimization strategies customized to your organization's particular needs, ensuring that you receive the maximum value from your Salesforce investment.
Conclusion
Salesforce is an effective platform that may greatly improve the sales, marketing, and customer service operations of your company. However, working with a Salesforce Managed Services Provider is essential if you want to receive the maximum benefits while successfully managing costs. You can guarantee a proactive approach to cost management, more productivity, and a greater ROI by giving experts control over the management and optimisation of your Salesforce instance.
When looking to optimize Salesforce with Managed Services, remember to select the right Salesforce partner with the expertise, flexibility, and commitment to the success of your organization. With the right MSP by your side, you can leverage Salesforce to its fullest potential while maintaining control over your budget.