Did you know? As per a report on Gartner , 80% of finance leaders have implemented or are planning to integrate Robotic Process Automation (RPA). It does make sense given financial institutions are constantly looking for better ways to effectively manage their mundane labor and time-intensive tasks and concentrate on providing a better consumer experience. But the truth is a little more complex than that.
While you can fully automate processes end to end by taking advantage of intelligent RPA, without the practical assessment, it may not hit the bull's eye. Further, enhancing efficiencies and optimizing operations needs more than just outsourcing or upgrading systems – it requires innovation. Therefore, it's important to keep a critical eye so that implementing RPA in financial services helps improve the speed, drive growth and amplify employee productivity.
Understanding the Need for Robotic Process Automation in Finance
As we have discussed earlier, Robotic process automation in finance can shape the outcome in the future. As with automation, businesses are better equipped to perform repetitive manual tasks such as data entry, data capturing and verification, Know Your Consumer, financial reporting and closing, etc., at an exponentially faster speed and much more proficiently than a manual operator. Businesses thus embrace automation as it sustainably revolutionizes processes at every level and enables employees to focus on creativity, planning, and decision-making. It assists them in providing exceptional customer experience, addressing the other business-related challenges smartly, and complementing their peers in the industry.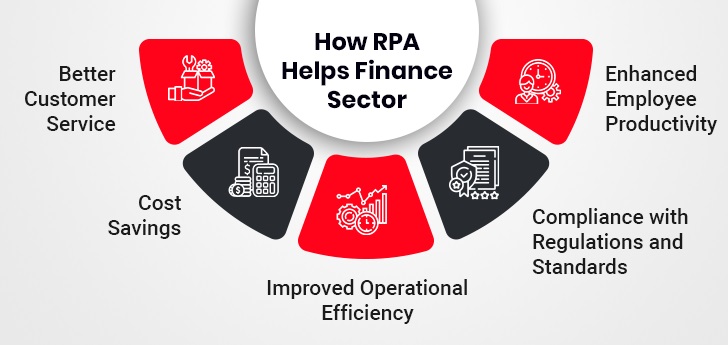 RPA Use Cases in Finance
Automation brings in a plethora of business opportunities for both organizations and individuals. Leveraging RPA in financial services bridges gaps in legacy systems and drives greater efficiencies, including operations and audits. It helps businesses to accelerate time to value, increase throughput and reduce the possibilities of human error. Let's read some of the use cases of robotic process automation in finance in detail:
1. Data Management
Delivering operational and financial reports is often a challenge for businesses operating in this sector. And rightly so, as making these reports includes various non-core yet essential business activities like data collection, data processing, cleaning, formatting, aggregating, and analysis to get business-critical insights. RPA technology thus assists the businesses by taking over all of these tasks, resulting in better turnaround time and the efficient representation of relevant business insights.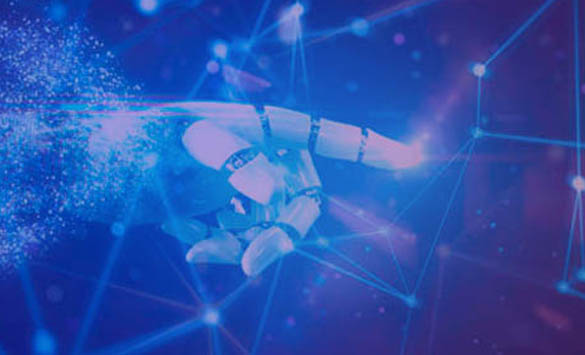 2. Account Reconciliation
The bots can efficiently manage processes, including uploading transaction data from various sources and executing exceptional research and validation. Further, robotic process automation can oversee the task of account reconciliation that includes creating, balancing, noting, and remediating discrepancies within the journal entries. It also moderates the repetition of posting data from applications such as Excel to sub-ledgers. Further, automation helps businesses with financial closing and reporting by creating and delivering compliant financial data to regulatory bodies.
3. Compliance
The nature of the industry demands that financial institutions, banks, and insurance companies be legally compliant. Adhering to these laws becomes challenging for businesses as every state, country, company, trade union, etc., has different standards. Whereas failing to comply with these rules can lead to lawsuits and fines. Thanks to the RPA in the finance sector, the new virtual workforce addresses the inconsistencies in real-time and assists companies in abiding by the laws. These intelligent bots also ensure that the KYC information is accurate, helping boost a company's reputation.
The Way Forward – Intelligent Process Automation
All in all, leveraging RPA in financial services is the only sustainable way forward to cope with the rising costs and shrinking budgets. This virtual workforce can get integrated with existing systems, thus translating into faster processes, quicker time-to-market, and efficiency gains. It would also assist the organizations in elevating their customer experience, employee experience and ease their procurement processes. Therefore, it's only practical to implement intelligent automation for both the institution and the employee. Also, the best thing is, RPA, when combined with AI (an emerging technology and thing of the future), results in an IPA or Intelligent Process Automation. It supports businesses with rules-based decision-making tasks, thereby significantly enhancing the bottom-line growth of every business.