The problem of getting lost in an outdoor setting has largely been solved with the advent of Global Positioning System (GPS) technology. Today, if someone needs directions to a particular location, Google Maps can guide them from start to finish. However, navigating an indoor space, let's say, hospitals, museums, cultural centers, airports, department offices, etc. can be a daunting task for users since GPS technology won't be helpful in an indoor setting. This is where the need for a digital wayfinding solution comes in.
With digital wayfinding application development, businesses can simplify the navigation journey and guide customers to where they are heading. In other words, wayfinding application development not only enhances the customer experience (CX) but also improves brand trust and loyalty. This may be one of the reasons why businesses across industries from aviation to retail, healthcare, hospitality, manufacturing, and more are embracing digital wayfinding solutions for their indoor space. As a result, the global digital signage market is rapidly growing and is estimated to reach 45.94 billion USD by 2030. Now, let's dig deeper into how wayfinding application development can improve customer experience and benefit businesses across industry verticals.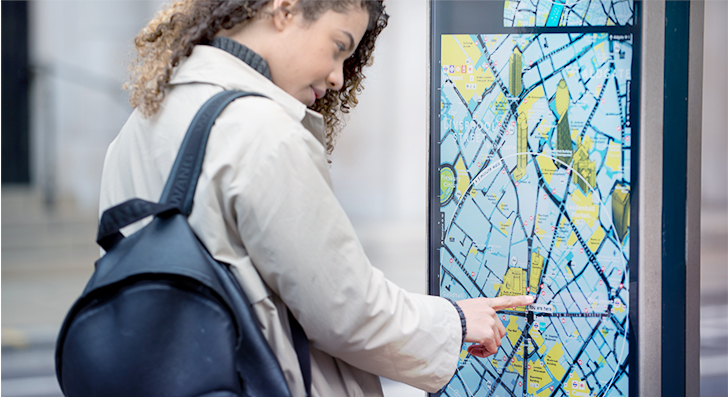 1. Drive an Influx of Customers
Businesses that provide extraordinary experiences are likely to attract more customers. With wayfinding application development, enterprises can quickly address the needs of their customers and provide them with the detailed information they are looking for. In other words, indoor digital mapping solutions allow organizations to create a rich and immersive virtual tour of all the places that customers would like to see. This assures them that they will be able to locate where they are or where they need to go with ease.
Many digital wayfinding solutions allow businesses to drive customers to their stores by offering special discounts. Besides this, personalized promo codes can be programmed in such a manner that they automatically trigger when someone passes by a particular location, which in turn, encourages them to visit the store and take advantage of discounts and offers. The bottom line is that digital wayfinding solutions can transform the customer journey at large (and may also incentivize it). As a result, customers are more likely to visit a store that offers interactive digital maps over a similar business that doesn't.
2. Increased Customer Engagement
Interactive wayfinding signage does more than just guide customers to where they are heading. In fact, a digital wayfinding solution can be leveraged to improve customer engagement by allowing them to interact with businesses. In other words, customers are more likely to connect with a brand with whom they interact.
Using indoor digital mapping solutions, customers can quickly pinpoint the location where they are and navigate through unfamiliar places. Furthermore, they can quickly scan all the areas of an establishment and discover new places that they would have missed otherwise. This simply indicates that every customer interaction is an opportunity for businesses to improve customer engagement and loyalty, brand image, sales, and cost reduction.
Businesses can simply incorporate logos, promotions, and other marketing collaterals in digital wayfinding signage to encourage customers to remember them. This presents an opportunity for upselling or cross-selling with other brands since wayfinding signage not only provides directions to customers they need to navigate around the establishment faster but also encourages them to spend more. In a nutshell, guiding customers with a way to locate things quickly can not only reduce stress and make waiting less painful but also increase the possibility of spending more time in an establishment resulting in more sales.
3. Customization and Personalization
Digital wayfinding signage unlocks a sea of opportunities for businesses by allowing them to personalize their customer journey. Unlike static wayfinding signage, where every customer gets the same generic information, digital and interactive mapping solutions allow businesses to not only personalize the customer journey but also customize the messages and offer tailored recommendations to them, which in turn, creates a lot of interest and improves customer experience and satisfaction.
With the help of indoor positioning technologies such as interactive wayfinding signage, businesses can collect data pertaining to the end-to-end customer journey. This enables businesses to offer bespoke recommendations to visitors based on their frequently-visited locations, searches, and visit history. On a large scale, businesses can identify the areas or products that are popular among customers using analytics and leverage the data for their marketing efforts.
Summing Up
Interactive digital mapping solutions streamline the customer journey and make it more convenient and hassle-free. With digital wayfinding application development, businesses can not only guide customers to navigate around an establishment but also increase customer engagement, improve brand image, and unlock new marketing opportunities. If you are also thinking of omnichannel mapping for your business, you may consider seeking consultation with a reliable digital wayfinding signage specialist. With that said, you can discover how to redefine the customer experience and take it to the next level.
Case in Focus
A Cleveland-based software development company was looking for strong technical expertise and end-to-end development capabilities to improve its wayfinding solution. After collaborating with a reliable technology partner, the client was able to develop a native mobile wayfinding solution for both iOS and Android platforms with smart routing capabilities to improve wayfinding. The end solution helped the client streamline the customer journey, improve operational efficiency, and capture new business opportunities