In this modern digital age, the majority of businesses use computer links and files compared to traditional drawers and papers. This digitization helps businesses in saving resources and time and offers better accessibility for their clients as well as for themselves. The file and format types used to provide accessibility have evolved over time to accommodate the needs for compatibility, variability, and features that a file can deliver.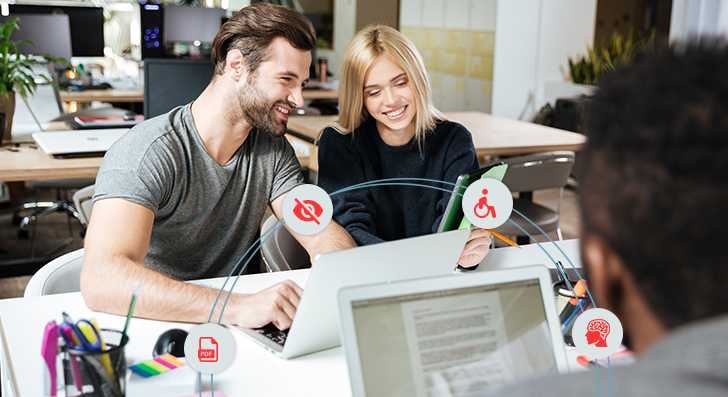 PDF or Portable Document Format is one of the most common file types used. It is a format of Adobe Acrobat files. Since PDFs are compatible with most software and are a reliable way to share information online, they are pretty much used by everyone. People can share PDF docs without losing any information. Nevertheless, there are certain limitations of these docs in terms of some accessibility features, which can create issues in viewing the PDF contents for all.
How Does an Accessible PDF Differ from a PDF?
The accessibility feature was added to the PDF eight years after its introduction by Adobe Acrobat. Accessible PDF is a document that offers multiple extra features that make accessing the records easier and more effective. The features ensure that people with disabilities including cognitively or visually impaired people can access the document.
Every tagged PDF does not automatically become an accessible PDF. A file is considered to be accessible only if it is able to meet a set of guidelines for accessibility. Tagging is just one crucial aspect of an accessible PDF. An accessible PDF looks almost like a regular PDF but with a few enhancements.
Why are Accessible PDFs Important for Your Business?
Here are some vital reasons why you need accessible PDFs for your business:

1. Use of Navigational Features
An accessible PDF helps save time with the help of tags for specific categorizing of information. Such a document also contains tags for images, headings, tables, paragraphs, lists, graphs, and table headers. These features redirect you instantly to the section you are searching for. To find out if your PDF is equipped with tags, go to the Properties section under the File menu. Click on the General Tab. Ensure that the Tagged PDF property in the bottom left column of the document says 'Yes'. Tags help you search for a list or chapter in your document without the need for scrolling through everything. This helps you save time and effort.
2. The Convenience of Searchable Text
Based on the content, a document can have a single page or multiple pages. The searchable text feature of an accessible PDF helps you work more efficiently by skimming through every page and looking for the phrase, clause, or word you typed in the search bar. The feature helps you save time and energy as you don't have to read the document from beginning to end while looking for a particular statement. However, before you can discover the text included in the picture, you would need Optical Character Recognition (OCR) for text within images. The searchable text helps the user save their business time by tracking down the necessary piece of the document with an accessible PDF.
3. Commands and Preferences for Assistive Technology Devices and Software
One of the most remarkable features of accessible PDFs is their ability to be optimized for outputs in assistive technology. These technologies are a kind of software, programs, or equipment that allow people with disabilities to access the contents of a document. Some of these include text that Braille printers and speech synthesizers can easily access. Other important tools include screen magnifiers that support high contrast and different colors for background and foreground, which can assist other readers in viewing the document easily. You can carry out these actions with the help of tools available for accessible PDFs.
Avail Quality PDF Remediation services
4. Non-Text Elements with Alternative Text Descriptions
When you include lists, graphs, images, and other non-textual figures while creating a document, you can count on information more effectively. Businesses generally utilize graphs and charts for making presentations, allowing various factors in the company to be easy to understand and visualize. You are also able to see the visual and linear progress of numerous business facets. Nevertheless, such non-text elements might be inaccessible to others, specifically to those depending on text-to-speech equipment. For this, accessible PDF offers the convenience of alternative text, which includes a brief description of the element, with the important details generally included. This feature makes the document accessible even to the ones with visual impairments or devices that might not be able to process or view these elements visually.
5. Keyboard Shortcuts and Mouse Action Alternatives
Accessible PDFs make keyboard commands available to readers who find using a keyboard more accessible compared to a mouse. Just a few keyboard shortcuts can allow you to easily perform the functions of a mouse. The properties of a document govern the type of keyboard settings that are needed. The method generally saves more time as by pressing a single key, you can carry out the tasks that might require scrolling through pages. You also receive shortcuts to access those features easily that require step-by-step clicking through options.
6. Adding Texts and Accessing Them
Compared to traditional documents, digital documents provide an important feature of hyperlinks. These are clickable texts in a document that redirect you to a different website. Hyperlink texts are beneficial for businesses as they help in promoting their services/products via hyperlinks. Also, you can discover the supporting site or document without needing to exit the records. Accessible PDFs help readers in clicking on hyperlinks for more seamless access to files.
Conclusion
When it comes to running a business, it is important to store the documents effectively and ensure their easy access. PDFs are the most common documents that are shared, signed, and sent across the world, but there are limitations to these docs. This is where accessible PDFs are used as they provide more features and make it easier for a wide range of readers to use the documents. Accessible PDFs with their myriad tools make way for inclusivity in a business and allow your business processes to run efficiently.
PDF Accessibility Services of Damco handle the complete document remediation pipeline. Our team of experts is capable of rendering documents compliant with section 508 and the ADA of the US and other country-specific guidelines of accessibility like the DDA of the UK and Australia. We provide high-quality and cost-effective ADA compliance services that ensure your information is fully compliant with Assistive Technology (AT) software.