With the ability to streamline nearly every business function, Salesforce is undeniably the most preferred tool for business acceleration. Regardless of sizes and types, organizations around industries are adopting Salesforce to foster their customer relationships, sales, marketing, and other core business functions. Strategically implemented Salesforce CRM drives enterprises to amplify business performance, efficiency, and agility. On the other hand, Salesforce adoption in absence of a thorough analysis and implementation roadmap can turn out to adversely affect business performance.
Organizations face enormous challenges and risks while implementing Salesforce that can be mitigated by hiring a Salesforce consulting partner. Here are the key ones.
Implementation Challenges & Salesforce Consulting Services
CRM Customization
Salesforce offers great flexibility by allowing customizations to meet the diverse needs of businesses. But extending Salesforce is not always simple and requires detailed requirement analysis and extensive technical skills. Though Salesforce offers some customization tools to help companies in tailoring the CRM, however identifying the best-fit catering to actual requirements calls for expert advisory. Many times businesses, in such cases, end up spending over time and budget in excessive customization of small building blocks hoping to acquire a workable CRM solution.
Certified consultants assess the Salesforce readiness of the organization as a first step in the customization. Following a thorough analysis of the implementation requirements and feasibility check, Salesforce consulting partners classify the features based on importance before the actual customization. These consulting companies design appropriate strategies and roadmap for extending cloud CRM to meet business objectives and help in selecting the appropriate tools contributing to significantly reduced customization time and costs.
Data Migration
Migrating data from legacy systems involves complex tasks like data cleansing, deduplication, maintaining integrity, and access control management that can compromise crucial business data in absence of technical know-how. Additionally, importing volumes of data to the new system, appropriate mapping of data to relevant fields, and ensuring data security are some of the prime concerns in transitioning to cloud CRM. Thus, warranting the availability of the right data to the right users for generating useful insights becomes a big challenge for organizations during the Salesforce implementation.
Validated Salesforce consulting partners simplify the process by performing comprehensive analytics, extraction, cleansing, loading, and testing on the data to be migrated. With ample expertise in process automation, data integration, and maintenance, Salesforce consultants specialize in migrating data to the cloud CRM with fortified security.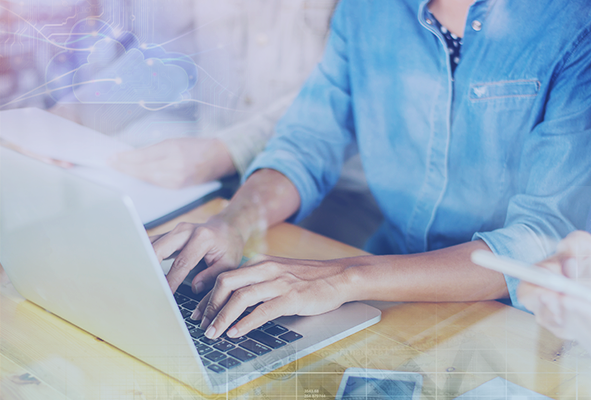 Third-Party Application Integration
The potential of CRM can be maximized by integrating it with other business systems like accounting, ERP, etc. Salesforce integration encompasses configuration, setup, and compatibility with disparate third-party applications including on-premise, cloud, and mobile apps. The absence of effective planning and technical proficiency brings in various complexities and risk of hampering business operations while taxing organizations much more time and costs than usual.
Qualified Salesforce consulting partners eradicate bottlenecks in third-party integration by implementing precise data validations and process checks before the actual implementation kicks off. With hands-on experiences in diverse integration tools like Mulesoft, Informatica Cloud, and Rest API, these consultants specialize in addressing real-time integration challenges and channelizing smooth Salesforce adoption.
User Adoption
Employee resistance is one of the biggest hurdles organizations face on the way to successful implementation. Lack of proper training and absence of technical support in using the newly implemented system turns a minor concern into a complex issue for the users that discourages the Salesforce adoption.
Hiring a consulting company can help businesses overcome this through engaging training and team building programs. Across the board guidance on how to use the cloud CRM and support provided by Salesforce consulting partners expedites user adoption and helps to realize the benefits of unified CRM seamlessly.
To Sum Up
Though Salesforce adoption amplifies performance by streamlining diverse organizational functions, it also raises serious concerns like data security and business disruptions. A Salesforce consulting partner can be a perfect resort to diminish the complexities and challenges by implementing Salesforce frictionlessly. Hence, it is recommended to look for professional Salesforce implementation services to achieve business perks like improved team collaboration, customer experience, and employee efficiency.
CRM Implementation Concerns?