There's a major shift happening in the world of commerce, which is also leveling the playing field for future-focused leaders and entrepreneurs globally—retail businesses are moving online. According to recent Forbes statistics, 24% of retail purchases are going to be made online and the ecommerce market is projected to be valued at $ 8.1 trillion by the year 2026.
Thus, whether you sell shoes, shirts, supplements, furniture, or anything in between, be assured that taking your products online is a strategic investment that will help you generate more profits. Customers are more into hoping online than trekking to brick-and-mortar stores. After all, it provides them with a sense of convenience and caters to their busy lifestyle.
However, opening an ecommerce store is one thing; making ecommerce product catalog and managing it all the time is a different thing. Tasks like product listing, image editing, description writing, price updates, and inventory management are aimed at cataloging and organizing product information on online retail platforms.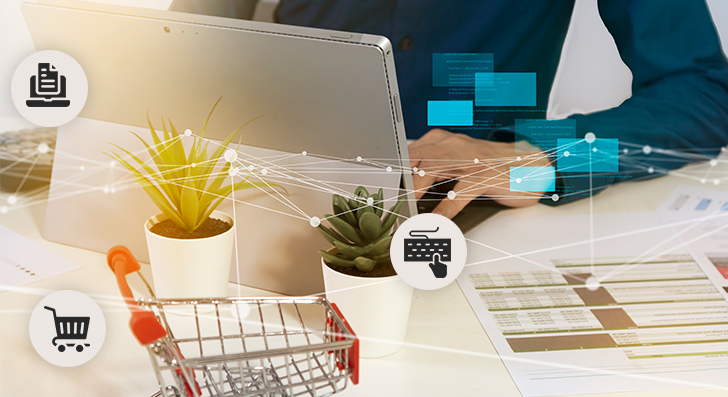 With the ever-growing volume of online transactions, maintaining a robust and up-to-date product catalog is critical for ecommerce businesses to remain competitive. An effective way to streamline this process is by outsourcing product data entry services. You can reap a gamut of benefits as listed here:
Effective Price Comparison

Shoppers want complete value for money and before making the final purchase decision, they spend time comparing prices of the same product on different platforms. You might end up missing out on a potential sale opportunity if your store doesn't display the most accurate and latest prices. The experts compare prices from multiple stores and update the same at the right time.

And, as environmental concerns grow, e-commerce businesses are looking to promote sustainability through their product listings. Outsourcing providers are assisting by including eco-friendly product attributes and certifications in product data.

Superior Product Description Writing

Beyond basic data entry, ecommerce companies are seeking to enrich their product listings with additional information such as user-generated reviews, product recommendations, and related items. An informative and compelling product description not only helps sway the purchase decision in your favor, but also boost search engine optimization organically.

Business as usual, the experts write an informative and persuasive product description that makes a distinct impression on the shoppers and acts as the sales pitch for your product. A Google survey accentuates its importance as 85% of the shoppers say that product information and pictures are important while making the purchase decision. Thus, high-quality product descriptions translate to an accelerated lead conversion process.

Accurate Product Categorization

For faster product discovery, precise categorization and placement as per product attributes is the key. A reliable ecommerce data entry company can assist you with the correct product type based on SKU. The professionals carry out thorough research on each product added to the store by incorporating AI and automation into their processes to enhance speed and accuracy.

AI-driven data entry tools can extract product information from various sources and populate e-commerce catalogs more efficiently. Besides, the service provider's competency in driving quality product taxonomy guarantees that customers can easily browse through the different categories and buy the product that best caters to their needs.

Cross-platform Product Management

E-commerce businesses are increasingly expanding their presence from a standalone store across multiple online marketplaces and platforms like Amazon, Target, Walmart, and eBay. Besides, Amazon holds the highest market share of all e-commerce companies and accounts for 37.8% of e-commerce sales. (Source: Forbes)

To tap this opportunity and generate greater sales, specialists ensure that your products are seamlessly listed on different platforms while maintaining uniform information and pricing details. You simply have to mention your requirements to the product data entry professionals and they will take all the necessary steps to integrate product data across various channels seamlessly.

Mobile Optimization

Did you know that the online shipping cart abandonment rate on mobile devices is 84%? Even though it's a great opportunity for customers, this flexibility can negatively impact your ecommerce business, especially if your website isn't optimized according to mobile devices.

With the increasing use of mobile devices for online shopping, optimizing product data for mobile viewing is a critical trend. Thus, the professionals focus on ensuring that product listings are mobile-friendly and visually appealing.
Winding Up
To make an impact on the shoppers and affirm their purchase decision, your ecommerce business needs an adequate amount of rich quality that includes appealing images, helpful product descriptions, interesting features, and detailed specifications.
The time and effort needed to keep the online store up and running are huge. Outsourcing eCommerce product data entry services proves to be a flexible and cost-effective way to manage and maintain online business. In essence, it is a double profit deal for ecommerce businesses as they get high-quality outputs within the desired time and budget.
Tips on How to Find the Right Data Entry Company for Your Business