Today, organizations both large and small alike are adopting CRM and ERP systems to create a hyper-connected business environment that connects people and processes together to drive more efficiency, reduce costs, improve agility, and accelerate digital transformation. However, nearly two decades of research done by multiple analysts reveals that around one-third of all CRM projects fail, and the failure rate is somewhere between 20% and 70%. In fact, 47% of enterprises tried to implement CRM two or more times with little to no success.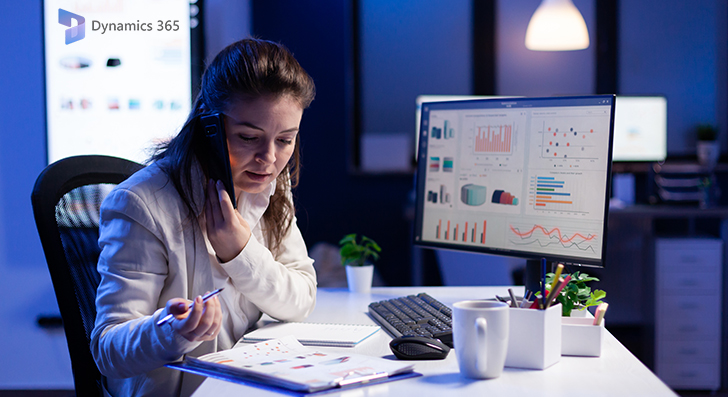 The numbers are certainly intimidating and indicate the struggle is real for CRM projects since a majority of them fail to gain user adoption. This doesn't mean that the sales team needs to switch to traditional methods, such as spreadsheets and email programs for customer segmentation, forecasting sales, anticipating customer needs, building better relationships with customers and prospects, and improving customer retention. Instead, it makes sense to embrace Dynamics 365, an enterprise-grade solution engineered by Microsoft to empower businesses in their CRM and ERP initiatives.
If implemented successfully, this cloud-based solution can not only take businesses to newer heights of success, but also help them stay at the top of their game. In other words, enterprises need to figure out the most appropriate way for Dynamics 365 implementation to realize the full potential of this robust solution. The good news is that this insightful post breaks down the complex D365 implementation process into a clear roadmap/best practices that will help enterprises sail through the challenges that come along the way and set the stage for success. Let's dive deep into it.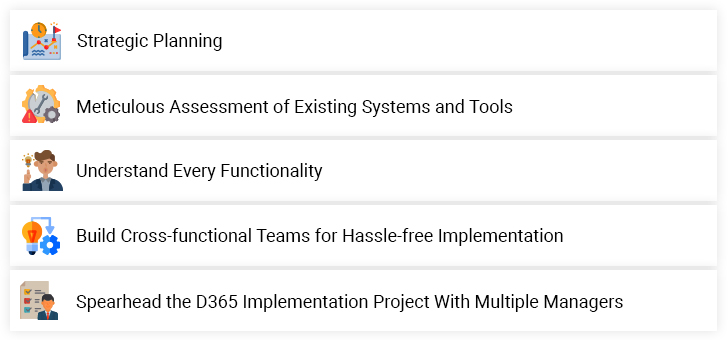 Step 1: Strategic Planning
First things first – chalk out a strategic plan by involving subject matter experts (SMEs), business owners, and other stakeholders to better understand the business workflows, processes, and requirements of cross-functional teams or departments. When devising a plan for D365 implementation, it's considered wise to begin with evaluating the business process, since this will help enterprises determine whether they need to go with the traditional waterfall technique or adopt an agile approach. A detailed business process assessment is essential for defining the implementation scope, budget, risk management, creating the process flow roadmap, and planning for continuous process improvement. Having clarity on all these aspects helps businesses proceed with a successful D365 implementation and overcome the challenges that come along the way.
Step 2: Meticulous Assessment of Existing Systems and Tools
Did you know? One of the key reasons behind the failure of a Dynamics 365 implementation project is the organizations using legacy systems, in-house software or programs coded on decades-old programming languages and frameworks, and partially integrated application suites. Therefore, the first step that enterprises can take to put themselves on the road to success is documenting all the existing systems, applications, and databases that are integrated within their IT infrastructure. This will help enterprises determine whether the existing tools and systems they have in place can be easily integrated with Dynamics 365 or requires some level of modernization to support critical business functions.
Before moving ahead, it's wise to have answers to the following questions:
Is the IT infrastructure updated?
Do the existing systems or tools pose any potential security threats?
Do they create challenges for the workforce to access data sets or files?
Are there systems and tools that require consolidation to remove data silos?
Step 3: Understand Every Functionality
During the implementation of Dynamics 365, it is likely that businesses may desire to add more modules or features to innovate faster and do more with less. Before implementing new modules or features, it is strongly recommended to revisit all the existing ones since Microsoft rolls out new features and add-ons of Dynamics 365 every now and then. Now, decide on the functionalities catering to the business, industry, and customer needs. If the existing functionalities don't meet the desired objectives, enterprises may consider either tweaking the "as-is" solution or going for building custom components from scratch.
Step 4: Build Cross-functional Teams for Hassle-free Implementation
Dynamics 365 successful deployment is not just the responsibility of the implementation partner, in fact, businesses need to build a cross-functional team having rich prowess in identifying and recognizing bottlenecks, inefficiencies, time gaps, and issues related to quality control. Therefore, when hiring a vendor for D365 implementation, enterprises need to make sure they put together a cross-functional team that is always on their toes for process improvements and suggests possible solutions to deal with potential issues. Having a cross-functional team not only ensures that every task is completed within the defined timeline and budget but also makes the D365 implementation more effective.
Step 5: Spearhead the D365 Implementation Project With Multiple Managers
Dynamics 365 implementation is a complex process and it requires a qualified leader who spearheads the project and leverages the experience and expertise of every professional involved in the implementation to accomplish the project goals and objectives. To make this happen, the project leader needs to have outstanding communication, project management, and time management skills to deal with common bottlenecks and day-to-day issues, follow-up with staff, and track progress. Similarly, operation managers need to be good at scheduling, project supervision, and budgeting. However, there are chances that managers with excellent communication and time management skills might not be good at budgeting. The best possible solution to overcome this challenge is to designate two or more leaders who can collectively manage the D365 implementation project.
Summing Up
As stated above, D365 implementation can be a tough row to hoe, however, this clear roadmap with a step-by-step process can help enterprises sail through the challenges that come along the way. If you still need a helping hand, you may consider partnering with a professional Microsoft Dynamics 365 company that has rich hands-on experience in the implementation.