Today, mobile applications have become an indispensable tool for businesses to drive sales, improve user experiences, enhance customer engagement, build a strong brand presence, unlock unprecedented growth opportunities, and gain a competitive advantage. At the heart of this ever-evolving landscape of technological advancement, where innovation and digital transformation reign supreme, lies a confluence of emerging technologies that are poised to challenge the status quo and transform the mobile application development industry.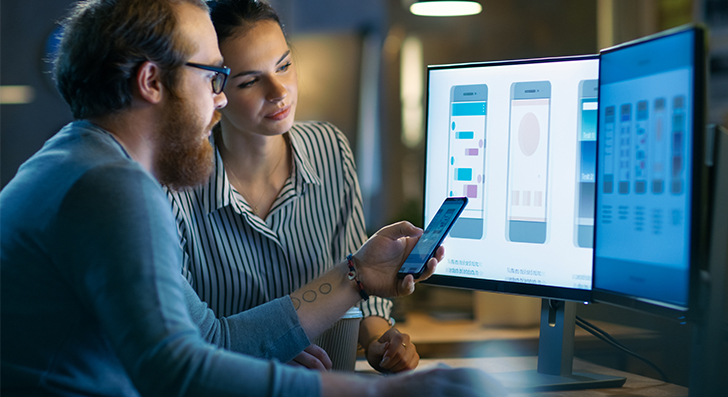 From the captivating realms of AI, Machine Learning, and Wearable Technology to the seamless integration of the Internet of Things (IoT), Augmented Reality (AR), and Virtual Reality (VR), these emerging technologies come with an innate potential to unlock the world of infinite possibilities for mobile application development strategies. Furthermore, these disruptive technologies empower businesses to craft rich and immersive experiences, leverage the untapped potential of data-driven insights, and render highly personalized interactions that captivate and retain the audience. Now, let's unravel the possibilities through the lens of emerging technologies to successfully navigate the dynamic landscape of application development and position businesses as trailblazers in the digital realm.
Time-Tested Strategies for Successful Mobile App Development
1. Artificial Intelligence (AI)
The mobile application development industry has been focused on Artificial Intelligence since Apple integrated Siri, an AI-powered assistant into their application. This encouraged developers to integrate AI into applications in diverse fields. Given below are some popular use cases of AI across industries.
Virtual personal assistants and AI-powered chatbots in service industries
Lead scoring, underwriting, and automatic claim processing in insurance
Customized ads and dynamic product pricing in marketing
Product recommendations and demand prediction & management in retail
Accurate risk profiling and fraud detection & compliance in fintech
Drug discovery and medical imaging & diagnostics in healthcare
Predictive maintenance, field services, and quality control in manufacturing
With the help of AI-powered mobile applications, businesses can personalize user experiences, enhance decision-making capabilities, streamline operations, forecast sales, improve customer service, mitigate potential risks, and eliminate human errors. Besides this, AI-powered mobile applications can also be used for recognizing voice commands, detecting emotions and sentiments, analyzing visual and textual data, automating manual and repetitive tasks, and more.
Key Cost Drivers of Custom Application Development
2. Internet of Things (IoT)
The Internet of Things is another latest development in the realm of mobile application development. Over the past few years, IoT has been disrupting the way businesses operate and today it has become mainstream in varied sectors from healthcare to manufacturing, transportation and logistics, agriculture, retail, finance, and more. This emerging technology paves the way for mobile applications to connect with sensors and physical devices, such as wearable devices, smart home devices, and other IoT devices. Furthermore, IoT-enabled applications can be used to automate manual tasks, which in turn, improves productivity and efficiency. Not to mention, IoT-enabled apps can collect large volumes of data from connected devices and provide businesses with valuable insights into user behavior and preferences when analyzed correctly. This may be the reason why the demand for IoT-enabled applications has surged dramatically over the past few years, and it is estimated that the market for IoT application enablement is estimated to reach 36 billion USD by 2032.
3. Low-code Development
Low-code is bringing a paradigm shift by addressing the challenges associated with traditional application development. This latest technology is shaping the future of application development and it is predicted that by 2026, low-code will be accountable for 75% of new business applications developed by enterprises. Unlike traditional development methods wherein developers need to write code from scratch, low-code empowers citizen developers to use pre-built templates and application components to expedite the development process. In other words, users with little or no coding knowledge can use drag-and-drop tools and visually-rich interfaces to build custom business applications in a quick turnaround time. Low-code development is a game-changer for Startups and SMBs that may not have enough resources to hire seasoned developers for application development.
Why Consider Low-Code for Application Development?
4. AR and VR
AR and VR have become prevalent in shaping the future of mobile application development. Both Augmented Reality and Virtual Reality have unlocked a sea of novel opportunities for users to interact with the content on mobile applications more immersively. For instance, IKEA has revolutionized the online furniture shopping experience for users by leveraging the potential of Augmented Reality. IKEA in partnership with Apple introduced a Studio Mode feature for IKEA Place that allows users to point their mobile device to the area where they would like to keep the furniture and with the help of AR technology, the IKEA mobile application will scan the area virtually, and place the furniture that will help users determining how the furniture will look to that place before buying it. Similarly, Lenskart allows its users to virtually try on different glasses to find the right pair that complements their face shape before buying. Lastly, L'Oreal has a dedicated mobile application that allows users to click a selfie and virtually try on different makeup shades to find the product that best suits them.
Leading technology giants such as Google, Apple, and Meta Platforms Inc. are also bringing the latest innovations in the realm of Augmented Reality (AR) and Virtual Reality (VR). For instance, Google introduced a "Live View" feature in Google Maps that allows users to find the direction in real-time.
Summing Up
The rapid advancement of emerging technologies in the application development realm has not only revolutionized the digital landscape but also opened up a new world of possibilities for businesses and developers for creating rich and immersive mobile experiences. As mobile application development continues to evolve, it becomes critical for developers and enterprises to stay updated with the latest technology trends and embrace them to drive innovation and digital transformation.
Case in Focus
A leading financial services provider needed a complete revamp of their legacy case management product to overcome the lost sales opportunities and buried functionalities. The client partnered with a tech company that not only modernized their product from scratch but also infused AI and ML capabilities, which in turn, helped the client in detecting financial fraud faster. Besides this, the application was redesigned with a Cloud-agnostic approach and flexible architecture to overcome scalability issues in the future.