An important factor in the success of a Salesforce project is choosing the right implementation partner. Salesforce is a potent customer relationship management (CRM) platform that has the potential to have a big impact on an organization's effectiveness, productivity, and overall business results. However, the full potential of the CRM can only be realized with competent implementation and support. This is done with the help of Salesforce implementation services.
The process of Salesforce implementation in an organization includes multiple stages of Salesforce platform deployment and adoption. However, it needs to be noted that implementation goes way beyond the technical aspects. It also involves app integrations, data cleansing, and employee training, and other important steps. This ensures that the Salesforce platform is used to the full extent by your team and also benefits your business.
Your Salesforce implementation partner is an outside company that works with you to choose, implement, support, and expand on the most favorable solution for your organization. The implementation partner will provide you with the following:
Help finding a Salesforce solution that works for your business
A range of AppExchange apps to choose from instead of investing in custom development
Advice on optimal Salesforce pricing
Making sure your software solution is technically sound to help you prevent problems with upgrades, data modeling, security, and excessive customization in the future
Risk reduction in relation to the scope, schedule, and budget of the project
Promoting and addressing change management is required for user adoption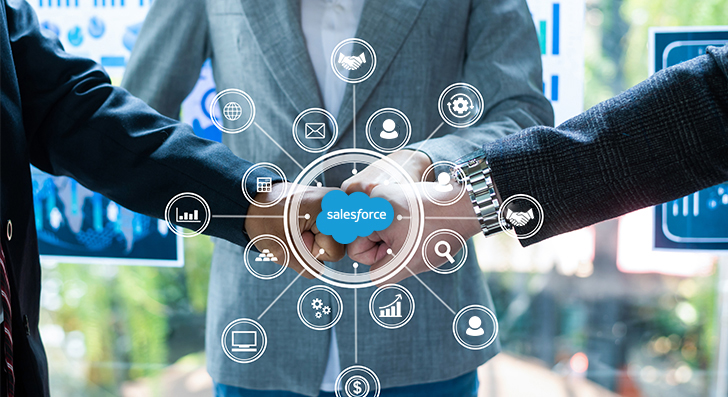 Choosing the Right Salesforce Implementation Partner
The right Salesforce implementation partner is vital for the success of your Salesforce project. The right Salesforce implementation partner by your side will allow your business to achieve its full potential. A Salesforce partner provides you with the right solution that capitalizes on opportunities and solves business bottlenecks.
Choosing the right Salesforce service provider is vital. A certified Salesforce Gold partner like Damco Solution will provide support from consultation to integration and post-launch support. Experience is crucial, with industry know-how on things like business process consulting, product development, and different levels of customization and integration. A reliable partner will also help you with Salesforce optimization to leverage the CRM effectively. Here are some steps you need to consider while choosing your implementation partner:
1. Define the Scope and Goals of Your Project
Understand the goals, parameters, and timeline of your project before looking for a partner. Determine the precise Salesforce features you require, the processes you want to automate or improve, and the results you want to achieve.
2. Evaluate Experience and Expertise
Seek out partners who have a proven track record of implementing Salesforce successfully. Verify their experience working on projects comparable to yours, their knowledge of the sector, and the number of Salesforce certified professionals they have in their team. Case studies and client reviews can also offer insightful information about their prior performance.
3. Consider Salesforce Certifications and Partnerships
Verify that the professional is a certified Salesforce implementation partner. Based on their performance and experience, Salesforce partners have several tiers, including Registered, Silver, Gold, and Platinum. Additionally, find out if their consultants have the necessary Salesforce certifications, which attests to their familiarity with the system.
4. See the Cultural Fit of Your Partner
It is important for the implementation partner to share the same language, vision, and culture for communication. To make your project a success, you and your implementation partner must be on the same page, share the same interests, enthusiasm for work, and dedication to the project's success. Assess your partner's communication style, responsiveness, and willingness to understand your requirements.
Such partners will not only carry out the tasks that they are hired for but also do what's better for your project from various aspects and support you in the multiple stages of implementation.
5. Evaluate Industry Knowledge
It will be beneficial to work with a partner who is knowledgeable about your industry because they are more likely to comprehend your unique requirements and challenges. They may already have pre-built solutions or settings that are specific to your industry.
6. Scalability and Flexibility
Take into account your business needs for scaling and future expansion. Make sure the partner can adapt to your changing needs and offer scalable solutions.
7. Project Methodology
Understand the project management strategy and implementation methodology used by the partner. Since agile methodologies encourage iterative development and flexibility, they are frequently employed in Salesforce projects.
8. Training and Support
You need to know that deployment of your Salesforce solution does not signify the final stage of the process of implementation. You must train and support your users throughout the adoption process if you want to guarantee that they will all use the CRM. This can necessitate outside assistance from your partner in the form of sandbox versions, educational videos, and post-training support to ensure that all the problems are identified and fixed.
9. Transparency in Cost and Budget
Make sure there are no hidden costs by obtaining a thorough cost breakdown for the job. Get an idea of market rates by comparing pricing with other potential partners.
10. Integration and Compatibility
In case you are using other systems along with Salesforce, make sure that your partner has experience in integrating those systems with Salesforce.
11. Data Security and Compliance
Make sure the partner is aware of and complies with any special data security and compliance regulations your industry may have.
12. Check References
Request testimonials from the partner's previous clientele. Contact those references and enquire about the results of their Salesforce implementation as well as their experience with the partner.
13. Request a Proof of Concept (POC)
In order to evaluate the partner's capabilities and how well they comprehend your needs, ask for a Proof of Concept or a pilot project.
14. Contractual and Legal Considerations
Take a close look at the contract to make sure it contains all the necessary information, such as the project scope, deliverables, deadlines, confidentiality clauses, and responsibilities.
Seamless Integration, Limitless Possibilities – Explore Our Salesforce Implementation Services
Questions to Ask Your Potential Salesforce Implementation Partner
To evaluate your potential Salesforce partner effectively, here are some important questions you can ask them:
Can you detail a similar project you worked on and the outcomes you got?
Can you provide case studies and customer references?
What level of technical expertise, including certifications, can your team bring to my project?
Could you give an example of a project that didn't go well and how you adjusted for success?
How many deployments of this nature have you carried out?
Are partner resources going to be on-site, remote, or both?
Can you provide training to our admins and users?
What method do you employ for delivery?
How much time will it take to staff the project?
Will certified resources be employed throughout the duration of the project?
How many comparable projects have these resources successfully completed?
What resources will you require from us?
What kind of time commitment are you expecting from our team?
Conclusion
Keep in mind that choosing the right Salesforce implementation partner is a crucial choice that can have a big impact on the success of your project. You need to consult Salesforce experts who can explain complex ideas to you in a relatable manner with respect to your particular business needs. Spend some time carefully weighing your possibilities before deciding on a partner who will support the objectives and needs of your company.