The digital world generates a staggering 3.5 quintillion bytes of data every day in 2023 and over the next two years, the volume of data produced is estimated to surpass 180 zettabytes globally, according to a report published by Statista. This tsunami of data creation is a double-edged sword for decision-makers. On one hand, it holds the promise of unlocking hidden patterns and meaningful insights into customer behavior, market trends, and optimizing operational efficiencies. On the other hand, CTO, CIO, and other key decision-makers may feel overwhelmed by the sheer amount of data and complexity at their disposal.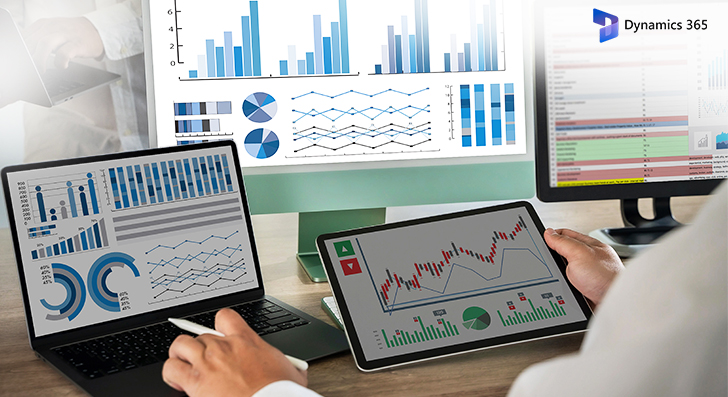 As the amount of data continues to grow, decision-makers are presented with the challenge of accumulating data, unlocking its potential, and translating it into meaningful and actionable insights to propel their organizations forward. In fact, many business leaders are still struggling to leverage the potential of data and 87% of them are suffering from decision distress owing to data deluge. This is where Dynamics 365 emerges as a game-changer, a transformative solution designed to catalyze data-driven decision-making and supercharge business success. Let's dig deeper to understand how it empowers CIOs, CTOs, and other decision-makers in making impactful and informed business decisions.
Microsoft Dynamics 365: Holistic View of Business Operations
It emerges as a beacon of clarity amidst the chaos of data overload. This comprehensive suite of cloud-based applications acts as a centralized hub that not only integrates data seamlessly across various business functions including finance, sales, marketing, and customer service but also allows decision-makers to see the bigger picture. In fact, a recent survey report indicates that 83% of organizations using Dynamics 365 witnessed a substantial improvement in their decision-making due to enhanced visibility and insights into the organization's operations. No wonder, it has doubled the growth rate of Microsoft as a whole. According to the Microsoft Q4 earnings report 2023, Dynamics contributed a revenue of over 19 billion AED, which ended June 30, a 16% year-over-year (YoY) growth.
The Power of Built-in Analytics and BI Capabilities
Gone are the days when businesses used to bank on a one-size-fits-all solution for their BI and Data Analytics requirements. In today's data-driven landscape, companies need personalized insights catering to their unique challenges. It goes beyond data aggregation from disparate sources and thrives on its built-in data analytics and BI capabilities that transform raw and unstructured data into actionable insights. This indicates that enterprises using D365 can significantly improve their ability to make impactful decisions that positively impact the end results. Furthermore, a survey report reveals that organizations using modern analytics tools like D365 are 2.5X more likely to outperform their competitors.
How to Successfully Implement Dynamics 365
Staying Ahead with Predictive Analytics
The ability to accurately predict customer behavior and market trends is invaluable for business leaders. Its predictive analytics capabilities empower decision-makers to make powerful and actionable decisions. By analyzing past data, identifying trends, and predicting outcomes, this robust platform empowers decision-makers to look into the future. A study by IDC reveals that companies using the predictive analytics capabilities of Dynamics 365 reported a significant improvement of 30% in their operational efficiency and a 20% increase in customer retention.
Seamless Communication and Collaboration
Effective communication and collaboration are paramount in the era of remote work culture. It fosters collaboration by breaking down silos between dispersed teams and provides a unified platform for easy data sharing and smooth communication. This has translated into tangible business benefits, for instance, a survey report reveals that organizations leveraging the potential of collaboration tools like D365, reported an uptick of 20-25% in workforce productivity. Another study found that companies using it witnessed a sharp reduction of 35% in time spent on collaboration-related activities.
Security and Compliance: Safeguarding Success
Data-driven excellence is a double-edged sword since it opens up new avenues for growth and success whilst exposing vulnerabilities. In an era of cyber threats and data breaches, security and compliance are paramount. In fact, 98% of organizations see cybersecurity as a strategic priority. The good news is that D365 takes this challenge head-on and addresses security concerns through robust security measures and compliance features. According to IBM's Cost of a Data Breach Report 2023, the average cost of a data breach hit a record high of 4.45 million USD, an increase of 15% over 3 years.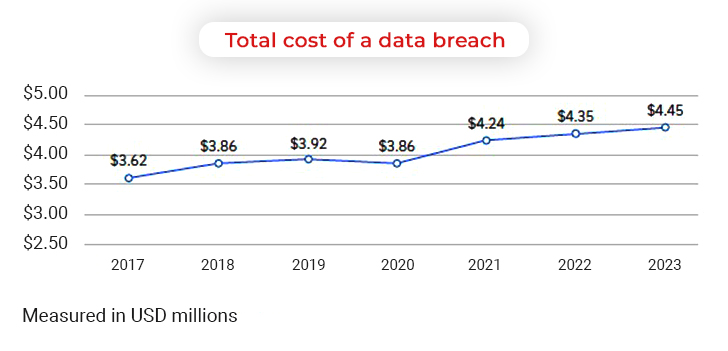 ROI Revolution: Dynamics 365 as a Strategic Investment
Every investment decision boils down to the ROI question, and Dynamics 365 doesn't disappoint decision-makers since it not just offers data-driven insights but it also drives tangible ROI. For every dollar spent on D365, companies receive an average return of 16.97 USD, a staggering ROI that decision-makers can't afford to overlook.
Mitigating the Retail Industry Challenges with Dynamics 365
Summing Up
The importance of data-backed decision-making cannot be overemphasized in today's dynamic business landscape. D365 empowers decision-makers with the tools needed to navigate the data landscape from predictive analytics to personalized insights and holistic visibility across business operations. If you also want to transform raw data into a strategic asset that propels your organization to new heights of success, you may consider seeking Dynamics 365 consulting from a reliable tech partner. By seeking consultation from a D365 expert, you can turn data into insights, and insights into actionable decisions that lead to unparalleled success.
Case in Focus
The client is a leading global manufacturing firm that operates in a competitive landscape. For quite some time, the client was facing challenges in streamlining the supply chain, optimizing production, and enhancing customer experiences. Recognizing the need for data-driven insights, the client decided to transform their decision-making process using D365. The client partnered with Damco Solutions to break down the data silos and overcome the lack of integration challenge. As a result, the client was able to enhance customer experience by over 50% and anticipate market trends with over 95% accuracy.