For organizations to compete in the highly competitive marketplace today, it is a must for stakeholders to keep their finger on the pulse, especially when it comes to consumer behavior, market conditions, and emerging trends. But keeping a check on this while focusing on core business offerings can be a difficult task as consumer habits shift, trends begin and end in the blink of an eye, and market conditions change rapidly.
The key to acing the industry peers and remaining competitive in such cutthroat conditions is conducting good market research. Equipped with valuable information about its target markets and consumers, a company can create marketing campaigns and develop products/services that appeal directly to them. And, the advantages don't stop there. Management can leverage the data procured via business market research services to propel the organization to success in a variety of ways.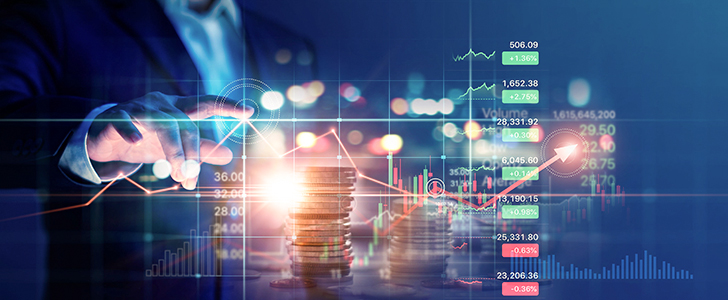 Market Research Function at Glance
Market research involves collecting data from different resources to learn more about target demographics as well as consumers to help companies carve a unique niche for themselves in the industry. It forms a vital part of any business strategy, whether that organization is big or small, new or old, B2B or B2C. The research insights provide answers that management needs to make decisions that will push them forward and drive growth.
Most organizations know what market research is and acknowledge its importance, but they do not realize just how critical market research is to ensure the success of their business. So, when you need to understand your core customer better, identify market trends, or achieve a long list of other important goals, market research is the answer.
Five Ways Market Research Insights Can Unlock Growth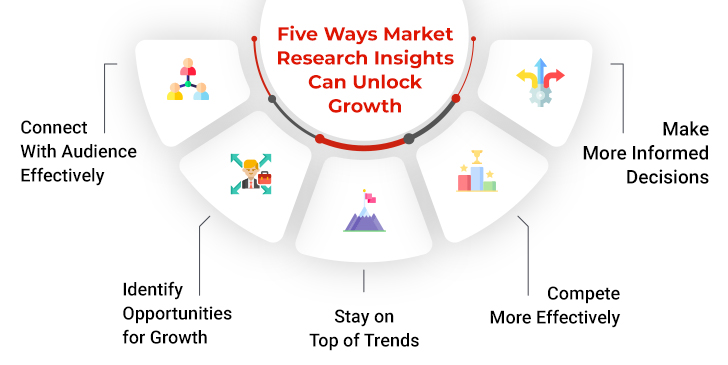 Look at some of the impactful ways professional market research services can propel companies toward success:
Connect With Audience Effectively

The two main elements to communicate effectively with your audience are the marketing channels used and the content shared. Thus, when business owners understand their target customers better, they need not waste time and money on trial and error and can reach out to them more effectively.

Leveraging the one-size-fits-all approach for marketing channels can be a costly mistake for businesses. You can reach close to half of the urban population through marketing or advertising on Instagram, for example, but you'll only reach approximately a fifth of the rural population this way. So, advertising the farm equipment on Instagram is more sort of a poor choice.

Tailoring the content of your marketing material is as important as choosing the right marketing channels. From the features of the product/service offered to the tone and visuals used must be crafted to speak directly to the target audience. When customers feel that you're speaking their language, they'll likely pay more attention to what you have to say/offer. This is an important first step to reaching the audience more effectively.

Identify Opportunities for Growth

Market research isn't important only for new companies or organizations launching new products. Conducting market research periodically empowers shareholders to discover new opportunities to improve and grow businesses. You might come across:

1. Unreached Segments – Just like your current customers, the unreached audiences could benefit from your offerings; perhaps, they think that it is intended for someone else or just don't know about your brand yet. This segment can be consumers of a different income level or geographical region, for example.

2. Business Partnerships – Through market research, you can discover other businesses that already have an established connection with the target audience. Partnering with such companies can be mutually beneficial as you combine the power of both brands to strengthen and expand the outreach.

3. Product Improvements – Market research helps in revealing possible shortcomings in the business offerings or discovering opportunities for add-ons, up-sells, product bundles, etc. And, remediating these offerings would enable stakeholders to appeal to more customers as well as improve their customer satisfaction rate.

Stay on Top of Trends

As consumers evolve, businesses must also evolve to optimize the way they connect with their customers. They need to stay aware of trends regarding their consumers' purchasing behavior, product features, packaging preferences, the most popular advertising channels, relevant messaging, and much more. Simply mimicking what the competitor has to offer isn't a good strategy—there's no better way than market research.

In industries such as fashion and design, trends are important and cycle more frequently. For example, if your company sells light fixtures, you must conduct research frequently to know what styles appeal to homeowners and modern interior designers. Trend research can be done via secondary research. Research from competitors or industry reports can reveal the new product features that consumers are interested in.

Compete More Effectively

Solid market research can be the point of difference that gives you an edge in the marketplace. Competitor research not only helps in engaging customers better but also gives direct insight into the industry peers' offerings. Hence, you can easily understand how to fit into the marketplace.

Or, if you're a newcomer and are looking for the best ways to draw customers away from legacy brands, efficient market research can help you do that. You can pinpoint where consumers are dissatisfied with these brands and can market yourself as a disruptive company with a superior solution by bridging these gaps.

Make More Informed Decisions

Companies can make more informed decisions and devise effective strategies that are fueled by data as gut feelings aren't reliable means of making such crucial decisions. Consider this case, you might think that releasing a luxury version of your product/service at a higher price point is a great idea, but customers willing to pay that price may associate your brand with budget-friendly products/services and opt for luxury products from luxury brands instead. So, the only way to know if the idea will work out or not is to conduct market research.

Though the process takes time, effort, and finances, it makes sense to spend such resources when you get a positive return. If you are looking for customized web research services in India, you'll get plenty of options and must be clear with the requirements.
Bottom Line
Market research, businesses could miss out on growth opportunities, fail to connect with customers, be vulnerable to risks, make uninformed decisions, and ultimately lose customers to their competitors—it serves as a compass that steers business towards success and growth.
Gain In-depth Market Insights with Web Research Services