From the moonshot status to toppers of the business wish list – cognitive technologies have come a long way. Yet, their hero moment arrived in the past year when the pandemic itself uncovered the value of AI. Several businesses reported ROI, even under unprecedented market challenge – through AI-powered automation, data analytics, customer engagement, and product innovation.
As more and more industries realized the power of data – technology investment to support data teams and automate the data pipeline itself increased. Additionally, challenges with legacy applications heightened the urgency to switch to smarter software that does much on its own.
While the implementation of cognitive technologies has replaced/replicated several human tasks and expedited decision-making – we believe a sustainable competitive advantage can be achieved when the solution augments human capabilities, instead of just mimicking them.
The benchmark for artificial intelligence and machine learning in 2021 will be to amplify human intelligence in labor-intensive tasks where it fades the most.
Adopting cognitive tools that modernize applications and reimagine business processes
Shifting to the cloud and embedding cognitive power will truly modernize applications – especially the high-value ones in financial services, insurance, healthcare, and manufacturing. From our experience in helping these verticals to improve products/services, create new operating models, make better decisions, and eventually free workers for tasks that require human intellect – we suggest following a phased adoption plan:
Finding Your Use-case: Stakeholders need to assess if at all cognitive technologies are the means to achieve desired results. Further, a roadmap of adoption milestones will help in knowing what results are expected and when.
Picking the low-hanging fruits: Beginning from the use-case that can bring the most wholesome and attributable advantage, is the ideal starting point.
Monitoring the pilot: An extensively monitored, tested and discussed pilot project is the key to the success of technology adoption. In the case of cognitive technologies, firms should loop every worker to be supported by the solution in the future.
Scaling up, but at the right time: As with other emerging technologies, machine-learning-based solutions should be 'transformative enough' in the pilot phase before going full-scale.
Upcoming trends in Artificial Intelligence and Cognitive Technologies
In 2021, we predict that more and more industries will focus on AI's application in automating and augmenting core business processes. Computer vision, machine learning, natural language processing, and speech recognition-enabled solutions will differentiate businesses by driving tangible outcomes in efficiency, revenue, and experience.

1. Hyperautomation
Until now, it was a futuristic concept that almost any process can be automated, including the ones dependent on legacy tools. A level up of intelligent process automation, hyperautomation is based on machine learning and artificial intelligence. In 2021, more and more organizations will root for automation at a grand scale so that the advantage of RPA is not restricted to a few processes or systems, rather brings blanket benefit to business and IT.
2. Business Forecasting
We predict that high-accuracy ML models, based on a wide range of methods/technologies (including big data, data mining, statistical modeling, and assorted mathematical processes) will feature as one of the top technology investments in the year 2021. Their direct application will be in discovering hidden patterns and making accurate forecasts – to support decision making, commercializing information, and identifying potential frauds.
3. Intersection of ML and IoT
IoT is a data spewing technology and hence conventional analytics solutions are not sufficient to process the amount of data it generates. As an increasing number of consumer appliances will go the IoT route, applications that analyze the resulting big data will be a noteworthy trend in 2021. ML algorithms with a focus on IoT analytics will be the key to enhancing the IoT framework and scaling it to vast-scale use cases like smart cities.
4. Conversational AI
A constant in the top five trends for the past few years, conversational AI enables devices to interpret and process voice or text inputs in natural ways. Its flagship uses are bots or virtual agents. To extend a personalized, asynchronous, data-driven, and human-centric user experience – technologies such as NLP, NLU, and speech recognition will see more investment. Traditional industries such as manufacturing and healthcare will exhibit robust use cases of conversational AI.
5. AIOps
Though IT operations are the backbone of any technology-powered business, they have been rather late adopters of AI applications. Due to legacy load and faster technology churn, they often face issues on efficiency and cost. Technology platforms that automate and streamline IT operations through machine learning will be a mega-trend this year. These apps will leverage big data that is inherently available with various IT tools and devices to find opportunities in instance minimization, hardware debt, and ticket TAT.
Takeaway
With cognitive technologies gaining the status of silver bullet for transforming processes and applications across industries – businesses should not wait for them to become the norm and must start early on. Especially, for data consuming and data generating businesses, adopting AI is the key to unlock the potential of vast quantities of data.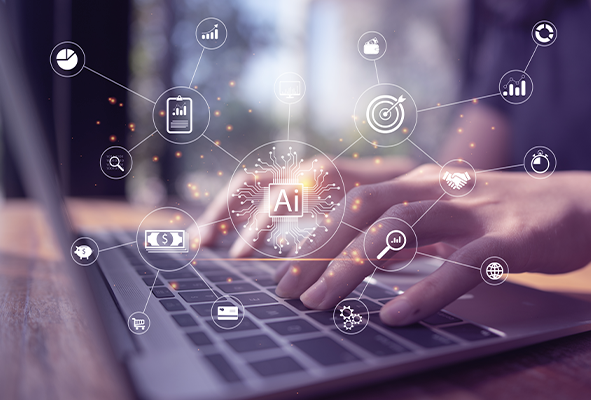 To learn how you can step in the technology mandate, download our 2020 Report on Artificial Intelligence and Cognitive Technologies. The report is a bite-sized brief for leaders to gain an informed perspective on diverse use cases and chalk out a strategy that yields better outcomes.