In today's dynamic and rapidly evolving technological landscape, the notion of data visualization is no longer alien to enterprises irrespective of their size or industry vertical. With data being the goldmine, many organizations are actively turning to data visualization tools to extract meaningful insights and empower everyone to make data-backed decisions. This could be the reason behind the impressive growth of the data visualization tools market, which is anticipated to grow to 14.17 billion USD by 2029 with a CAGR of 11.6% during the forecast period.
Among all the data visualization tools available in the market, Power BI has emerged as a game-changer for businesses by bridging the gap between data and decision-making. In other words, Microsoft Power BI has brought a paradigm shift in the realm of Business Intelligence (BI) and Data Analytics by enabling enterprises to establish a data-driven culture and transform raw data into interactive dashboards and rich visualizations for actionable decision-making.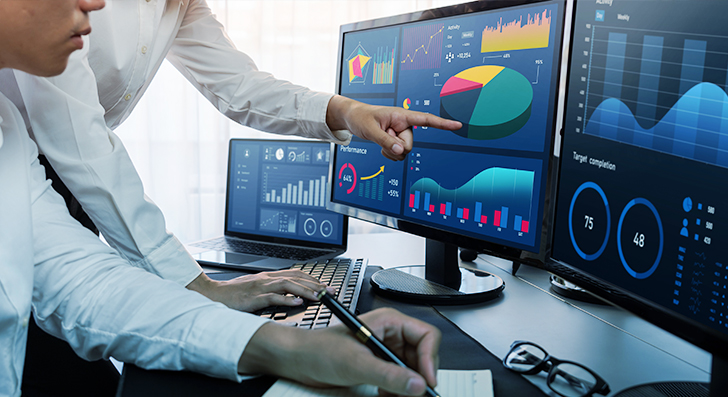 Unlike traditional data visualization software, Power BI is a self-service Business Intelligence and Analytics tool that allows enterprises to break down data silos by connecting to a range of data sources both on-premises and cloud-based platforms. This enables users to analyze data more efficiently, spot patterns and trends hidden in large datasets, and extract insights to make more accurate business decisions in no time. The best part of Microsoft Power BI is its familiarity with MS Excel, which in turn, makes it highly intuitive & user-friendly for professionals with no technical background. In fact, non-technical staff can also make confident decisions using this BI and Analytics tool with little training. Furthermore, Microsoft named a Leader for Analytics and BI Platforms in 2023, and for the sixteenth consecutive year, Microsoft has managed to grab this title. Now, let's dive deep into how Power BI can help enterprises in making data-backed decisions.
How Power BI Helps Businesses Make Smarter, Data-driven Decisions
1. Connects to Multiple Data Sources
Power BI allows users to collate data from multiple sources and bring it into one place for better and more effective visualization. This powerful BI and Data Analytics platform offers easy integration to a large number of data sources ranging from Salesforce, Dropbox, OneDrive, Azure (Azure Data Warehouse), and Google Analytics to data files (such as XML and JSON), Excel Spreadsheets, CSV Files, Spark, Hadoop, SQL Database, and Oracle Database. Using these built-in data connectors, Power BI users can import data from anywhere and perform data analysis within a few minutes.
How Power BI Consultant Can Address Reporting Challenges
2. Brings Data to Life
Another key advantage of this data visualization tool is that it allows businesses to do away with tedious and lengthy reports, and allows users to bring data to life by creating visually-rich dashboards and interactive visualizations. This, in turn, helps decision-makers make actionable business decisions in a quick turnaround time. The interesting thing about Power BI is that it not only connects to a range of data sources but also allows users to choose from an array of visualizations (column charts, pie charts, scatter plots, heat maps, timelines, bubbles, spirals, circles, grids, and custom shapes) to present stories pertaining to their data in the form of visuals to uncover meaningful and actionable insights. The implementation of these rich data visualizations is quite simple, and the drag-and-drop functionality of this BI reporting tool makes it easier for users to create coherent, visually appealing, and insightful reports and dashboards.
3. Access Reports and Dashboards From Anywhere
With the rise of remote work culture, it has become imperative for professionals working in the Sales, Marketing, Finance, IT, and Operations departments to access BI and Data Analytics tools from anywhere, at any time, and on any device. The good news is that Power BI has dedicated mobile native mobile apps for iOS, Android, and Windows platforms, enabling users to access visually-rich data reports and interactive dashboards on any device with a stable internet connection.
5 Ways to Use Power BI for Data Visualization and Analysis
4. Regular Monthly Updates
Microsoft rolls out regular monthly updates to make this BI and Data Analytics platform better than ever. This may be the reason Power BI manages to capture 13.48% of the market share of BI tools. Besides this, Microsoft actively listens to the suggestions given by community members and implements the most asked features and functionalities. As a result, users get early access to the latest and most advanced features to transform raw and unstructured data into meaningful insights for making accurate business decisions.
5. Doesn't Require Any Specialized Technical Support
Since Power BI is a self-service Business Intelligence and Analytics platform, it empowers everyone across the organization to analyze data and create dashboards and reports without requiring any help from the technical or IT team. Furthermore, it comes with user-friendly interactive, intuitive graphic design tools, and drag-and-drop functionality that enable even non-technical staff to create interactive dashboards and reports in just a few clicks.
Conclusion
Power BI has come a long way in the last decade to become the go-to platform for Business Intelligence and Data Analytics. Today, this robust data visualization software is used by enterprises both large and small alike to uncover powerful insights hidden in datasets and make actionable decisions quickly and confidently. If you are planning to empower everyone with a self-service analytics tool to become a data hero, you should consider embracing Power BI in your business.
Case in Focus
A leading recruitment agency used to rely on a manual paperwork-based process. The process was both time-consuming and error-prone. They wanted to shift from the manual process to automate data capturing and analysis. By seeking consultation from a reliable tech partner, they implemented Power BI for reporting purposes. Using Power BI, the recruitment agency was able to create visually-rich reports and extract meaningful insights by taking just a glance.