Image recognition technology has transformed the way visual data is pooled and processed. It offers opportunities similar to the ones portrayed in science fiction movies that make the imagination run wild. Faster detection of objects in real-time with assured accuracy, impressive face recognition mechanics, and improved augmented reality—all are made possible with image recognition, powered by machine learning.
Putting it simply, image annotation for machine learning brings in unique capabilities for a wide range of businesses irrespective of the industry verticals they deal in. Startups to MNCs are leveraging image annotation services to decode the true value of image data. Take a look at some of the amazing use cases of image recognition as elucidated here:
1. Product Discoverability with Visual Search
One of the great applications of image recognition is visual search as it empowers the users to search for similar products via a reference image. Online retailers dealing in verticals such as fashion, home décor, furniture, etc. can implement image-based search feature in their applications and software systems. This not only results in enhanced product discovery but allows them to deliver a seamless digital shopping experience. It offers product recommendation based on actual similarity, increases the conversion rate, and decreases shopping cart abandonment.
2. Face Recognition on Social Media
Though face recognition is a sensitive ground, yet it is integrated by platforms such as Facebook, Instagram, Snapchat, etc. to improve user's experience. Objects and scenes in the photo uploaded are recognized way before the user enters description. The computer vision can differentiate between facial expressions, natural landscapes, sports, and food, among others. Likewise, it is used to identify inappropriate or objectionable content.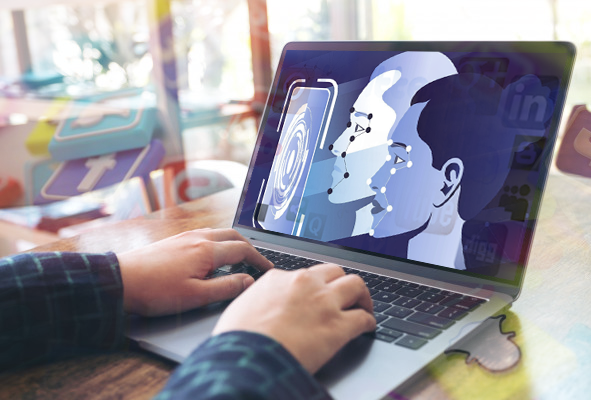 Besides, photo recognition is also embraced by other image-centric products including Apple's photo app cluster and Google Photos. Users can organize their pictures in meaningful series. It is also helpful in translating the visual content for blind users, thus enabling companies to achieve enhanced accessibility standards.
3. Stock Imagery Websites
Image recognition speeds up millions of searches on various stock websites daily. Content contributors have to tag large volumes of visual material with proper keywords for indexing; otherwise, it cannot be discovered by buyers. Professional image annotation services thus help the stock contributors in attributing most appropriate keywords, tags and descriptions relevant to the image. They can also propose relevant keywords after analyzing visual assets, consequently reducing the time needed to process the material.
4. Creative Campaigns and Interactive Marketing
Advertising and marketing agencies are exploring the possibilities of image recognition for interactive and creative campaigns. It opens new prospects for the digital marketers to learn more about their potential customers by following their social media conversations and serve them with impressive content. Extracting useful information from huge volumes of visual content is possible only through machine learning. For example, useful data from an image posted by the user can be gauged out using OCR.
Not only this, businesses can also craft engaging content that helps in building deeper relationships with brands. Take, for instance, image recognition can identify visual brand mentions as well as emotions expressed towards it and its logo. Based on the information collected after analyzing images, marketers can optimize their campaigns and offer personalized services.
5. Augmented Reality Gaming and Applications
The gaming arena strategically combines augmented reality with image recognition technology to their advantage. Developers use this to create real-life gaming characters and environments. It holds the key to generating new experiences and user interfaces. Besides, the combination of this technology with in-app purchasing and geo-targeting has paved way for AdWords-sized as well as off-device business opportunities.
Wrapping Up
Image recognition clubbed with machine learning holds the potential to transform businesses. Engaging professional services enables them to expand paradigms by harnessing the true potential of visual data and making most of it. They not only gain a competitive edge but can quickly respond and adapt to the changing market environments, thus facilitating a rare win-win case.