It is undeniably true that Cloud computing is the future of modern IT infrastructure. The hardware components that enterprises purchase become obsolete and unreliable every 3-5 years, which leads to increased downtime, reduced productivity, higher maintenance costs, data breaches, and regulatory compliance risks. This calls for buying new IT infrastructure components, however, high volatility, supply chain disruption, and Fed aggressive interest rate hikes by 75 basis points consecutively for the third time continue to impact the market. Henceforth, servers, data centers, and other hardware are becoming more expensive, hard to find, and back-ordered by up to a year. Not to mention, giant hyperscalers like Amazon Web Services (AWS), Azure, Google Cloud, and Alibaba Cloud are prior in line for buying new hardware components, while others have to wait for what's left over or they can pay an exorbitant price to get early delivery.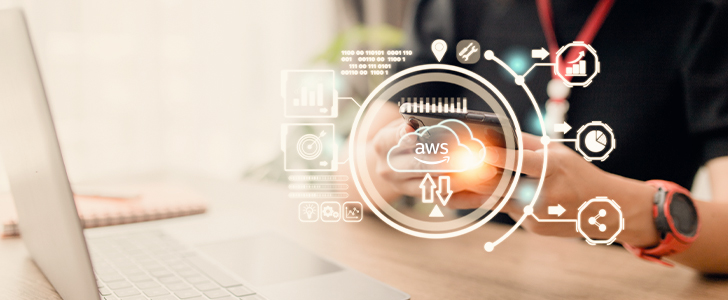 In such situations, businesses are left with primarily two options – either they can continue using aging hardware considering the potential risks associated with it or they can make a smooth transition from on-premise to the Cloud platform. By moving workloads and mission-critical applications to Cloud, enterprises can convert their capital expenditures (CapEx) to operational expenditures (OpEx). When it comes to lowering operational costs, enterprises are spoilt for a slew of Cloud service providers. Amidst all, Amazon Web Services (AWS) is leading a whopping $200-billion Cloud market from the front. Now, let's dig deeper to understand why businesses should consider on-premise to AWS Cloud migration
AWS Helps Businesses Migrate to Cloud With Confidence
Amazon Web Services (AWS) has emerged as a leader in the realm of Cloud infrastructure. With an expansive library of rich resources and 200+ fully featured services, AWS has got almost everything to cater to the Cloud migration needs of enterprises. In other words, AWS takes care of migration from on-premise to the Cloud platform, whilst offering enterprises greater scalability, accessibility, and security to meet Cloud goals faster.
From lifting and shifting (rehosting) workloads to re-platforming or refactoring (re-architecting), Amazon Web Services provides a complete suite of technical, operational, and organizational capabilities for a successful migration. With more than a million active customers globally including fast-growing startups, large-scale enterprises, and leading government agencies, Amazon Web Services (AWS) has helped enterprises in their expedition of moving workloads and applications from on-premise to the Cloud platform with no hassle or data loss. It's worth noting that top industry leaders like Adobe, Snapchat, Netflix, Disney+, Samsung, Vodafone UK, McDonald's, Verizon Communications, and more are using Amazon Web Services (AWS) to become more agile, reduce costs, and accelerate innovation.
Get a Free Cloud Assessment from AWS Experts
Why Migrate to Cloud With Amazon Web Services (AWS)
Gartner has positioned Amazon Web Services (AWS) as a Leader in the 2021 Magic Quadrant for Cloud Infrastructure & Platform Services (CIPS). Enterprises that opted for Amazon Web Services for Cloud migration witnessed, on average:

The Outlook for AWS Cloud Migration for 2023
As the Cloud landscape continues to evolve, the global Cloud migration services market size is estimated to grow incessantly. It will reach 9.6 billion USD by 2023 with a CAGR of 22% over the forecast period 2017 – 2023. Furthermore, Amazon Web Services (AWS) will continue topping the chart next year for Cloud migration since it regulates 34% of the Cloud infrastructure market share, as of Q2 2022, which is greater than its two biggest competitors (Azure and Google Cloud) combined together. Being a leader in the Cloud segment, the revenue growth of AWS is on an upward trajectory and it is expected that it will grow from $62 billion in 2021 to $101 billion by 2023. Besides revenue, its operating margin rose from 29.8% in Q4 2021 to 35.3% in Q1 2022, and it will continue shining in FY23, despite inflationary pressures and interest rate hikes by Fed chairperson, Jerome Powell.
The staggering growth of AWS over the last few years can be attributed to its rapid expansion from 32 availability zones in 2015 to 87 at present within 27 geographic regions. Furthermore, AWS has announced its expansion plan for 21 additional availability zones and 7 new regions in Canada, New Zealand, Spain, Australia, India, Israel, and Switzerland.
Summing Up
The Cloud adoption rate has been rising with every passing year since enterprises across verticals are seeking out ways for agile development, rapid deployment, and lowering operational costs. If you are also planning to invest in Cloud services to innovate faster and improve accessibility, agility, and scalability, you should consider AWS Cloud Migration. For successful migration to the Cloud platform, meticulous planning and preparation must be conducted beforehand to ensure smooth sailing. Here is how you can assess the ROI of Cloud Migration using this strategy.