With the overnight evolution of virtual office, the idea how teams work efficiently as individuals or together has upended. People oscillating between calls, busy work about the actual work, and fudged up priorities are routine. Adding to this chaos is the task of juggling between apps. In fact, app overload is one of the major points of remote teams.
A typical knowledge worker switches between 7 to 10 applications, just planning and gathering information about the actual work, resulting in a loss of approximately 5 hours in a 40-hour week. This work about work is not sustainable.
Though the concept and solutions for Work OS have been on the block for quite some time, the traction to adopt and scale them up built in 2020, the pandemic year. A Work Operating System (Work OS) is a cloud-based platform where teams can plan, collaborate, prioritize, and communicate assigned work–projects, sprints, initiatives, epics, or tasks.
monday.com is a leading vendor of work OS solutions, through which teams can reach their shared goals in sync with KPIs or milestones. Unlike popular perception, Work OS like monday.com is not exclusive to large organizations. Equally suitable for small firms and startups, it provides a digital workspace where everybody has access to every piece of information they need.
monday.com collects information from external applications or databases, helps teams collaborate on items within the context of the project, and places all workflows in one place with access-based visibility.
In the new normal when the work environment has swerved and teams are more dynamic, efficient collaboration is the table stakes. A Work OS like monday.com can help organizations win lost manhours and propel the team for next-level efficiency, sans the app overload. Here is how monday.com can support productive remote teamwork:

1. Bring your team on one page, wherever they are
Visibility into the productivity of a virtual team is often blurred. With monday.com, project managers can quickly build processes and workflows that fit their team's unique needs – no matter the location or time zone. This helps organizations to tap into global talent and gig engagements, saving big on costs and time.
2. Communicate 'in context' and in real-time
Often different members of the same team are communicating on separate apps. Result–the context is lost in a joint call. monday.com builds a designated space for real-time communication so that teams can collaborate directly in the context of the project. Its simple UI keeps everyone hooked to a single platform for sharing information, files, feedback, or milestones.
3. Stay on top of work, without follow-ups
Sending an email and following it up time and again is a staple to remote working. monday.com ensures that teams stay accountable without nudging. Push notifications, reminders on action items, deadlines, or progress are automated. With almost all application or system integrations possible, there is no need for manually extracting information.
4. On point governance, no room for data mishaps
How often mail or chat is sent to an unintended user! While the incident could be as harmless as sharing of a half-baked prototype, it could attract repercussions when data is sensitive. monday.com allows extensive permission-settings and governance feature so that only intended users can view, update, or enter data.
5. Reduce common productivity pitfalls
When deadlines loom, clarity on who is doing what and by when leads to unnecessary meetings and effort duplication. With 360-degree visibility into workloads, managers can tackle common pitfalls and strengthen the process. monday.com consultants facilitate organizations to map the right workflows that enable greater productivity with minimal app or manual intervention – making remote work enjoyable and profitable.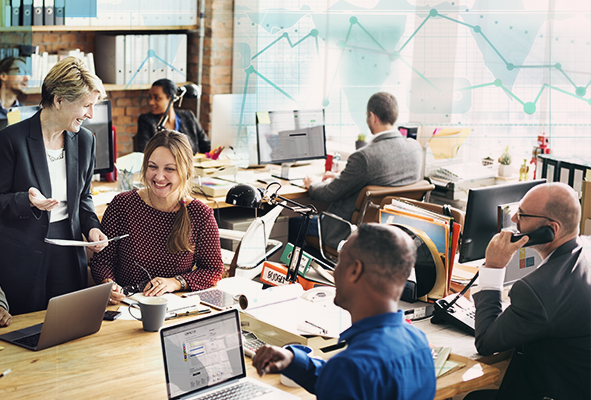 6. Drive collegiality, set everyone for success
When your peers are not at arm's length, often the context gets lost. With transparent communication, leaders can drive creativity, productivity, and spirited cooperation among employees. monday.com allows complete visibility into rescheduling or re-allocation as per the skillset or bandwidth so that the team can attain balance while aligning as per organizational objectives.
How can you set up a monday.com Work OS?
Though the product has a smooth adoption curve, monday.com partners can maximize its advantage by strategically implementing the right integrations, customizing dashboards, and automating manual workflows as per your needs. Engaging partners with industry experience can help you adopt monday.com as the sole tool for all project management, automation, and productivity needs.