Product launch is not a one-time event. It is the beginning of product marketing.
A successful product launch is built on the foundation of thoughtful strategy backed with concrete customer understanding.
Marketing Technology and SaaS products is a lot more complex. There are multiple moving parts like product sprints, product features, beta testing, soft launch, and finally commercialization. And then marketing is gigantic and it is easy to get overwhelmed with the variety of expertise required to be able to implement a single tactic. Hence, it is prudent to invest your optimism and energy in developing the right strategy leading to the implementation of right product marketing mix and tactics.
Simply put, the product launch plan has to be equally researched and mapped out as your product itself. And here's where this guide will advise you on the steps you should take in creating a successful product launch and marketing plan. The guide focuses on strategic insights as well as tactical plan including designing and executing a product launch.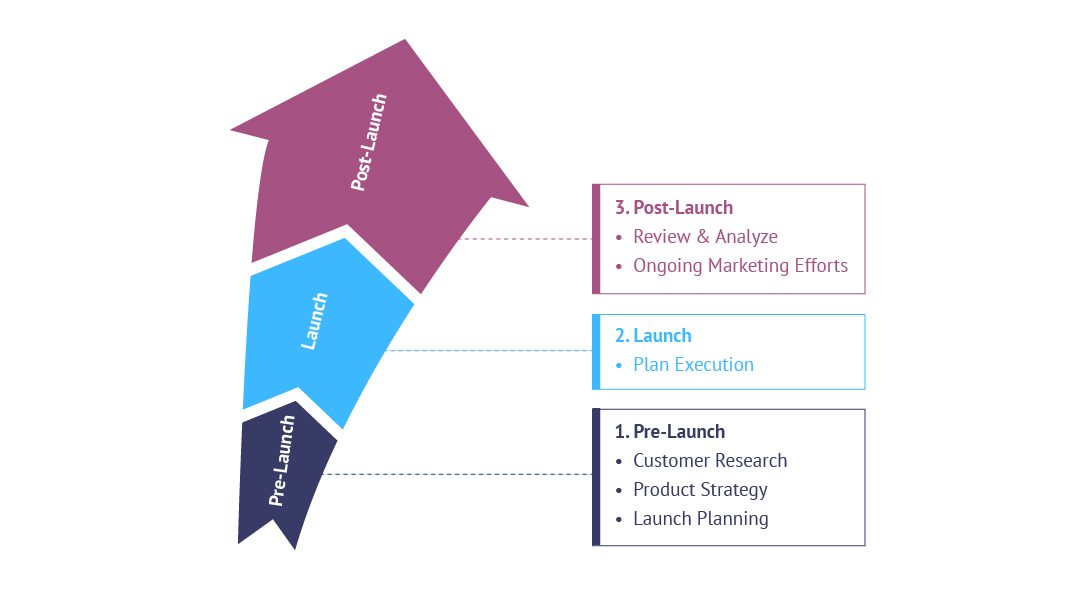 1. Pre-Launch

Customer Research

Not an exaggeration, but understanding customers and their needs is the most essential strategic insight. A comprehensive customer research will not only help you to build the right product but also craft the right go-to-market strategy.

Customer Profiling & Segmentation:

You know your customers but there is always a room for knowing them better as they are always evolving.

Customer profiling is to know customers and their needs better and should be done through documented buyer personas so that everything is visible to you, from customers' changing needs to the direction of their evolution. Customer segmentation is to break them into specific groups that share unique characteristics. Having a full understanding of customers will help you make informed decisions. Eventually, this information helps you to design and deliver exceptional customer experience and augments your product by being the primary source of competitive advantage.

For software and SaaS products, as you don't have a physical product, you are selling business benefits through your product. While collecting customer insights you would need to answer questions like 'what' are the results they will achieve using your product and 'why' they are looking for those results. The answers to 'what' and 'why' would help you gain their perspective and create appropriate messaging in the launch planning phase.

Buying Process:

Understanding your customer's buying process is the next insight that will enable you to develop a powerful marketing and sales strategy.

Study your consumer decision journey closely, divide it into gradual phases, and navigate through each phase. This will help you to understand accelerators and breaks in this process, online places they refer to, and the sources they trust while making such purchase. For example, after developing the first acquaintance with the product, product website is the next touchpoint for your customers. The website should be able to accelerate the buying process by communicating product benefits with concrete proofs. The website should be able to demonstrate your philosophy and authority in your niche. Similarly, you can define and strategize all the touchpoints in the buying journey.

Competitive Analysis:

Consider the presence of competitive pressure in the market as B2B companies must scan the market and closely compare competitive offerings before making a buying decision.

Start by creating a spec-by-spec comparison between you and your competition. This research should tell you where does your product excel and you can use that differentiation in the marketing communications in the coming exercises of launch planning.

Product Strategy

Now that you have validated your understanding of customers you are going to target and in which priority, this brings us to the second part of the pre-launch phase – product strategy, to evaluate and enhance your product, especially concerning the customer experience. Product strategy covers vital strategic enhancements in the product for engaging and educating customers and improving customer experience.

Beta Usage & Feedback:

The crucial part of this phase is to take lessons from beta usage and feedback. Depending on the nature of your software product, it is advisable to get beta inputs and feedbacks from direct customer conversations or surveys etc. Still, some things are left unspoken. We at Damco Digital, ensure that our clients are able to capture the product usage of beta customers through common analytics tools and even custom developed modules at the backend. This gives a clear picture of the journey they have taken to explore the product and where they got stuck. Leverage beta learnings to identify segments that need validation. Based on the results, you can refine product design, drive innovation, and enhance features.

Now that you have real usage insights, product UX enhancements could also be considered based on the launch timeline you have. Simplicity is not as simple as it may seem to be. It can give your product the power it needs to compete with large established companies offering products packed with features.

In our experience, the user experience is enhanced when the product has more value than more features. Instead of focusing on what features your product has, focus on the value your product delivers.

Product Enhancement Strategy:

You have a product roadmap. You should also plan for product enhancement.

Once the product is in the market, you can expect feature requests, improvements, and additions in the existing solution from customers, prospects and other key groups. You don't need to act on everything but it would be a good idea to set up a market feedback system which will answer – how will the future plans be communicated to customers.

Customer Onboarding & Knowledge Base:

The question you need to answer– what does it take to make it easy for the customers? Customer onboarding strategy depends on the insights you have got from customer research. Additionally, you need to plan a powerful knowledge base with all possible content types helping users to get acquainted with the features and solutions. Here it is important to have video tutorials considering the huge consumption of videos.

Launch Planning

Now is the time to transform insights into actionable strategies for brand building, awareness, competitively positioning your product to faster and profitable growth. At this point, you have enough information about your customers, their buying behavior, your value proposition and use cases from beta. The planning phase encompasses leveraging all this information in setting goals and team, building positioning and messaging, developing marketing assets and tactics, and defining performance metrics.

Set Goals & Team:

Set specific, measurable goal for this product launch. Most often, the goal of a launch is to develop awareness. Estimate how many impressions (exposures), leads, mentions you will be targeting. Select members from multiple functional areas covering product management, marketing, sales, R&D, support/service to serve on the launch team. What is more important is that these members are trained on every aspect of the product.

Product Brief:

This will majorly cover the development of business approved drafts around unique selling proposition, key benefits, fact sheet, positioning, pricing and competitor information. Drafts should also cover the adoption of customer lingo and search engine validated phrases to ensure you are relevant and discoverable. Businesses need to consider an extensive range of factors when finalizing prices. Work with stakeholders to finalize launch price based on the business case. Also include price tiers, discounts to drive early adoption, etc.

Marketing Assets & Plan:

Below is a list of marketing essentials which will be valid for most of the industries in the digital world. However, how you will position yourself using these tactics would be based on the customer research. Marketing assets and plan development could take several months and covers the major part of pre-launch planning.

Branding Assets: Starts from creating logo, styleguide, slogan, tagline, website design, marketing collaterals reflecting the product brief guidelines. The branding assets should clearly deliver your message to the customers.

Website: Developing/optimizing website for the usability, accessibility, and relevancy. Ensure that interactive touchpoints with customers are developed in the website and related landing pages.

Blogging: Blogging focused on audience needs and interests should be done on a regular, consistent basis, and the more often articles are published, the more likely you'll be found, meaning increased awareness and website traffic.

Social Media Ecosystem: This should include formulating your social media objectives around improving product awareness, website traffic, generating inquiries for a product demo. The plan should also cover monitoring of brand mentions, industry progress, and competitors in order to find business opportunities to engaging with your audience and industry thought leaders.

SEO: SEO happens when you do everything else correctly. This starts from researching and identifying keywords opportunities, reviewing the keywords people are already using to find you and your main competitors.

Premium Content Strategy: Building a content map outlining the amount and type of premium content to be created. This could include offer creation, non-content (templates, marketing kit, etc.), premium copywriting (ebooks, case studies, etc.), webinar creation.

Paid Media Management: Setting optimized paid media campaign based on keyword analysis.

Events: Participating in the relevant events where our customers are present.

Internal Communications: Enabling every member of the launch team to understand their respective roles and how capably managing each activity will avoid confusions in the final hour of the launch.

Public Relations Strategy: Creation of a strategy to build relationships with journalists, editors, bloggers, or a targeted industry community.

Sales Readiness :

Sales strategy that keeps it real, identifies the key decision makers, creates a sense of urgency in the market and is equipped enough to overcome objections with the out bound communications is the kind of sales strategy a new product needs for a successful launch. Your sales readiness will include collateral, demos and presentations and technology enables like CRM to efficiently carry out sales operations.

Growth Ideas:

Think about interactive content – a small tool, a small part of the product you can build and launch to deliver an engaging experience to the prospects. Interactive content focuses on delivering more engaging experience to the prospects. It could be a tool, calculator, or a small portion of the product available on the web to give prospects a trailer.

Any beta customers/partners can blog about you in return of free access for a month.

Educate and inform customer before launch. You can take a thought leadership angle and talk about things relevant to your niche or what you are building.

Performance Metrics & Risks:

Use the approved launch budget to develop an ROI projection from the launch. Decide what metrics you will use to measure the success of your objectives. The metrics could be around; new product orders from existing customers, online and offline leads, RFQs, or orders from new market/geography, and lifetime value per customer. Discuss as a team the risks to the launch plan, particularly those risks that might delay or cause the launch to fail. If possible, develop contingency plans against these risks.

2. Launch

For a software product organizing a keynote with key influencers to reveal product including demos and live streaming over the web is quite suitable for the launch. With a budget available, this could be complimented with media coverage.

Your new product launch could comprise an online sign-up campaign, a keynote, a blog/vlog from the executive team and you can definitely nail it by following below checklist:

Plan for a keynote and live media event

Landing page for new product/website launch/website revamp (to go live on launch day)

Launch announcement blog post & video blog

Personalized outreach efforts by emailing relevant journalists & media houses with the information about launch

Outreach efforts to influencers & analysts

Launch announcement with the link of blog and video blog to your email database

Paid campaigns including banner ads, AdWords, retargeting, paid social media, affiliate marketing, press release

Social media – write posts on social media for days/ weeks leading up to launch, on the day of launch, following the launch

Launch one gated content campaign using a landing page

Live demo/webinar event inviting prospects

Product demo on website inviting prospects

3. Post-Launch

Hang on, it's not over yet! The product launch was only the beginning, with post-launch phase being a continuous
drive of the marketing activities. A product launch never truly ends. Now as the product is in market and there
are queries, sales meetings, demos happening, it's great time to review your pre-launch research and talk with prospective customers. Learn the language they use to describe their experiences with the product demos and how they are perceiving the marketing messaging. Are you hitting the nerve? Do you have new insights to tell your stories better and louder.

The launch is the start of the marketing journey, not the end destination.

Below is a list of activities you should conduct post -launch apart from continuing the marketing initiatives.

Measure Launch Effectiveness

Track mentions in key publications, site registrations, product demo inquiries, social mentions, webinar attendees

Track email open rates, quality, and size of pipeline

Track the increase in social media community

Track the major sources of traffic to your website and landing pages

Prospect Nurturing Program

Welcome prospects in your mailing list

Keep reaching prospects on regular basis

Develop special campaigns for non-responding prospects

Personalize your campaigns based on prospects' interests

Go bold, tell prospects your advantages over competitors

Show prospects your expertise in the industry

Create special value based offer for hot leads

Customer Retention Program

Create upsell campaigns

Plan renewal campaigns

Develop new offers based on feedback from existing customers

Track customer satisfaction

Evaluate whether a loyalty or rewards program will drive repeat business

Build dependency by becoming a trusted advisor