The demand for robust, reliable, and scalable applications is soaring high as businesses worldwide are adopting technology like never before. Coronavirus spread has also intensified the demand for technology-powered business solutions. A recent survey conducted by McKinsey Global indicates that digitization of internal operations and customer interactions has been advanced by three to four years during the COVID-19 outbreak. Software and application development companies are striving to build scalable, robust, and secure business solutions that involve minimum costs and deliver optimized performance across widely used devices and platforms.
Typically, PHP was used to build reliable and robust websites, but the advancement of this open-source technology is now empowering custom PHP development services companies to gain an edge in rendering exceptional web and mobile applications at low costs. Because of its continual upgradation to improved versions and progressing frameworks, startup companies to established enterprises prefer PHP to build websites, e-commerce solutions, and diversified mobile apps over other programming languages.
Why Consider PHP for Custom App Development

1. Budget-friendliness
Being an open-source programming language, PHP is available for free of cost. No licensing or downloading fee makes it available for the general public. In addition to its affordability, PHP also offers a vast community allowing developers to access a giant pool of resources and facilitates knowledge sharing. Developers use PHP to build economic business solutions including advanced functionality without concerning about the raised cost of development.
2. Expedited Development
PHP offers a range of frameworks including WordPress, Joomla, CodeIgniter, and Laravel that allow secure and faster application development through reusable components. PHP allows code reusability following the object-oriented programming approach that helps developers drastically save development time and effort. Allowing seamless integration to built-in functions like GET and POST and pre-written HTML codes expedites overall application development on the go.
3. Flexibility & Integrability
PHP is compatible with the most commonly used platforms including Windows, iOS, Unix, and Linux, and databases such as MySQL, MongoDB, PostgreSQL, etc. Supporting widely used servers like Microsoft IIS, Apache, Netscape, Tornado, Caudium, iPlanet, Xitami, and more, PHP also allows seamless integration to various scripting languages like JavaScript, XML, WML, and others. Being highly versatile and flexible, PHP is preferred for building cross-platform applications with minimized spend and aids organizations to leverage the full potential of their existing IT infrastructure.
4. Documentation & Scalability
With dynamic expandability needs, businesses look forward to a solution that can accommodate scaling requirements. PHP offers a wide range of free extensions that contribute to extending the website's functionality hassle-freely. Additionally, PHP comes with effective documentation letting developers not spend too much time understanding the details to write code making the iterative development process faster and efficient.
5. Maintainability
Business applications need to be updated from time to time for enhanced customer engagement. Adding new features or upgrading existing functionalities requires coding skills and an understanding of programming language. Due to the decipherability of syntax, maintaining PHP codes is quite simple and easy. With a consistent syntax, maintaining PHP based application is uncomplicated and organizations can get the code modified by any PHP professional without depending on the developer who created it.
6. Security
In comparison to other PHP ensures greater security and control to the business applications. Highly reliable and secure PHP ecosystem provides fool-proof security and control features along with 24/7 all-round support available from PHP experts around the world making it the most secure platform to develop business apps.
7. Hosting
A broad array of frameworks, compatibility to varied platforms, seamless integration to databases, and comprehensive support to web servers make PHP the best bet for the hosting providers. Most of the web hosting providers provide website hosting services with PHP as that does not include any extra cost.
Though PHP facilitates organizations with easier, quicker, and affordable application development, full-time resource(s) must be appointed for continually updating and maintaining the application. Organizations are considering to outsource PHP development or hire PHP developers from an eminent development company for saving time and effort in addition to attain various benefits including access to highly experienced and expertly skilled PHP professionals, reduced time to market due to defined timeline project delivery, round-the clock tech support for in-house teams, and reduced operational and staffing costs.
To Sum Up
PHP has drastically captured the web and mobile application development market due to its versatility, compatibility, scalability, security, and cost-effectiveness. This open-source, user-friendly scripting language is being used by businesses across industries through intuitive web and mobile apps leading to better performance and ROI.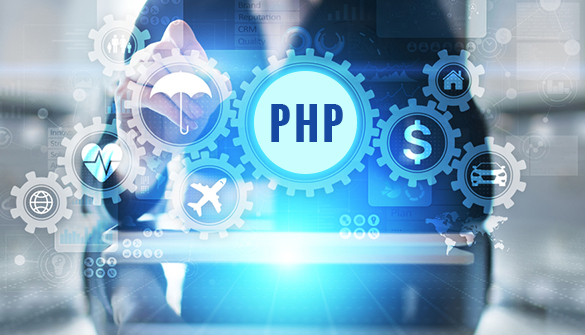 PHP solely or in combination with other application development platforms, facilitates effortless development of simple to complex business solutions including small portals to large marketplaces. Outsourcing custom PHP development services to a technology company having a proven track record can help businesses to optimize application development capabilities with the maximized potential of existing resources.