As enterprises grapple with the need to drive innovation and digital transformation, deliver exceptional web experiences, and meet the changing demands of the modern digital landscape, it becomes increasingly critical for CTO, CIOs, and IT decision-makers to stay abreast of the latest trends. One solution that C-suite needs to shift their attention to is PHP since it is a mature and widely adopted general-purpose scripting language that has brought a paradigm shift in the realm of web development.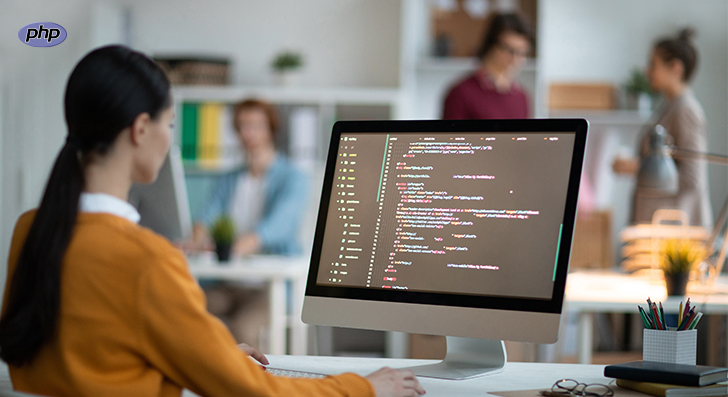 Despite continuous technological advancements, this server-side scripting language still remains a steadfast choice for building interactive and scalable websites, web applications, desktop (GUI) applications, customer relationship management systems, eCommerce stores, and more. What's more interesting is that PHP powers 77.4% of all the websites with a known server-side programming language, and 63.3% of all the websites are using PHP version 7.4, according to the W3Tech report. This indicates that PHP is dominating other scripting languages for web development. However, the developer community is divided and there is a mixed opinion on PHP's individuality. While some consider it as an adaptable and matured scripting language for developing dynamic websites, applications, and various web-based solutions, others see it as a clunky, crappy, and mediocre technology for web development. Nevertheless, PHP has seen tremendous improvements since the release of version 7.0, and it is not going toe-to-toe with other general-purpose scripting languages. Now, let's dive deep into the latest PHP development trends.
Latest PHP Web Development Trends to Watch Out For
1. PHP and Cloud Integration
The Cloud is upon us, and leading players in the industry are providing reliable Cloud-ready infrastructure and services like continuous integration and continuous delivery (CI/CD), automated testing, and more for faster development and deployment. This may be one of the reasons behind the wide adoption of Cloud infrastructure services. According to a recent report, the Cloud infrastructure services market size is estimated to grow from 72.69 billion USD in 2023 to 100.15 billion USD by 2028. This clearly indicates that businesses will be investing heavily in Cloud services. PHP integration with the Cloud can be a game-changer in the web development realm. By integrating this server-side scripting language with the Cloud, businesses can leverage the potential of both technologies and build scalable, secure, and flexible web development solutions at reduced costs.
2. PHP and IoT Integration
The Internet of Things (IoT) is the latest technological advancement poised to transform businesses across verticals. In fact, a large number of industries are already using IoT for optimal asset utilization and tracking, improving customer experience, reducing costs, increasing visibility across siloed business functions, and gaining real-time insights for informed decision-making. This disruptive technology is growing at a rapid pace and it is estimated that the market size of IoT will grow from 662.21 billion USD in 2023 to 3,352.97 billion USD by 2030, at a healthy CAGR of 26.1% during the forecasted period. IoT and PHP work in tandem to unlock a new world of possibilities to interact and connect with the digital world. Though PHP and IoT Integration is still at its nascent stage, this emerging trend will pick a strong momentum in the near future. Businesses can employ popular PHP frameworks such as Laravel, CodeIgniter, and Symfony to meet their IoT solution requirements.
3. PHP and Smart Chatbots
Customer service is an integral part of businesses, large and small alike across industry verticals. In this fast-paced world, traditional means of customer support such as in-store visits or phone calls are becoming obsolete owing to their time-intensive nature. This is where the role of Smart Chatbots comes in. Customers can interact with Smart Chatbots in the same manner they communicate with humans to get general guidance and information, resolve queries or technical challenges, and receive documents. This may be the reason behind the rising popularity of chatbots in the past few years. The interesting thing to note is that global consumer retail spending via chatbots will reach 142 billion USD by 2024. Smart Chatbots can also reduce handling time by up to 77% and improve sales by 67%. Furthermore, roughly a quarter of organizations will employ chatbots as their primary customer service channel by 2027.
Smart chatbot development is the latest PHP trend that businesses are capitalizing on. By leveraging modern PHP frameworks and tools, enterprises can build future-proof intelligent chatbots for their business to stay connected with customers even after business hours and resolve their queries quickly and conveniently.
4. PHP and Voice Search Optimization
Voice search optimization is another popular PHP development trend gaining strong momentum with the increasing usage of digital assistants such as Alexa, Siri, and Google Assistants. According to recent studies, 71% of consumers prefer to use voice search over typing when making a query, and more than a quarter of the global online population is actively using the voice search feature on their smartphones. The reason behind the rise of voice search is that it is 3x faster than typing, making it more logical. Realizing the growing demand for voice search, PHP developers have started implementing speech functionality when developing websites, applications, and other web-based solutions.
Summing Up
PHP has become the go-to programming language for building dynamic and interactive web solutions that cater to ever-evolving business needs. By embracing the latest PHP trends discussed in this informative piece, enterprises can enhance user experiences, drive innovation, unlock new opportunities for growth and success, and ignite transformation with their digital initiatives to stay at the forefront.