Continuos advancement of technologies, devices, and business models are skyrocketing the demand for technology solutions across every industry vertical. Healthcare apps are making headway into our lives due to the spread of pandemic mandating social distancing and contactless approach. Healthcare companies, insurance firms, hospitals, medical professionals, and other stakeholders are embracing the web and mobile applications to perform overall business operations to avoid disruptions.
Boundless endorsement of mobile and wearable devices has elevated the landscape for healthcare app development like never before. Healthcare application development companies are capturing endless opportunities to develop web & mobile apps for patient management, Electronic Health Records (EHR), Electronic Medical Records (EMR), online consultation & prescription, appointment scheduling, medical training, diagnosis, health monitoring, insurance policy sale, purchase, claim settlement, and many others.
Based on the current market landscape of healthcare application development, here are predictive trends for year 2023.
Healthcare Mobile App Development Trends to Watch Out in 2023
1. Telemedicine & Virtual Care
A report by McKinsey states that 84% of physicians were offering virtual visits as of April 2021.
Coronavirus outbreak has drastically escalated the number of online consultations. Medical professionals are also reaping the benefits of telemedicine to provide care to increased number of patients in their packed schedules while keeping the risk of infection spread at bay. Integration of technologies like Artificial Intelligence, Machine Learning, Data Analytics, and the Internet of Things in healthcare software development is now realizing the concept of virtual care of patients from any remote location. The adoption of robotic healthcare assistants is empowering Healthcare companies to serve their customers with more agility and efficiency.
2. Artificial Intelligence
AI in the healthcare market is expected to reach USD 67.4 billion by 2027 with a CAGR of 46.2%.
Healthcare apps developers are leveraging Artificial Intelligence (AI) and data analytics technologies like data mining in delivering smart solutions that improve the care delivery services to the patients. Healthcare companies are implementing AI-enabled chatbots to dispense utmost medical assistance to the patients and respond to their queries by scheduling appointments, sharing information about online resources, and connecting to the appropriate channels through natural language processing.
3. Cloud Computing
Analysts predict that the value of cloud computing aspects in the healthcare would reach $35 billion by 2022.
Cloud computing allows multiple business benefits including secure access, storage, and management of voluminous data generated by countless devices and healthcare applications. Health organizations are embracing subscription-based data and application storage, IT infrastructure, and security architecture to achieve consistent productivity and lowered operational costs. Electronic Health Record systems (EHR) built on big data and cloud-hosted documentation like patients' medical records, diagnostics, prescriptions, and other critical information are empowering healthcare companies with improved efficiencies.
4. IoT Applications
IoT-embedded applications for wearables are gaining traction in healthcare software trends due to contactless operations across healthcare functions. These healthcare mobile apps help to connect medical practitioners to their patients instantly. Wearable devices with applications built over the internet of things can monitor patients' health and assist them remotely anytime and from anywhere.
5. Predictive Analytics
When it comes to software development trends in healthcare, you can't overlook Predictive Analytics. Data science enabled applications using predictive analytics of historical data can help to detect outbreaks of other diseases in advance. Data-driven decisions based on climate, patients' behavioral data, and diagnostic records are capable of supporting in research and development of new drugs to mitigate the COVID-19 outbreak like challenges.
Key Considerations for Healthcare App Developers
Though the mobile app market is soaring high, every Healthcare mobile application development company has to focus on some considerations while taking over an application development project.

A research predicts the digital healthcare market size to attain a value of around $509.2 Billion by 2025.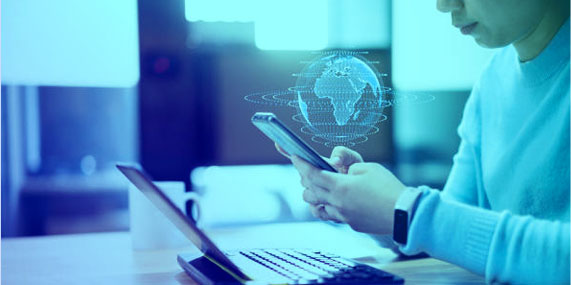 1. Ease of Access
Cloud-hosted applications allow ease of access to the modules and data from anywhere anytime. Additionally, cloud-based healthcare applications contribute to minimized or no infrastructure costs, enhanced user engagement, improved business performance, and data security.
2. API Elements
Including independent APIs in the applications gives the healthcare companies the freedom to integrate a specific functionality into the users' devices or other applications. Instead of installing the entire application, users can set up only the desired module or integrate it with other third-party apps.
3. UI and UX Design
Healthcare application developers should focus on implementing a user-centric responsive UI/UX to render an exquisite user experience. Hassle-free exchange of information, report generation, and data storage must be taken care of while providing user-friendly mobile applications for better user engagement.
4. Data Security & Compliance
The security of healthcare applications must adhere to standard medical compliances including PII, PHII, and HIPAA. App data and information structure must be assured by enforcing end-to-end data encryption and validating secure data transfer to the remote server over secure communication channels.
5. Application Testing
Deploying a healthcare app in absence of quality checks could lead to serious repercussions. All modules of the app must be tested against the defined metrics of security, accuracy, scalability, load, and performance-benchmark across common platforms including Windows, Android, iOS, and others.
To Sum Up
Digitization of healthcare has accelerated the demand for mobility applications expediting the operations with amplified business benefits. By embedding advanced technologies like artificial intelligence, machine learning, business intelligence, data analytics, intelligent process automation, internet of things IoT, and neural networks to the Healthcare solutions, web & mobile application development companies can capacitate the healthcare sector with augmented performance. Associating with a pioneered healthcare app development services provider with a focus on prime considerations can help healthcare organizations in rendering better patient care and management services.