Developed by Microsoft, Power Apps is a low-code platform that is transforming the way the apps are developed across the globe. With a suite of apps, services, connectors, and a data platform at your fingertips, you can create custom business apps in record time. The platform is comprehensive and provides a rapid development environment to build apps that meet your exact business needs, modernize your processes, improve business agility, and solve unique challenges. It is because of such revolutionizing capabilities; Power Apps has been recognized as a Leader for low-code app platforms in the Gartner® Magic Quadrant™.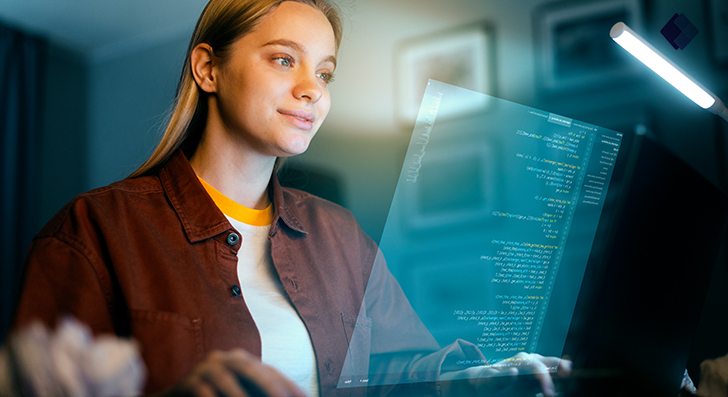 According to a study commissioned by Microsoft, the average cost of application development using Power Apps is 74% less compared to traditional methods. This explains why a whopping 92% of the Fortune 500 companies are using Power Apps every month.
Power Apps: Some Use Cases
Here are the following use cases that demonstrate the huge potential of Power Apps:
Inventory Management System: Power Apps creates user-friendly interfaces for inventory tracking, order fulfilment, and warehouse management. Power Automate automates workflows like stock alerts and reordering. Dataverse stores and manages inventory data in a centralized database. Together, they offer real-time inventory visibility and streamline processes, while boosting efficiency, accuracy, and profits.
Employee Onboarding Application: Thanks to its ability to access and integrate data from various Microsoft 365 services, Power Apps has become a go-to solution for many companies seeking to create onboarding tasks applications that streamline the whole process for HR personnel and new hires. These applications offer a variety of resources to new employees including policy manuals, contact details of team members, and forms to complete their internal profiles.
Service Request Application: With Power Apps, you can easily develop an interactive helpdesk tool that enables users to submit IT tickets directly from the app. It is also used by other organizations to collect service requests for facility maintenance, HR, purchase orders and more.
Get Your Power Apps Project Evaluated by Experts
Reimagining Contours of App Development
Power Apps is the ideal solution for those who want a low-code platform that is user-friendly, promotes digital transformation, enhances productivity, and reduces expenses. Its powerful features and easy-to-use interface make it a popular choice among businesses of all types and sizes.

1. Accelerating time-to-market with low code
Traditionally, businesses had to create custom-coded apps to fulfil such requirements, which could be expensive and time-consuming. Most businesses lack the IT resources required to create these custom apps from scratch. Furthermore, the return on investment may not justify the time and cost involved. However, PowerApps has changed this by allowing users and developers to create apps in a matter of hours, instead of months, eliminating the need for expensive custom-coded apps.
Additionally, the community of business application developers is leveraging Power Apps and the Common Data Service to accelerate time to market and drive innovation while empowering citizen developers through APIs and UI components. Savvy IT leaders are implementing the Center of Excellence strategy to influence Power Platform adoption and digitally revolutionize thousands of business processes every year, all while ensuring enterprise-grade governance and security. Here are the following four ways Power Apps can transform application development:
Businesses can create customized solutions that meet their specific requirements. For example, businesses can automate communications, streamline employee onboarding and offboarding, track employee expenses, manage inventory, and generate instant quotes with ease. These capabilities enhance productivity, save costs, and facilitate digital transformation for organizations.
With Power Apps, businesses can automate repetitive and time-consuming tasks, thus freeing up their workforce to focus on activities that require human creativity and problem-solving skills. Furthermore, with its seamless integration with Power Automate (previously known as Microsoft Flow), small and medium-sized businesses can automate any business process and streamline their operations.
2. Optimizing experience
Power Apps is transforming the way businesses develop, deploy, and manage their crucial applications. With its comprehensive set of tools, including low-code UX, high-productivity data modelling, data integration, security, lifecycle management, and professional-grade quality assurance tools, Power Apps ensures smooth and efficient operation.
Moreover, the new feature, Power Apps Monitor, provides full visibility into the functioning of your app. It allows you to easily identify and address issues like connector failures and performance bottlenecks to ensure an optimal user experience.
3. The power of modern Intranet
Power Apps' popularity stems, in part, from its seamless integration with Microsoft 365's productivity tools like SharePoint and Teams. This integration not only simplifies app development for users, but also allows businesses to streamline their employees' experience at scale by leveraging widely used tools. The combined capabilities of Teams, SharePoint, and Power Platform enable companies to create dynamic intranets that go beyond static repository of information. With features like streamlined communication and collaboration to intelligent automation and data-driven insights, modern intranets powered by Teams, SharePoint, and Power Platform can transform the way organizations work and help them achieve their goals more efficiently.
Teams provides a central hub for employees to collaborate, communicate, and access important resources.
SharePoint, on the other hand, provides a robust content management system that enables companies to store, organize, and share documents and data securely.
Power Platform allows organizations to build custom business applications and automate processes using low-code tools, empowering business users to solve business problems with ease.
By combining the capabilities of these three platforms, it is possible for companies to build modern intranet that is dynamic, interactive, and personalized to meet the specific needs of their employees.
4. Leveraging the power of Dataverse
The Common Data Service, known as a Dataverse, is a robust platform that supports Microsoft's advanced business applications such as Microsoft Dynamics 365 Sales, Customer Service, Field Service, Marketing, and others. It provides secure management and storage of data used by business applications, whereas app developers can use Power Apps to create rich applications using this data.
5. Breaking barriers with platform-wide innovation
Power Apps goes beyond just creating forms for data collection and even traditional app development. The Microsoft Power Platform is uniquely designed for seamless integration across Apps, Automation, Business Intelligence, and now even Virtual Agents.
As the Power Platform expands, it offers low-code, high-productivity tools for advanced scenarios like machine learning prediction, cognitive AI, Robotic Process Automation, and low-code bot development. With such a wide range of capabilities, legacy applications can be easily modernized without the need for expensive and time-consuming replatforming efforts.
For example:
Microsoft Power Automate has introduced UI Flows (Preview) which enables intelligent automation of older Windows and web browser applications that lack direct API support.
Microsoft Power Virtual Agents, the newest addition to the Power Platform family, now allows easy creation of low-code bots that can be embedded on your website to directly interact with customers or external users.
6. Componentization is shaping the future
New capabilities like AI Builder can be easily added to existing apps through components. Components are building blocks that makers can quickly assemble to build powerful apps – created either in code or composed on the low-code canvas. Components amplify the work of advanced makers by allowing more people to leverage sophisticated capabilities easily in their apps.
By making code components available for general use, professional developers can now enhance pre-existing user experiences and deploy them in production for model-driven apps. The framework allows developers to create fully functional code components that can be used across all PowerApps features.
7. Think in large app scale
The robust capabilities of Power Apps are driving innovation beyond individual applications or specific use cases. Organizations are leveraging the platform to create hundreds or even thousands of production-ready apps forging new partnerships between IT leaders, coders, and citizen developers in the process.
Power Apps is thriving in large organizations, and not as "shadow IT." In many cases IT is centrally empowering this wave of innovation. Unlike local Excel files, Access databases, third-party SaaS purchases, or rogue departmental one-off projects, app development on the Power Platform is secure and governable by design.
Conclusion
As the business landscape rapidly evolves, companies are driving their digital transformation initiatives to enhance efficiency, boost productivity, and maintain competitiveness. With Power Apps, you can build cutting-edge business apps quickly to accelerate time to market.