The demand for enterprise-grade applications is estimated to grow at least 5x faster than internal IT organizations' capacity to deliver them. Right now, a worrisome prediction states that businesses worldwide will incur a loss of 1.4 trillion AED each year by 2025 owing to the IT skills gap and the resulting inability to solve the most pressing business problem.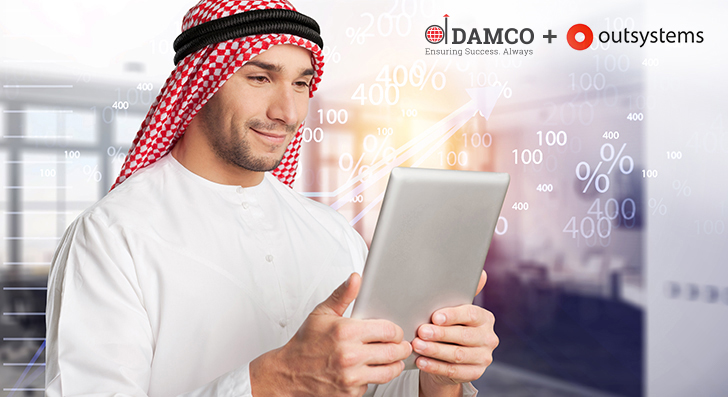 Faced with a long-running shortage of skilled IT specialists, CTOs, CIOs, and other IT decision-makers in the Gulf Cooperation Council are constantly seeking avenues to bridge this talent gap whilst improving agility, efficiency, and digital transformation initiatives. Enter 'OutSystems,' a robust low-code platform designed to radically simplify and expedite the time-intensive application development process. In other words, OutSystems has not only brought a paradigm shift in the rapidly evolving landscape of application development, but also unlocked new opportunities for driving innovation, growth, and success by offering remarkable integration capabilities with other tools and technologies. Before diving deep into the transformative potential of OutSystems integrations and how they redefine the enterprise's technological landscape, it's important to note that low-code will be accountable for 75% of new application development by 2026 and the global market for the low-code development platform is estimated to reach 545.44 billion AED by 2030 at a healthy CAGR of 27.8% during 2022–2030.
Handling Technical Debt with OutSystems
OutSystems Integration Possibilities

1. API Integration
OutSystems allows business users to connect with a range of external APIs, enabling easy integration with data sources, Cloud platforms, and third-party services. This integration paves the way for seamless data exchange and functionality extension without the need for custom coding.
2. Integration with Legacy Systems
Breathe life into legacy systems by integrating them with OutSystems. This integration facilitates business users to not only preserve existing IT investments but also extend their functionality and transform user experiences at large. In other words, this approach is a strategic imperative aiming at transforming legacy systems into modern, agile assets to swiftly respond to market shifts and meet the ever-changing business requirements.
3. IoT Integration
OutSystems seamlessly connect with IoT-powered devices and platforms, enabling business users to collect data for analysis in real-time. This synergy offers the potential to improve decision-making and leverage IoT insights for predictive analytics.
4. Microservices Integration
OutSystems complements microservices architectures, allowing business users to build, deploy, and integrate microservices seamlessly. Integrating microservices with OutSystems facilitates scalable and modular application development that fosters flexibility, reusability, and scalability.
5. Cloud Integration
With the rise of Cloud adoption, OutSystems offers seamless integration with popular Cloud platforms, such as Google Cloud, Microsoft Azure, and AWS. This fusion marries the benefits offered by Cloud infrastructure with OutSystems' agility and faster development speed.
6. AI and Machine Learning Integration
OutSystems allows business users to harness the potential of AI and Machine Learning by using the OutSystems.AI Chatbot component from Forge, a repository of connectors, UI components, and open-code modules. These components are easy to use and citizen developers can easily add them in low-code applications using the drag-and-drop interface. Using these connectors and components, users can accomplish the goal of creating low-code applications with AI capabilities in a quick turnaround time.
7. Mobile Plugins Integration
OutSystems helps users to extend the functionalities of mobile applications by integrating a wide array of plugins, including Analytics, Payments, QR/Barcode scanner, Social Login Mobile, SSL Pinning, Touch ID, AppShield, and more.
8. Integration with External Databases
Using Integration Builder, users can integrate OutSystems with a multitude of external databases including MySQL, Oracle, DB2 iSeries, Azure SQL and SQL Server, MongoDB, and more.
A CIO's Guide to Low-code Platform Selection
Best Practices for Successful OutSystems Integration
When embarking on a journey to leverage the potential of OutSystems integration possibilities, a well-defined approach is pivotal for success. Listed below are the best practices to ensure successful integration and make the most of OutSystems.
I. Strategic Vision
Define a clear and comprehensive OutSystems integration roadmap aligned strategically with business goals and objectives. Identify critical integration points and prioritize them based on complexity, efficiency, user experience, business value, and innovation to lay the foundation for success.
II. API Governance
Establish robust API-centric governance practices to ensure consistent and secure communication across systems. Well-documented APIs not only foster flexibility, reusability, and scalability but also facilitate seamless integration and development.
III. Data Security
Establish stringent security measures and best-in-class data management practices to ensure data protection throughout the OutSystems integration process. Implement access controls, encryption, secure authentication, and compliance protocols to safeguard crucial information.
IV. Performance Monitoring
Leverage modern monitoring and analytics tools to track the performance of integrated systems. Proactively identify and address anomalies or bottlenecks to maintain optimal user experiences.
V. Change Management
It is likely that OutSystems integration initiatives can bring changes to existing workflows and processes. Effective change management practices encompassing comprehensive training and end-to-end support are critical to ensure smooth user adoption.

Should You Opt for Low-code for Application Development
Summing Up
The pursuit of seamless integration becomes the cornerstone of success in a digitally driven era, where interconnectedness reigns supreme. OutSystems emerges as a robust ally for CTOs, CIOs, and other IT decision-makers in Gulf countries, offering a low-code application development platform that seamlessly integrates with a spectrum of technologies. By embracing OutSystems integration, companies can unlock the full potential of a connected ecosystem and realize increased agility, accelerated innovation, optimized operations, and enhanced user experiences.
Case in Focus
A leading multinational corporation based out of Kuwait specializes in the distribution of consumer electronics. The client relied on a mix of in-house solutions, third-party applications, and legacy systems to manage its operations, including supply chain management, sales analytics, and customer support. The diversity of technologies resulted in disjointed processes, data silos, and a lack of a unified customer experience. Recognizing the need to improve customer experience and optimize operations, the client found the answer in OutSystems' integration capabilities and partnered with Damco Solutions to craft a comprehensive integration strategy. By embracing OutSystems integration possibilities, the client improved operational efficiency by 38.72% and enhanced customer experience by over 50%.