Have you taken note of the rising prominence of the Chief Technology Officer (CTO) within the C-suite? There are sound reasons for this trend. With a competent tech expert, the helm, businesses can stay ahead of the change curve, and remain competitive in an ever-changing, competitive, and dynamic business environment. Fully aware of their criticality, startups or scale-ups aspiring for hyperscale-like growth are keen to bring them onboard. However, they may lack the necessary means and resources to hire a competent and experienced full-time Chief Technology Officer. Engaging a virtual CTO offers a viable and pragmatic solution to solve this problem.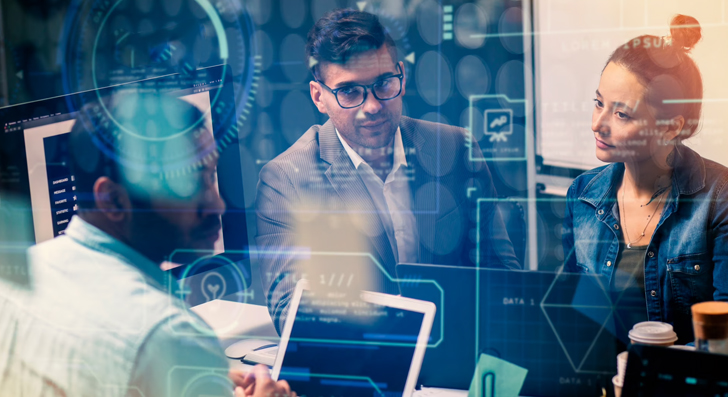 Leverage Executive-Level Expertise Without Breaking the Bank
A virtual CTO offers the same responsibilities as their traditional counterpart but provides the added benefit of working remotely. They can play an instrumental role in overseeing the current technological requirements, identifying technology opportunities to maintain the competitive edge, providing strategic direction, and recognizing the challenges within the organization, while helping organizations to optimize their technology infrastructure through efficient use of existing resources.
Furthermore, this model offers a higher level of flexibility compared to the traditional one. For instance, they can be typically hired on a part-time, project basis, or even full-time, based on the business requirements.
Remote CTO: Know When Your Business is Ready for It
Here are a few scenarios where choosing on-demand CTO can make business sense:

1. If You Face Challenges in Hiring In-house CTO
Opting for remote CTO in such situations can help organizations sidestep relocation costs, higher wages as well as other recurring expenses typically associated with the on-site counterpart.
2. When You are a Non-technical Founder
For a non-technical background, it can be a daunting task to make sense of what is going on with your development team. With CTO-as-a-Service, you can hire a Chief Technology Officer who can help in building a result-oriented software development team.
3. When Your TTM Cycle is Slow
A remote CTO could be just what the doctor ordered to steer your tech startup or software company in the right direction. With all the knowledge, expertise, and experience at their command, they can efficiently guide and mentor your development team, enabling them to create superior products and accelerate the time-to-market and release cycle.
4. If You Want to Improve Efficiency
If your organization still relies on legacy systems and traditional software development practices, now is the time to tread on the path of digital modernization. A virtual CTO can provide expert technical guidance, which can be invaluable in ensuring a smooth transition.
5. If You Seek Technology Roadmap
A remote CTO can provide valuable insights into a startup's technology landscape while helping to define the company's long-term technology strategy and roadmap for success.
6. If ROI From IT Resources is Low
This typically happens when organizations are stuck in the 'bubble' mindset, which is not good for organizations as it hinders innovation. Hiring a remote CTO can bring a fresh perspective and a wealth of technical expertise to the organization, helping to optimize existing tech resources and increase ROI. They can identify areas of improvement, streamline processes, and implement best practices, leading to greater efficiency and effectiveness.
7. If You Face Challenges in Tech Transformation
A good CTO can play a pivotal role in overcoming growth-inhibiting bottlenecks, driving productivity and profitability. They can help your company in efficiently streamlining the tech transformation process and help you focus on growing your business through strategic initiatives.
8. When You Need Expert Tech Consulting
With strategic technology consulting under the leadership of a competent Chief Technology Officer, you can effectively deploy, manage, and lead technology projects, with seamless project development, implementation, and integration.
How Remote CTO Services Can Help You Stay Ahead in the Competition
The ubiquitous presence of technology in every aspect of our life has made it indispensable for industries and organizations to incorporate it into their strategies to ensure long-term growth and business continuity. Ignoring this vital factor can only be done at one's peril. History is rife with examples of businesses that suffered because they failed to embrace technological changes at the right time. That's where the role and expertise of a CTO can be crucial. They can sense what's coming in the future and prepare your company accordingly.
A few important ways an on-demand CTO can help you stay ahead of the curve are as following:
First and foremost, opting for a remote CTO helps businesses significantly cut down on costs associated with hiring a fulltime Chief Technology Officer, while still benefiting from the expertise of a seasoned IT professional.
Secondly, leveraging fractional CTO enables startups to skip the long trial-and-error process of software product development. Thus, it offers the triple win for a startup: slash the time to launch from months to weeks, save big on development costs, and not be limited by tech capability in any way.
Thirdly, they work as per the client's time zone and preferred communication channels, businesses can ensure timely and efficient access to IT solutions that meet their specific needs.
Fourth, they can bring innovative ideas to the table with their experience and expertise, which can help organizations implement technological strategies for maximum productivity and output.
Last but certainly not least, on-demand CTO services somewhat level the playing field for startups and small tech firms that may otherwise not find it possible to tap into the expertise of a seasoned tech expert because of limited resources at their disposal.
The model empowers tech companies to benefit from a CTO's expertise and knowledge, helping them stay competitive by speeding up innovation, accelerating digital modernization, monitoring IT budgets, and developing robust quality assurance processes.
Exploring Multiple Engagement Models
Understanding the different models can help you choose the option most closely aligns with your business objectives and budget:
A full-time onsite model works best if your project demands the CTO to work with the development team. It is appropriate for scale-ups and software technology firms that need ongoing tech innovation and support.
Startups operating on a limited budget can opt for the full-time remote CTO engagement model, which offers a cost-effective alternative to acquiring high-quality tech expertise.
If the position requires a mix of on-site visits for team development and project oversight, as well as remote engagement, a hybrid engagement model could be the optimal solution.
A part-time CTO is suitable for businesses seeking high-quality tech support, but they don't need the services of a full-time chief Technology Officer. The model offers quality tech support at lower prices.
Interim CTOs are a suitable choice for businesses seeking temporary services for specific project durations, such as technical troubleshooting or audits.
Hiring Remote CTO: A Detailed 5-Stage Hiring Process
Here is a five-step guide to help you choose the right remote CTO for your business:
I. Set Clear Requirements
To ensure that you engage a Chief Technology Officer with the right expertise, assess your specific technology needs and requirements carefully. Here is a list of questions that can aid in a more thorough assessment of your requirements:
From what location do you want to hire?
Whether you need remote, hybrid or onsite model.
Do you need a full-stack expert for front-end development or someone with a web app development background?
Do you need strong team building and project management experience?
Finding correct answers to these crucial questions means you have taken the first step in the right direction.
II. Identify the Type of CTO You Need
It is essential to understand that not all CTOs are the same, they can have different areas of expertise:
For early-age startups, you need a CTO who can set a strong technology foundation for your company and make critical decisions.
Scale-ups face unique technology challenges that require a tech leader capable of effectively prioritizing software projects, overseeing the development team, and scaling technology infrastructure as needed, along with robust management abilities.
On the other hand, a large and mature technology company requires a technical director to refine product architectures, implement digital modernization solutions like migration to the cloud, and implement AI and automation solutions to maximize ROI and an enhanced customer experience.
III. Choose the Right Hiring Model
Selecting the right hiring model depends on your business needs and requirements. You can choose a fixed-price model, where you pay a pre-agreed sum for the services provided by on-demand CTO. You can also opt for a time and material model, where all you have to pay for is the time and materials consumed to take a project to its logical conclusion.
IV. Share Your Requirements With External Partner
When you are sure about your specific business requirements, it is time to discuss them with a trusted external partner. It is advisable to look for a reputable company with an impeccable track record of offering high-level remote CTO services at competitive prices.
V. Sign Agreement
The next step after selecting the external partner is to draft a contract that defines the scope of work, engagement model, payment terms, and other SLA details to ensure clarity and transparency. However, going through the details carefully is recommended before signing on the dotted line.
Case in Focus
Let's explore how a virtual CTO can guide a startup toward success. One of our clients, located in Denver, is an ed-tech startup that wanted to build an educational marketplace to connect online learners with the best-in-class educational service providers in the US.
As such, they were looking to hire a full-time Chief Technology Officer to provide strategic vision and a technology roadmap for long-term product development. Keeping in mind their specific requirements, vision, and business objectives, Damco provided them with a full-time CTO on a remote engagement model. It has been over 1.5 years, and the remote CTO has successfully overseen their product development and growth.
Final Thoughts
As technology continues to dominate, every company is essentially a tech company. If you choose to ignore it, your competitors will use it to their advantage by cutting inefficiencies and gaining a competitive edge that lasts forever. If you're worried about lacking tech leadership and falling behind, hiring a virtual CTO can help you stay ahead of the curve and level the playing field.