Effective reporting is the key to intelligent decision-making in any business. Due to the digitization of business, a voluminous amount of data is generated every minute driving organizations to juggle around creating useful insights. Cleansing and preparing data collected from various sources to extract useful information is the crux that augments decision making and strategies. Microsoft Power BI service helps organizations leverage technology-powered analytics that captures data from disparate sources, including cloud-hosted/on-premise applications (Excel or databases). Interactive Power BI dashboards depict data visualizations using graphs and charts that enable businesses to acquire?insights through custom reports with just a few clicks.
This article explores the reporting challenges leading to business disruptions and how associating with a Power BI consultant aids in mitigating these concerns on the go.
Reporting Challenges
Challenge #1 Reporting with Unstructured Data
Reports generation is an arduous task as it involves the processing of crucial data gathered from diverse channels in varied formats. Organizations rely on different departments for data collection and it is not always feasible to validate the data quality. Mostly, the captured data is unstructured and difficult to analyze which impacts the business decision-making adversely. To perform business intelligence functions, organizations have to invest hugely in cleaning, modeling, and structuring of the data. Additionally, visualizing the volumes of data generated by boundless devices in today's age is the biggest challenge for enterprises.
Solution
Power BI boosts accessibility and visibility of the insights by bringing and processing the data collected from different sources on a single platform. With an ability to handle vast amounts of data, Power BI eliminates manual processing making the data organization and insight-generation instant and accurate.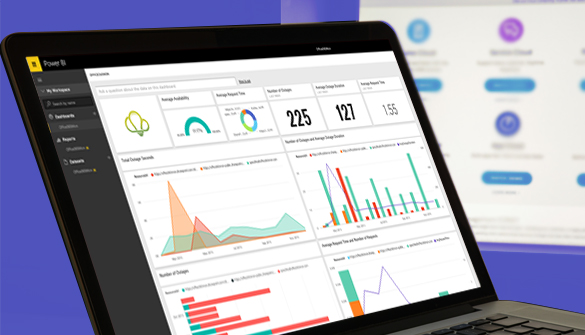 It seamlessly connects with data sources, applications, and services including Office 365, SQL Server, Salesforce, Microsoft Dynamics 365, Google Analytics, and others. Integrating a Power BI solution having automatic ETL capabilities addresses the concern of processing unstructured data sets. Creating a management dashboard and visualizations based on various factors aids in summarising the KPIs of different departments efficiently.
Challenge #2 Secure Collaboration with Teams
Data for creating reports is collected from various departments and the capability of interpreting and acting upon the gathered information varies from team to team. Lack of collaboration among teams to compile all information into a useful business-focused report is one of the eminent challenges. Most organizations encounter the problem in identifying which report is recently updated and which employee or team should be allowed to access the generated insights. Also mapping the achieved outcomes to the defined metrics for assessing the performance becomes cumbersome in the absence of a collaborative ecosystem
Solution
Power BI allows the sharing of dashboards with teams and employees that help them collaborate on an intuitive platform to share the data and review the insights generated based on key business metrics. Relevant permissions can be granted to the teams and the link to a specific dashboard can be shared via email. Based on the granted rights, users can view and interact with the dynamic report components manipulating the data and information. Various security permissions can be implemented to safeguard critical business data from unauthorized access.
Challenge #3 Real-Time Reports with Extensive Details
Most of the analytics tools do not provide detailed insights up to the expected level of reporting. Drilling-down the data in real-time is a challenging task as generally, the reporting tools deliver a restricted level of insights on the captured and stored data. Dynamic figures behind the underlying data lead to a range of anomalies. Locating the specific source of data, understanding the cause, and making adjustments are quite challenging for organizations to perform analytics and attain a peculiar level of reporting.
Solution
Power BI facilitates dynamic reporting that does not require any coding or comprehensive analytical skills. Any authorized user in the organization can leverage the data-driven analysis to generate intelligent insights hassle freely. Being a purely business intelligence platform, the Power BI dashboard allows the generation of highly detailed reports and creating hundreds of dynamic visualizations by auto-refreshing the source data in real-time. Having machine learning and natural language processing as underlying technologies, Power BI also helps businesses in discovering the unexplored potential of their data.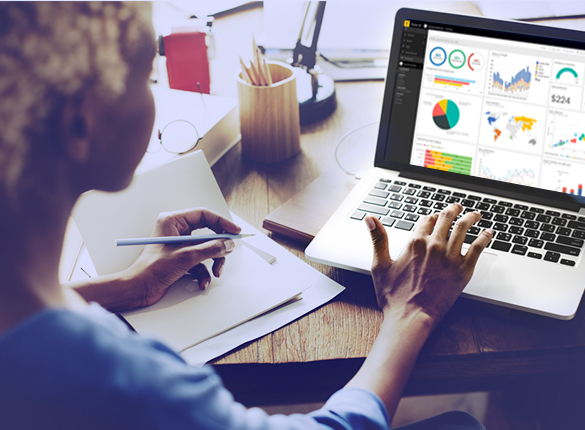 How Power BI Consultants Can Help Addressing Reporting Challenges
Reaching out to a Power BI consulting services provider having proven expertise in deploying, integrating, and implementing Power BI can aid in resolving various business intelligence reporting concerns with:
BI Strategy
Power BI implementation and reporting requires an in-depth understanding of the business intelligence platform and its functions. A readiness check is done by a Power BI consultant to identify the KPIs for the reporting in the Power BI dashboard. Strong BI strategy and roadmap creation leave no space for data analytics anomalies promoting accelerated business performance.
Custom Power BI Development
To address distinct data analytics and reporting needs of every business, custom dashboard development services are offered by many Microsoft BI consultants. Integrating an interactive, user-friendly dashboard that allows custom report generation to existing applications and services is a rigorous process that can be accomplished by associating with a Power BI consulting service provider.
Power BI Deployment & Integration
Experienced BI professionals follow a step-by-step approach to overcome Power BI implementation challenges post identification of business problems and prioritizing business outcomes to be achieved. It is always recommended to approach a BI consulting services company having far-reaching competencies in implementing Power BI, dashboard development for reporting, and visualizations creation to avoid any contingencies.
To Sum Up
Though integration of Power BI supports organizations to attain an edge in business intelligence with real-time data analytics and visualizations, it takes enormous time and expert know-how of the deployment and implementation processes. Connecting to a Power BI consulting company for integration services can let you focus on prime business goals by addressing the above-mentioned challenges in business reporting.