In a move that was long overdue since 2018, the sun finally set on Magento 1 in June 2020. While Magento 1 stores were not taken off the internet, businesses were left wondering what this announcement truly meant. In simplest words, it marked the cessation of support and updates for Magento 1.
As the initial panic set in, some store owners were in a tizzy as they planned to abandon ship and opt for other platforms like Shopify, WooCommerce, etc. Even the diehard advocates of Magento were left confused on the further course of action.
However, the solution was painfully obvious – Magento 1 to Magento 2 migration! This post explores how migrating to Magento 2 may benefit businesses and how they can go about this process without losing their minds.
Benefits of Magento 2 Over Magento 1
As a successor to Magento 1, Magento 2 promises a volley of benefits. Some of the key advantages are shared below.
Better Performance
When it comes to features and capabilities, Magento 2 is a formidable juggernaut.
It can seamlessly handle 10 million page views per hour, support full-page caching, manage numerous inquiries, reindex pages, and a lot more. This performance improvement can be attributed to the latest versions of MySQL and PHP, which are supercharging the platform without compromising on security. The tech stack has also experienced an overhaul with newer technologies like Apache, Symfony, Composer, Varnish, and NGINX making an appearance.
The streamlining of the architecture has cut down redundancies and made Magento 2 a lean machine.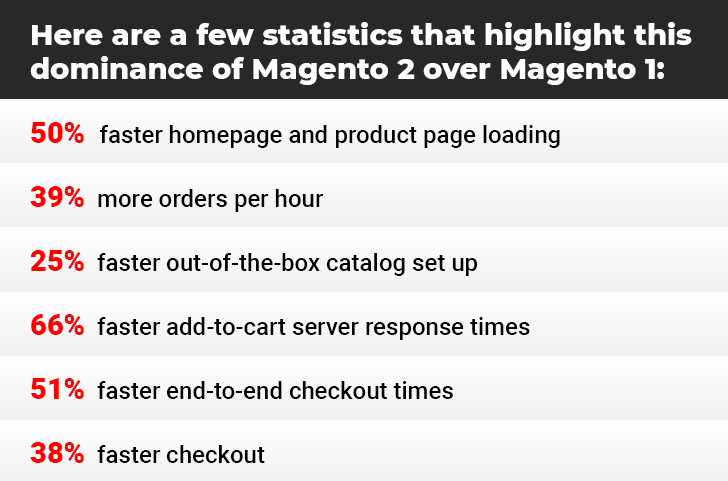 Richer Customer Experience
Given the performance enhancement listed above, Magento 1 to Magento 2 migration is slated to improve the customer experience as well. The customer journey from the awareness stage to checkout will play out frictionlessly to make the shopping experience rewarding and fulfilling.
Such an experience is also consistent across devices. Given the rise of mCommerce, Magento 2 certified professional developers can build progressive web apps (PWAs) with native functionalities, mobile-friendly themes, and cross-platform responsiveness.
Robust Security
While Magento 1 did not have any glaring security flaws, the fact that it reached its end of life puts it in a vulnerable spot. Withdrawal of support for Magento 1 aside, Magento 2 appears to have upped its game through out-of-the-box PCI compliance. It has also strengthened its hashing algorithm (SHA-256) for password management and Argon2iD13 for memory management and introduced two-factor authentication (2FA). As such, the Magento 2 migration benefits become apparent from a security standpoint.
Admin-Friendly Interface
The intuitive admin panel of Magento 2 will come as a breath of fresh air against the clunky, overwhelming interface of Magento 1.
The new and improved admin dashboard offers a preview of the lifetime sales, average orders, last orders, top search items, revenue tax, and more. As such, store owners can access all the crucial information from a single source. Plus, navigating across the different sections of the panel has become a lot more efficient as users no longer have to sift through tabs to locate the information that they need.
Magento 2 has also managed to democratize administrative control as store owners can now set up access-based control. Such a feature will be particularly useful for larger stores with multiple handlers.
Smarter Reporting
Magento 2 offers detailed reports and analytics surrounding sales, marketing, reviews, customers, and products by default. Albeit basic in nature, these reports can help businesses analyze customer response, manage demand, identify upselling/cross-selling opportunities, and more. Further, businesses that wish to gain deeper insights can make use of its advanced reporting features that can grant visibility to store performance. The availability of plugins and extensions that expand its capabilities and improve the bottom line.
A Primer on How to Migrate Data From Magento 1 to Magento 2
Seeing the benefits of Magento 2 over Magento 1, businesses may be keen on making the switch. In this regard, here are the Magento 1 to Magento 2 migration steps:
Step 1: Start by creating a backup of the Magento 1 store. The backup must contain all the files, folders, and databases that are crucial for the functioning of the store.
Step 2: Next, prepare a clone of the store. Test for the compatibility of the existing plugins, extensions, and themes with Magento 2, and eliminate all the unnecessary assets.
Step 3: Install Magento 2 on the hosting server.
Step 4: The themes and extensions of Magento 1 cannot be migrated directly to Magento 2. Some of these elements may not even be compatible in the first place. However, customizations running on custom codes can be migrated to Magento 2.
Step 5: Finally, it is time to migrate data from Magento 1 to Magento 2. Use a Magento 1 to Magento 2 data migration tool for lossless transfer of the details about the customers, products, orders, store configurations, etc.
Step 6: Once the migration is over, configure the Magento 2 store.
While the re-platforming process may not seem like a lot, ensuring that the migration takes place without glitches and losses is critical. Data losses can render the store unusable and nullify the Magento 2 migration benefits. As such, businesses that feel that they are not up for the challenge may hire reliable agencies comprising Magento 2 certified professional developers to carry out this task.
In Conclusion
Ideally, the best time for Magento 1 to Magento 2 migration was in early 2020. The second-best time to undertake this project would be now.
Sure, the process is going to be extensive, time-consuming, and demanding. However, timely action in this direction will make Magento stores more secure and safeguard the interests of businesses and customers alike. At a time when brand reputation and customer experience are the key determinants of an online store's success, the decision to migrate to Magento 2 could be what sets a store apart!