As organizations continue to try and navigate rapid changes in today's dynamic and competitive business environment, catapulted by COVID-19, seeking suitable methods and tools to drive success seems a feasible course of action. And the organizations preferring agility and embracing digital transformation are well-equipped to navigate the challenges and offer any value to their business model, employees, and loyal consumers.
For instance, by moving to the Cloud, organizations gain a competitive edge and optimize operational costs, improve disaster recovery, better security compliances, etc. Besides, a paradigm shift has been observed in software product engineering, mainly in developing applications. To address the current market requirements and help enterprises realize their goals, such as rapid application development, faster time-to-market, frequent releases, and lower project costs, the product and operations team (DevOps) need to come and work together. What is DevOps and how can it/ they bring a difference in Cloud Development?
Cloud Development Leveraging DevOps
DevOps, a popular agile IT methodology for software product engineering, brings software development (Dev) and IT operations (Ops). The objective is to reduce the software development life cycle and deliver premium software quality at high velocity by empowering product engineering services providers to adapt to the dynamic business challenges and requirements. In simple words, DevOps can expedite the software development and remove the latency that has stifled the development for years. The liaison between Cloud computing and DevOps is established on the following:-
Cloud computing employs usage-based accounting and calculates the utilization of resources by product engineers, applications, users, etc. When combined with the Cloud, DevOps reduces the need to keep a tab on the resources leveraged. On the other hand, traditional infrastructure is not well-equipped to keep resource utilization. When using Cloud-based tools, one can easily calculate, track, and monitor the cost of development services and make changes as per the requirements.
The Cloud infrastructure offers DevOps a centralized and smooth environment for product development, testing, and deployment. Embracing the Cloud platform has resolved many challenges associated with distributed systems (water-fall method) in the past.
DevOps automation is on the verge of becoming Cloud-centric. Today, many Cloud computing service providers include DevOps on their platforms.
What is Driving Enterprises to Use Cloud-based DevOps?
The key reason that drives product engineering services companies to opt for Cloud DevOps is the strong potential of Cloud infrastructure to increase scalability. Using Cloud infrastructure, product engineers can bypass physical hardware constraints and work from any remote location at their discretion. Moreover, opting for DevOps Cloud services also reduces the shortcomings like downtime, enabling product engineering services providers to develop state-of-the-art applications tailored to customer requirements.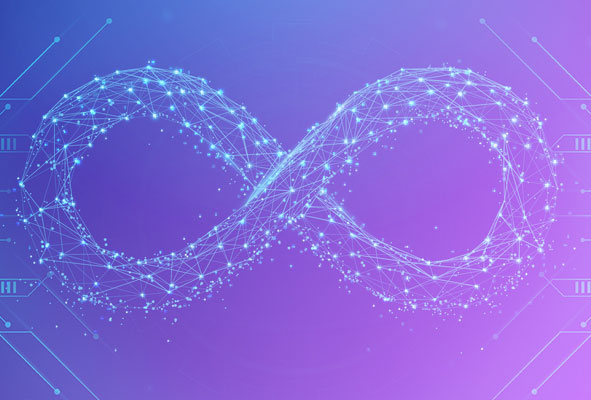 DevOps and Cloud Computing Leading from the Front
DevOps when combined with the Cloud can prove to be a boon for enterprises than they individually can. Together, they can speed up and streamline software development, testing, and deployment. Of late, many business heads and CTOs are planning to embrace Cloud devops automation to overcome the shortcomings that stifled their business growth and opportunities. However, to make the most of DevOps and Cloud tryst, enterprises need to dive deeper or may seek help from our experienced professionals.
Connect With Us:
We engineer software products, create new digital experiences, modernize applications, and automate business processes for greater agility and business growth. Our core offerings span around custom software development and product engineering, digital transformation solutions, enterprise modernization, new-age technologies, data analytics and management, and Salesforce.