The first challenge in a website development project is choosing the Content Management System platform. A CMS platform is an application or software that offers ready-to-integrate modules for creating, editing, and publishing content. If chosen not to employ a CMS, significant project time would be channeled just for coding.
There are more than 15 popular CMS platforms available to choose from, with different capabilities and limitations. Though most of them have co-evolved to meet all the user-needs, still some of them are more suitable for one kind of project over others. Before beginning to analyze which CMS will be the best option, let's list down what are the features in a CMS that you should be looking for.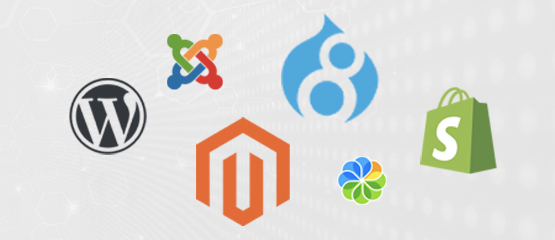 What are the CMS features that matter?
User-Friendly
Since the sole objective of employing a CMS is to simplify the website or enterprise content management, unless the platform is user-friendly the whole purpose of purchasing a CMS product would be defeated. Hence the CMS should have easy to understand structure, drag and drop interface, tips and tutorials for each option, and comprehensive documentation.
Customizable
Probably this is the most obvious characteristic of a CMS that makes it applicable for a wide range of projects. Website design is what impresses users the most and establishes brand identity. Hence, a CMS platform would be a good investment if it offers a variety of design elements, navigation options, and themes that can be customized as per the requirement.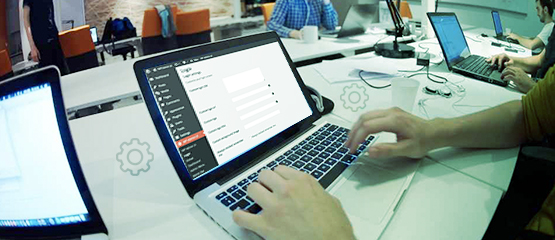 Data Portability
While it seems convenient to keep sticking to a given CMS platform forever. It is hardly the case. As new products arrive with enhanced capabilities, it is only logical to migrate to the latest platform. Hence, the CMS should support data migration both ways— from old technology and to new technology.
Extensions and Add-ons
Usually, the CMS platforms are designed to target a set of use-cases. Beyond those, capabilities can be enhanced or altered through the integration of extensions and add-ons. Therefore, a CMS would be a good investment if it offers a variety of integration-ready apps so that the website can evolve and communicate with other software.
User Support
It is not uncommon to get stuck in a feature development or migration task. Therefore, a CMS that has extensive user-support, thriving community, and detailed documentation would help developers in accelerating development. Moreover, user-support comes quite handy when CMS gets a scheduled upgrade.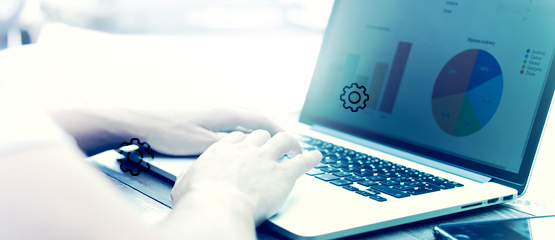 Which CMS platform to go with?
Here, we have listed down key differences (and similarities) between our four top picks– Shopify, Drupal, Magento, and WordPress. This can help you in shortlisting the CMS framework for your project, under available tech-stack and development resources.
Features
Shopify
WordPress
Magento
Drupal
% of CMS share*
2.76
36
28
2.8
Popular for
eCommerce sites
Blog, business websites
eCommerce sites
Academic sites, data-heavy sites
Coding skill required
+++
Need to hire Shopify CMS web designer
++
User-friendly block editor
++++
Need to hire professional developer
++++
Need to hire professional developer
Plugin/Add-ons

? ?


Many Shopify apps available

? ? ? ?


Thousands of Paid/Free plugins

? ? ? ?


Hundreds of third-party extensions

? ? ?


Hundreds of modules available
Ease of Customization

? ? ?


Fairly easy

? ? ? ?


Very Easy

? ? ?


Fairly easy

? ? ?


Fairly easy
SEO-friendly

? ? ?


SEO-friendly but demands Shopify SEO expert

? ? ? ?


SEO-friendly URLs, categories, and tags

? ? ? ?


Advanced SEO options available in enterprise edition

? ? ?


SEO module implementation is required
Support/Community

? ? ?


24×7 support

? ? ? ?


Open-source CMS

? ? ? ?


Open-source & Commerce version

? ? ? ?


Open-source CMS
Data Portability

? ? ?


Easy data portability but requires Shopify development company

? ? ? ?


Content can be easily migrated to any CMS

? ? ?


Content can be migrated to any CMS but needs professional help

? ? ?


Content can be migrated to any CMS but needs professional help
Cost of running
$$
$
$$$
$
Scalability

? ? ?

? ? ? ?

? ? ? ?

? ? ? ?

Challenges
1. For best use of CMS, you need to hire Shopify web designer
2. Third-party apps may increase cost if custom development or implementation is required
1. eCommerce site development needs many integrations
2. Security & backup needs to be managed
3. Frequent updates leading to compatibility issue with 3rd party plugins
1. Complex set-up requires specialized resources for development
2. Expensive commercial plans
3. Requires third-party hosting
1.Limited number of free high-quality designs
2. Need to hire professional developers
3. Complicated interface
4. Higher hosting fee
* Percentage among the websites whose CMS is known. Data available in public domain 2017-2019
Summing Up
The choice of the CMS platform, as mentioned earlier, will depend on your project scope, scale, and budget along with the availability of tech-talent. No single platform is an all-solution and almost all four can be customized for any type of CMS model. It is just that a platform would require more customization than others.