In today's digital realm, where there is increasing competition among industry peers to offer fast-paced services to customers, you can't rely on manual processes anymore. To minimize reliance on manual processes, you must build new processes with the help of a Robotic Process Automation (RPA) tool like Blue Prism.
Blue Prism offers you a built-in set of libraries and runtime environments to build automation workflows. By employing Blue Prism for your on-premise/Cloud solution, you can automate manual workflows, customize processes, and harness the full potential of your talent.
Blue Prism RPA and Current Automation Trends
While there are several RPA vendors in the market, the top trending ones lately have been UI Path, Blue Prism, and Automation Anywhere. Let's have a look at the below graph to understand how these tools are searched on Google as of 2022.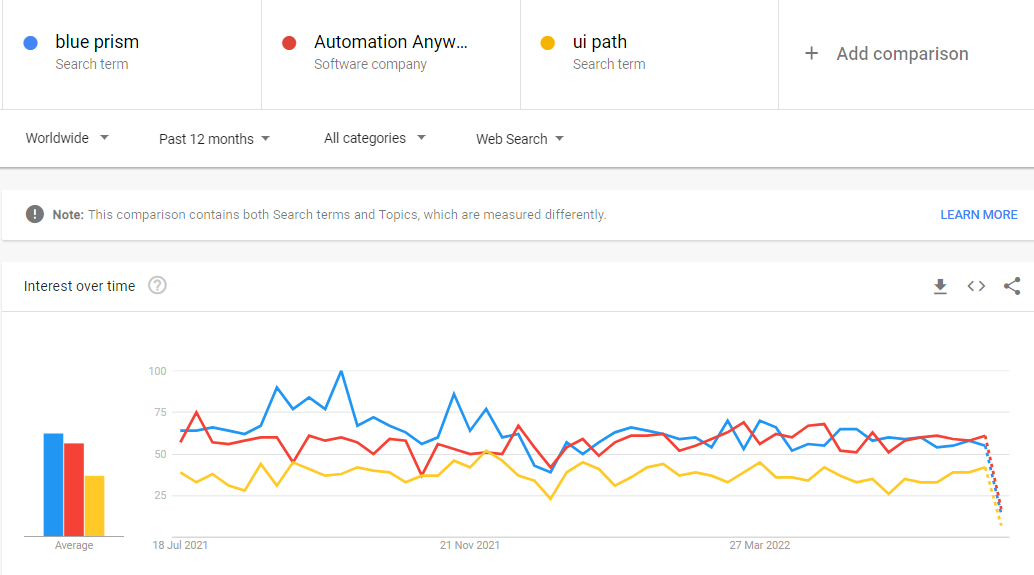 Comparison between Blue Prism and other RPA tools
As you can see from the above trend, Blue Prism is ahead of both UI Path and Automation Anywhere on an annual basis. While both UI Path and Automation Anywhere facilitate front-end/back-end automation and simplify workflow designing, the high integration/scalability support and strong security, abstraction, and analytics features of Blue Prism make it a more preferable choice compared to the other two solutions.
Having discussed the current trend of RPA tools, let's understand Blue Prism more comprehensively.
Blue Prism and its Components
Blue Prism is a Java-powered software (written in C#) and offers a visual designer with drag-drop functionalities that allow teams to customize the processes as they want. The solution has 3 building blocks, let's discuss these components one by one.
a) Object Studio
Object Studio is a design component in Blue Prism and is used by professionals for creating reusable objects for business processes. By leveraging a massive library of elements, you can create the right operative models for your application.
b) Process Studio
The objects you designed in the Object Studio are sequenced and tested in the Process Studio. Process flows are sequenced and tested here using business logic, loops, variables, and object calls.
c) Control Room
Control Room enables Blue Prism administrators to schedule, review, and control process activities and runtime resources. Using this interface, you can automate schedule (start/stop), manage resource assignment, information flow, and other manual/automated activities.
Features of Blue Prism
Blue Prism RPA offers various functionalities that help businesses bridge gaps in manual processes and ensure seamless automation. Let's have a look at some of the main functionalities below:

Work Queues: Blue Prism dynamically controls the bots functioning in a queue. You can control the number of robots you wish to assign to function in the queue.
Digital Exchange: Blue Prism Digital Exchange arranges an ecosystem where you get direct access to pre-built solutions and functions through a web API. You can drag-drop components and eliminate coding hassles.
Dependency Tracking: With Blue Prism RPA, you get a visual representation of the design process. You can track how a component is mapped in the process and take corrective actions.
Browser Support: With Blue Prism V6.4 extension, you get native support to automate web pages and apps in both Chrome and Firefox browsers.
API Integration: The Blue Prism Cloud can be integrated with various Cloud and on-premise platforms. You can integrate it with Google, Amazon Web Services, IBM, Microsoft, and many other cloud platforms.
Reporting and Analytics:The RPA solution leverages Machine Learning and Business Intelligence reporting to identify real-time analytics and statistics of each step in the process.
Blue Prism Pros and Cons
Like every coin has two sides, an automation tool also has various pros and cons. Let's discuss the main advantages of Blue Prism first and then we will move on to the few limitations of Blue Prism RPA technology.
Pros of Blue Prism
a) Increased Productivity
Blue Prism's automation workflows allow users to shorten work cycles and limit manual dependency. Since the smallest of the tasks can be automated with Blue Prism, you can allocate resources for high-value tasks like customer engagement, compliance, and security
b) Higher Scalability
Higher scalability is one of the main advantages of Blue Prism. Since it uses pre-built components and libraries, you don't need to code programs. Once you have configured the solution, it can be scaled at the push of a button. Besides this, Blue Prism has the integration ability with almost every on-premise and Cloud solution — a capability only a few RPA tools offer you.
c) Secured System
Apart from built-in security features (multi-factor authentication, firewalls, user access control, audits, etc,.), the software also integrates with apps that store and secure authorization credentials within the system.
Cons of Blue Prism
a) Automation in Virtual Machine
You can automate tasks inside the environment Blue Prism is installed in. However, it can not automate everything within a virtual machine like Citrix. While this can be done by surface automation, it requires highly experienced Blue Prism developers, which may be difficult to find.
b) No Free Edition
Blue Prism does not offer a free community edition. However, it does offer a 180-day free Blue Prism Learning Edition. This is a free version of Blue Prism and is available to anyone with a Blue Prism Digital Exchange Account.
Bottomline
From low-code development, bot development, automated control, AI-ML-powered analytics, and on-premise/Cloud support, Blue Prism Robotic Process Automation software offers many capabilities that are missing in other RPA solutions. While there are a few limitations with Blue Prism, this should not discourage firms from exploring the massive feature capabilities of the solution.