The competition between software businesses has greatly intensified, and this has led to the need of enhanced customer experience. The strategy, development methodologies, process optimization in product development was never more impo'rtant than now. Adopting an agile and flexible product engineering framework for developing a robust and reliable product has become extremely important for product development companies.
At Damco Solutions, our experts work with a well-defined custom approach and a set of methodologies that have helped organizations to create expansible technology products and stimulate business agility. With over 1000 man years of engineering software products and a stellar record of over 120 successful engagements, delivering value, inducing predictability in cost and time estimates, and ensuring collaboration in geographically distributed teams has become a part of our DNA. Our approach to common business problems is what makes us different from other.
Outlined below are some of the common business challenges from our perspective.

To overcome the aforementioned challenges and transform the innovative ideas into exciting market realities, our Strategy & Consulting Team carries out a detailed analysis of the product idea. This study includes researching products/solutions of competitors, target segments and identifying end user personas, and so on. This provides us enough data to present the best possible solution approaches to our clients. Without waiting for the reports, we utilize this period to set-up project environment, defining the way of working, dependencies and executing POCs.
On having reached to a point of mutual agreement and after gaining absolute clarity about various aspects of the project, we identify a clear roadmap which everyone has to follow till we revisit the same.
Here is the visual representation of our product development approach: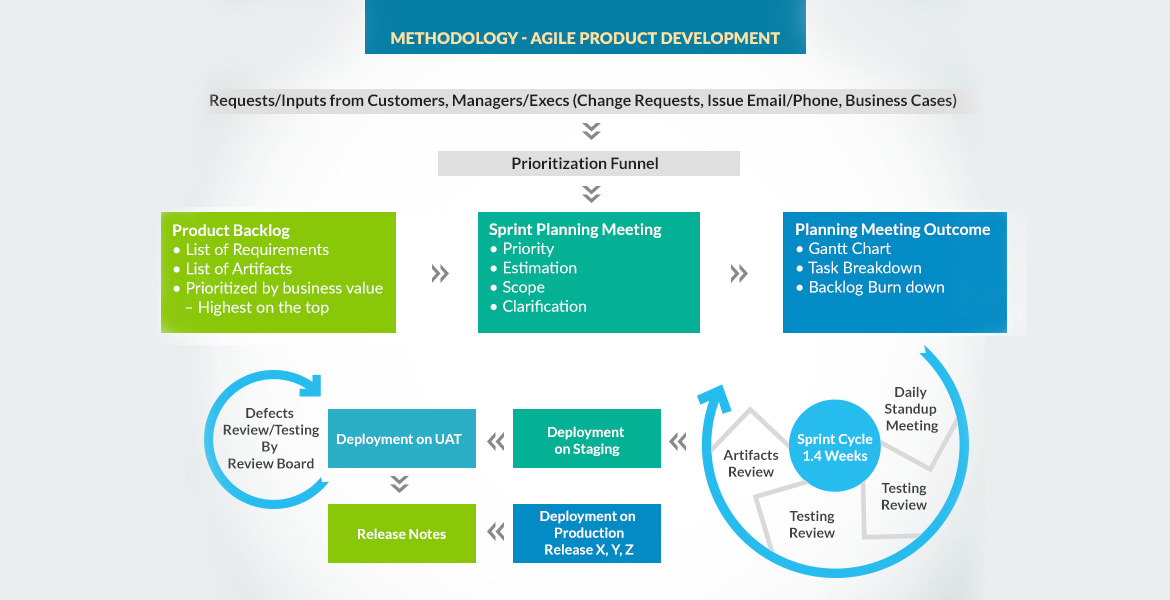 To bring predictability in cost and time estimates we religiously follow the below mentioned Agile Practices. This ensures seamless communication, transparency and trust building.
Sprint planning
Daily standups and Local standups
Regular co-locations
Mind sprint demos and sprint demos
Direct access to code repositories
Joint retrospectives
Communication planning
We aim for faster development and superior finished products with unwavering focus on our clients' success. Below are some of the key facts about our software development services.
Track Record
100% reference-able client base. 20+ years of experience. No client loss due to non-performance.
Superior Domain and Technology Competency
Damco's deep domain expertise and rich knowledge in varied technologies provide adequate support to global companies as they embark on technology transformation programs and enables faster development and rollouts.
R&D and Innovation Focus
Our focus on R&D and innovation support for product engineering facilitates the development of innovative solutions through global R&D collaborations.
Reduced Costs
Enterprises can minimize their total cost of ownership (TCO) with our portfolio of product engineering services covering all stages of product lifecycle management. To further minimize cost and unnecessary overhead expenditure, we encourage onsite delegation of our experts that not only saves cost for the customers, but also ensures faster results.
Global Delivery Capabilities
Our delivery framework addresses the finer nuances of product development and support offshoring, and can be customized to suit the client's requirements and organizational processes. We serve 24*7 and with our 5 global offices we are never away from our customers.
Product Service Centric Model
Our flexible engagement models focus on reusability, continuous improvement, and operational efficiency—leading to lower cost.
Specialized Services
We have an in-depth understanding of the entire cycle of conceptualization through go-to-market, and further. Our specialized services help you to perform market research, branding and product launch strategy.
Click Here to know more about our product engineering services and how we've helped global businesses from different verticals transform their ideas into market realities.