Software development is complex. Technologies, markets, and economies keep evolving and as a software product leader, you are under constant pressure of customer experience and innovation. With the goal of developing a high-quality product focused on customer delight, you also have to make sure that things remain cost-effective and your team and processes are flexible and nimble.
We've dug deep into insights with the foundation of our two decades of multi-dimensional experience in software development bringing insights to improve the success of your software development projects. In this report, we will learn about the features of inhouse and outsourced software development, an overview of product development methodologies, and best practices to adopt.
There are important details with every software product that can cause huge difference in the way the software is developed, and the development process cannot be fitted into a template that satisfies all requirements. To address to your specific software development concerns and questions, you also get a complimentary and non-obligatory in-person consultation with our experts. You can discuss any of the topic you wish from development methodologies, process automation, efficient prioritization to delivery timeline management.
Setting up the battleground – Inhouse Or Outsourced Software Development
Before we jump into the nitty-gritty of the development process, technologies, best practices and beyond, let's just talk about something that matters the most; choosing between developing the product inhouse or going outhouse to the experts for help. Here's a set of insights that'll help you decide.
Businesses tend to outsource their software development due to the lower wages and improved skill set in other parts of the world. Globalization has caused a lot of organizations to constantly improve their competitive edge. Outsourcing will help you reduce your internal costs while allowing your team to focus on their core competencies.
Software outsourcing done with the right partner is a good software development approach considering the advantages of it. With outsourcing, the challenges related to your inhouse technical capability, talent pool, and process management fade away. Additionally, you get the benefits of speed to market, flexibility, domain experience and industry best practices.
Apart from lower costs, there are other things businesses should consider before making a move outwards. Access to innovation and latest technologies, improved practices and skill sets, and decreased time-to-market are the important factors your decision must be based upon.
This table compares outhouse and inhouse options on various fronts.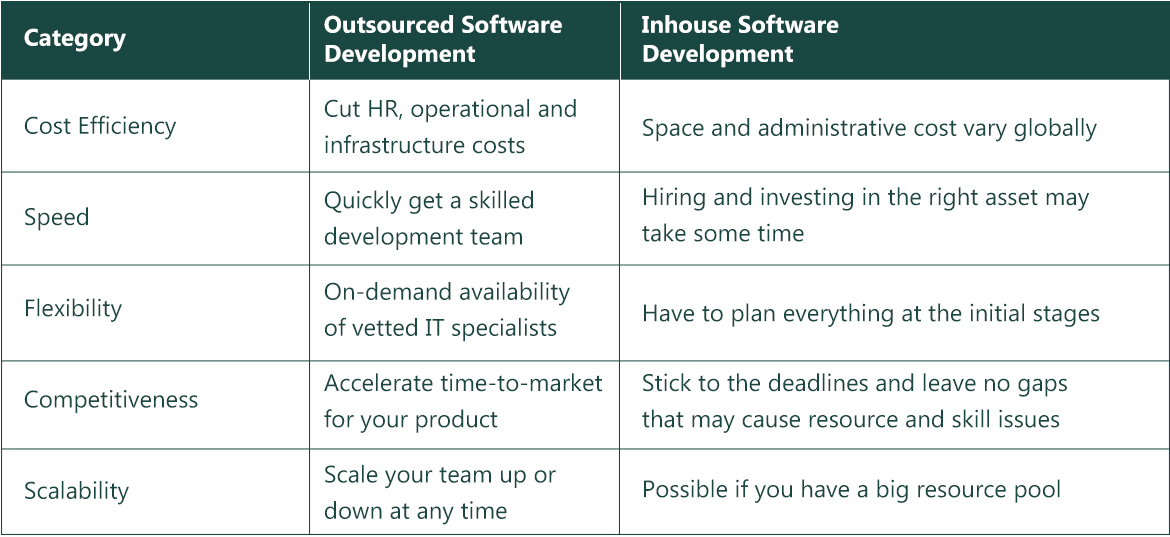 Definitely outsourcing software development has an edge and it majorly depends on the partner you choose. If you are planning to outsource your software development, you must be fully aware of the background and capabilities of your software development partner because experience matters.
Development Methodology – Agile Or Lean, What Favors Your Goal?
This now brings us to deciding the methodology for your software development. With the corporate world growing more and more competitive, organizations are looking into revamping their business and production processes. In the search for the best one, organizations miss on the basic things and get lost in figuring out development philosophies and buzz words. Lean, agile – how are these two development practices different from each other?
Agile and Lean are sometimes presented as the two sides of the same coin which are interchangeable.
Agile Manifesto, published a few years back, gave rise to the Agile Methodology and its principles that became popular with companies who wanted to shift their focus from merely creating a software to satisfying clients' needs in the fastest possible way.

Lean, which shares many of the principles of Agile, originated from Lean Manufacturing. Focusing on delivering a high-quality product quickly, Lean looks to shed anything that would be wasteful when it comes to operational efficiency.
This management style proves real handy when it comes to repetitive tasks, and this points back to its initial manufacturing background. Eliminating waste in software development means eliminating unnecessary telecons and meetings, efforts, tasks, documentation, and others. Lean argues that we only work on the things we need immediately and discard all that does not add value to the current requirement.

Which is right for you?
Don't believe false claims that agile is better for you or lean is cooler than agile. Both are more or less similar, but which is right for you and your end user greatly depends on the business goal, like, what is it that you must deliver – and limitations like budget, staff background, resources, and deadlines.
This analysis must have cleared the cloud around the choice of methodology for your software. In case you are still not sure, you can discuss this with our expert during the in-person consultation.
Product Development best practices – Make The Most Of Your SDLC
From yearly releases to constant updates, software delivery has come a long way. Building cutting-edge software at an increasingly fast pace is the need of the hour. Software Development practices ensure you reach your delivery goal, faster and in good shape.
DevOps : In order to help you build, test, release, and deploy applications faster and perfectly, DevOps automate the processes between software development and other IT teams. The recognized benefits of DevOps include increased trust, swifter releases, increasing ability to solve critical issues quickly, and better manage unplanned work. In a DevOps model, engineers support software and QA teams with their development needs. Businesses focus on 5 aspects of DevOps to excel in this area – uninterrupted integration and delivery, automated quality assurance and testing, instant access to IT infrastructure, machine-driven performance management, and infrastructure that's scalable.
Quality automation and test-driven development: Write cutting-edge codes that meet business and end-user requirements. Code that can be implemented swiftly by automating the testing process and subtly integrated into the development process. Automation of testing is important to ensure the quality of code in critical areas, especially for regression tests. In this scenario, test cases pertaining to end-user needs are written first and then applied instantly to test the program.
Architecture based on APIs: For decades tech businesses have suffered from building and managing critically long codes. To make the lives easier for the coders and prevent businesses suffer because of messy codes, APIs based architecture was introduced and since it has proved to be a real lifesaver. APIs have become a foundational technology for the development of robust and scalable enterprise applications. APIs cater an extensile framework of building blocks that can be used to create rich applications.
Software analysis platform to measure productivity and quality: Whatever the definition, it is true that quality is something we all aspire to integrate in our processes. With "complexity points" serving as one of the rising standards for evaluating software productivity and quality, once considered impossible, measuring your software's quality is becoming a common trend with tech businesses.
Setting up process trackers, quality systems, and software analysis platform can help you measure the productivity of your development teams, measure the structural quality of your business-critical systems, or prevent software risk from leading to major outages or data corruption. A software analysis platform must provide meaningful, business relevant analytics and must also have high-resolution capabilities, to find the little glitch that could damage your development process or the end result.
Conclusion
CIOs and CTOs are under constant pressures of supporting emerging technologies and stay under budget. A well thought of software development approach becomes highly crucial for supporting the whole process and innovation in such scenarios. Considerations discussed such as the decision of inhouse or outsourced development, a farsighted development roadmap, and adoption of best practices in product development and management can help in making wise and informed decisions.
When it comes to execution, efficient prioritization, proactive communication throughout the process and across the teams, continuous delivery & integration, fast iterations, and automation of all manual tasks are definitely the keys to developing software in a timely manner. We look forward to further discussing with you.