Artificial Intelligence (AI) is endorsing a paradigm shift in the industry today. It sure has been a while since AI's outset, but it was only recently that people have started to realize its importance in their everyday day lives. For instance:
Siri on iphone using voice recognition
Autocomplete search queries in Google
Automatic tagging of Photos on Facebook using image recognition
Getting a personalized recommendation on Amazon based on your browsing/purchase history using machine learning algorithms
All examples of AI that we see in our daily lives. And similar to cloud computing, social networking and mobile smartphones in the past, AI is changing the way we work.
What is AI?
AI is often represented by various terms: machine learning, deep learning, natural language processing, predictive analytics, etc. All of them point to a future in which our systems are smart enough to learn from our interactions. They not only to help us with what we ask, but also anticipate our needs, take care of mundane tasks and remind us of important ones.
The idea behind AI is this: Start with a data model, feed it lots of data, and let it learn. The more data the machine processes, and the more computing power it has, the smarter it gets.
Why do we need AI in our Business?
AI is already transforming customers' expectations. The customer who uses Uber, Google, and Amazon in their everyday life have grown accustomed to seeing only the relevant information personalized for them so that it meets their exact needs.
The same principle applies to our business. The customers know we have their data and they expect us to use it to provide faster, smarter, and more personalized engagement across every interaction. Businesses are finding countless ways to infuse AI into everything from their customer experiences to their internal operations.
Using AI, all lines of business can perform better. For example, Sales will be able to focus on spending more effort on the best leads and better anticipate the outcome of opportunities. Customer service teams will be able to provide a much better service, by proactively addressing FAQs for customers before they become service cases. Marketing will be able to predict customer purchasing patterns based on their past history, and personalize customer experiences like never before. IT can embed intelligence everywhere, creating smarter apps for employees and customers. Retailers can drive more revenue with AI-powered insights that provide consumers with personalized shopping experiences.
What is Salesforce Einstein?
Salesforce Einstein is artificial intelligence (AI) built into the Salesforce Platform. This layer of AI provides predictions and recommendations based on your business processes and customer data. These predictions help you perform your work better by automating your actions and responses, saves your employees valuable time by making them more productive and ultimately, makes your customers happier. Salespeople benefits from AI in two ways:
Data is automatically captured through different sources like emails, saving your employees valuable time from manual data entry. For example, a feature called Automated Activity Capture automatically logs call, emails and chats in Salesforce so that sales people won't have to waste time in manually keeping customer interaction records up to date.
It provides insights, recommends next best actions and predicts outcomes that help sales reps to focus on most promising leads and opportunities. It also provides the logical reasoning behind its predictions for your reference.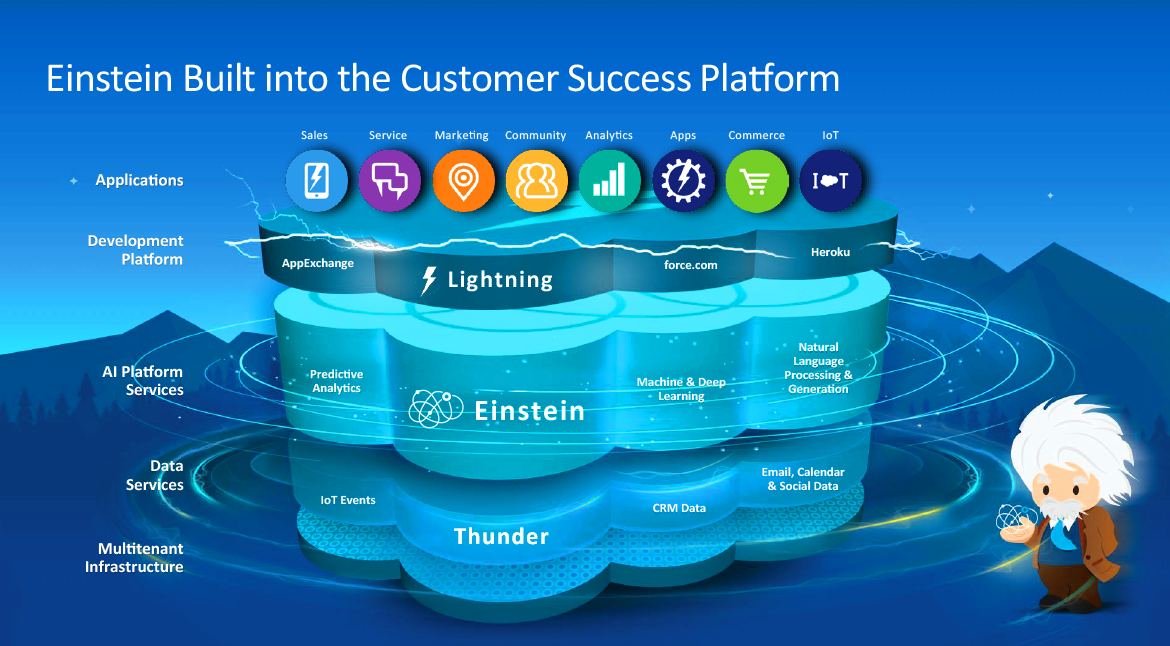 Sales Cloud Einstein
It is imperative for sales reps to plan their day to be able to focus on converting most leads and closing more opportunities. To accomplish this, Sales Cloud Einstein provides some important capabilities.
Einstein Lead Scoring: Salesforce automatically scores your leads to define which leads have the highest probability of converting. It also provides a reasoning behind those scores to help understand what's driving the best leads. Therefore, it helps sales reps to prioritize their day better by determining which leads to focus on first.
Einstein Account and Opportunity Insights: Salesforce provides informative details on customer sentiments, overall prospect engagement and competitor involvement, to help understand the likelihood of a deal to get closed. It also suggests the next best action to take based on positive and negative insights to increase the probability of closing an opportunity. It also provides key insights on an account from the latest news, company growth etc. helping sales reps stay ahead in their business.
Einstein Automated Activity and Contacts Capture: This feature brings the power of CRM to email. It eliminates manual data entry by automatically logging calls, emails and chats, thus saving a tremendous amount of time, and increase sales reps productivity. It also uses email and event activity to identify new contacts and adds them to Salesforce, again helping sales reps to minimize manual data entry and become more productive.
Marketing Cloud Einstein
In today's world, it is more important than ever to understand your customers better to be able to run personalized campaigns for them. Marketers need to know the best time to engage with a client, which channels to engage through were customer spends the most time, and how to deliver the right content to them.
Einstein recommends the best product, content, or offer for each customer. Using machine learning, it also scores each individual's likelihood to open, click, or unsubscribe from an email and convert to your website.
Community Cloud Einstein
Einstein helps provide a better customer experience by recommending the best files, records, and groups to follow based on the customer's browsing history and social graph on Chatter. It also helps discover other community members with similar interests to get connected quickly. Thanks to an intelligent activity feed, it keeps members engaged by identifying and promoting popular content and ensuring that important posts and hot-button conversations are seen.
Damco and Salesforce
A global partner of Salesforce.com, Damco has more than 400 person years of experience in delivering successful Salesforce projects. We have a dedicated Salesforce Centre of Excellence consisting of best in class technical and functional SMEs, located globally who can work with you to help accomplish your Salesforce related business goals.
Owning a notable record of Delivering Success with Salesforce for different business verticals such as Insurance, Healthcare, Retail, Ecommerce, and more; we boast of substantial experience of driving customer success through a fully customized Salesforce Solution. Some of our differentiators include:
Salesforce global partner with a successful track record in delivering complex Salesforce.com projects including Business and Process Consulting, Implementation, Customization, Migration, Integration, Support and Maintenance.
Certified Salesforce professionals skilled in managing complex integrations using REST, SOAP, Metadata APIs, and various ETL tools. They hold multiple Salesforce certification credentials – App Builder, Platform Developer, Administrator, and Sales Cloud Consultant to name a few.
Strong implementation experience with Sales Cloud, Service Cloud, Marketing Cloud, Communities Cloud, Pardot Integration, Marketing Automation, and Analytics.
Two decades of experience in executing global projects & resource availability in USA, UK, Luxembourg, Australia, and India.
Offers a combination of onshore-offshore delivery to cut delivery costs without compromising the quality.
Commitment to quality and established engineering processes: ISO 9001:2008 and CMMi.
Strong domain expertise across multiple industries and technology sectors, including Cloud and Social Networking.