Efficient customer service is pivotal to the success of every business. In the hyper-connected world of today, customers have the power to define the success of your business. They can visit your website when they need help or just tag you on Twitter, or write an email to you. How efficiently you are able to serve your customers at the moment when they need it defines whether they'll come back to your brand.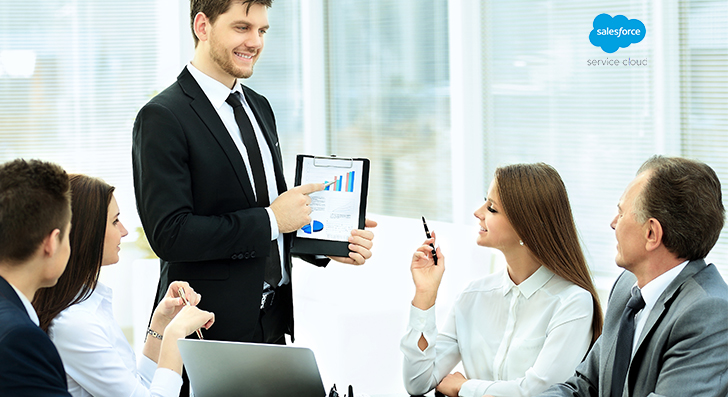 It is important that your customer service team is empowered to support customers 24/7. Salesforce Service Cloud allows brands to keep their customer experience personalized and deliver an omnichannel experience by reaching customers across multiple channels.
Significance of Having Robust Customer Service Operations
Good customer service is a reflection of the reliability of a brand. Here are the important reasons why your business needs to have exceptional customer service:

Boosts Customer Retention
When customers are satisfied with your services, they stay loyal to your brand. Thus, investing in customer service boosts customer retention. Repeat customers are also likely to spend more with your brand leading to an increase in profitability.
Portrays Your Brand Image
Good customer service creates a positive brand image. Customers connect with you via your customer service team. When your team is unable to support your customers efficiently, it shows your brand in a negative light.
Leads to More Revenue
Customers are influenced by your brand experience. Any positive or negative experience becomes a determining factor for them to choose your services or go to your competitors. Exceptional experiences that save a customer's time and resolve their issues are very important for customers. They are even willing to pay more to companies that are ready to provide them with such experiences. This results in increased revenue for companies.
Brings in New Customers
When customers have a positive experience with a brand, they share it with others. Thus, your customers are your real brand advocates and when they are satisfied with your services, they bring in more customers for you.
These days, a lot of companies are implementing Salesforce Service Cloud for streamlining their customer service operations. However, to get started with it, it is vital to consider your unique customer service requirements and incorporate the features that are important to you. This will help you make the most of the platform and derive maximum business benefits.
Vital Factors to Consider To Successfully Implement Salesforce Service Cloud
Ways to Make the Most of Salesforce Service Cloud
Salesforce Service Cloud is a CRM platform designed for customer service and support. It allows customer service teams to automate processes, resolve cases faster, and increase the efficiency of a team with service analytics. Businesses can effectively set up a self-service help center for their customers allowing them access to easy-to-use systems for purposes like making bill payments, appointment booking, and checking account balances. With its Field Service Solution, you can boost the efficiency of your field agents and improve their services using remote support, mobile integration, and AI-driven onsite technical support.
Service Cloud further improves agent efficiency by aggregating customer service inquiries across distinct communication channels like email, social media, and phone into a single set of tickets. These tickets are then automatically delivered to the right agent depending on the priority of the ticket and the expertise area of the agent. Along with helping agents, With Salesforce Service Cloud implementation, you can get access to an AI-powered Knowledge Base that offers customers self-guided assistance. This further decreases the workload of the customer service team, allowing them to concentrate on important cases.
To get the most out of Salesforce Service Cloud, you need to employ some best practices. Let's understand some important ways to derive maximum benefits from the platform:

Go for Strong Integration
The greatest strength of the Service Cloud is integration. Features like FAQ pages, forums, and knowledge bases that help save customers time also convey vital data back to the sales and service teams in your CRM platform. To stay competitive, companies require cloud-based customer service software that can easily integrate with their CRM and other platforms. The one-touch feature that is built into products assists customers in instantly triggering a case from their products.
Concentrate on Experience
The quality of services provided by a business is an important component of customer satisfaction. By making problem-solving easier for customers, Service Cloud helps businesses in attaining higher customer satisfaction levels. Customers of today expect easy and quick service as a part of their experience with a brand. They want a service experience that does all that they need and meets them on whatever device they are on at any time. Service Cloud with its Live Agent feature ensures that the demands of customers are met easily in real-time.
A Comprehensive Guide to the Features and Benefits of Salesforce Service Cloud
Be Social
Service Cloud is equipped with social integration that helps create cases on the basis of social media posts and connects public complaints with foolproof solutions in real-time. Social Studio allows you to listen to and analyze conversations on social media, and use it proactively to discover customers who are asking questions. You can shortlist the common concerns and questions and develop articles for your website blog, and also within the Knowledge Base. Being proactive also allows you to further decrease average case volume and case time.
Provide a Comprehensive Solution
Salesforce Service Cloud authorizes your agents to become an extensive source of resources and information about your company. Lightning Console allows agents to make the most of their time and your company is able to offer an exceptional customer experience with the help of an integrated customer service platform.
Dream Big
You can employ the Service Cloud details for generating actions that deliver results. Use the powerful task streamlining and integration capabilities of the platform to impact change in your industry and community, while creating a top-notch customer experience.
Summing Up
Service Cloud offers a great set of data and tools at your fingertips and is one of the most efficient customer service management software. The biggest strength of the software lies in the way the different tools seamlessly integrate and help you understand things better. The wide range of features of the software when used effectively help enhance the efficiency of customer service teams.
Salesforce Service Cloud assists customer service management teams by providing them access to detailed reports on employee performance and predictive analysis to foresee service demand. AI-powered analytics of the platform improves the efficiency of customer service managers by helping them identify the weaknesses and strengths of their agents. This assists the upper management in discovering areas where any improvement or coaching is required.
Case in Focus
A Leading P&C Insurer Improves its Agent Productivity by 40% By Implementing Salesforce Financial Service Cloud
The client is one of the largest property and casualty insurance companies operating in the United States since the 1920s. They needed a full-fledged platform for keeping track of agents, agencies, and their customer-facing operations. Damco provided the client with a full-fledged self-service and 360° platform to better track agent-driven operations. The client's pre-existing IT team also experienced increased productivity with enhanced support from Damco through a flexible, robust, and responsive managed service solution. Read more