Data analytics and business intelligence are probably the most penetrated technology practices of this decade. In 2020, when the needs for continuity and resiliency upgraded to urgency – organizations accelerated their application to overall operations.
Irrespective of industry, leaders sought an evidence-based roadmap to steer clear of the pandemic-led market lull. Aggregating and analyzing data aligned their strategy with the new crests and troughs.
In the past year, organizations used business intelligence solutions for enabling long-sighted vision in product innovation, service delivery, financial transactions, customer interaction, risk mitigation, and exploring new revenue sources. The power of information instilled the confidence to react better to events and demonstrate quick wins in the face of adversity.
In 2020, analytics solutions gave all departments and leaders a common language – to focus on business preservation, have a data-driven plan at the place, and keep moving towards the end of the tunnel.
Cultivating Business Intelligence Maturity in a Pandemic World
Though several businesses are admittingly on a conservation-mode when it comes to making new investments in the pandemic times – technology reluctance can push their finish line even further. Since data has taken an omnipresent role in operations, service, delivery, and management – playing an ever-important part in the business – leaders must not defer business intelligence maturity.
We observe that the need of the hour is establishing long-term goals and monitor upcoming analytics trends. This will help businesses in keeping the DA and BI setup relevant for the longer part of its life. Yet, instead of jumping the gun, leaders must first identify business use cases and prioritize goals balancing CapEx and OpEx with ROI.
Upcoming Trends in Data Analytics and Business Intelligence
Below are our top five picks of data analytics and business intelligence trends 2021 that cover the mandates of most industries and departments. With these, we nudge leaders/stakeholders to look beyond the low hanging fruits and build the businesses of tomorrow.

1. AI apps for streamlining DA & BI
Many organizations will begin to operationalize artificial intelligence-powered applications sooner, to reinforce the data and analytics infrastructures. The principal driving force behind this acceleration is the urgency to implement intelligent automation, secure parameters for the virtual workforce, and mitigate the deficit of skilled resources, especially in labor-intensive processes.
2. Bot enabled self-service reporting
When teams are not co-located, collaborating on data – especially the sensitive and restricted one – involves much to and fro through emails. To enable self-service reporting, interactive bots that push and pull reports, in perfect unison with multi-layered accesses, will emerge as the staple technology.
3. Rise of Information as a Service
Information is the new currency. Data savant organizations will support enterprises through information delivery, in a business-friendly format, tailored as per the unique needs of consumers. This will mitigate the speed of technology churn that is a persistent pain-point of larger organizations.
4. Blockchain to improve data and analytics ROI
Chaincodes or smart contracts will be adopted by an increasing number of organizations. With established advantages such as security and compliance adherence, blockchain solutions will improve overall data quality. This should push the ROI bottom line in domains like RegTech and FinTech.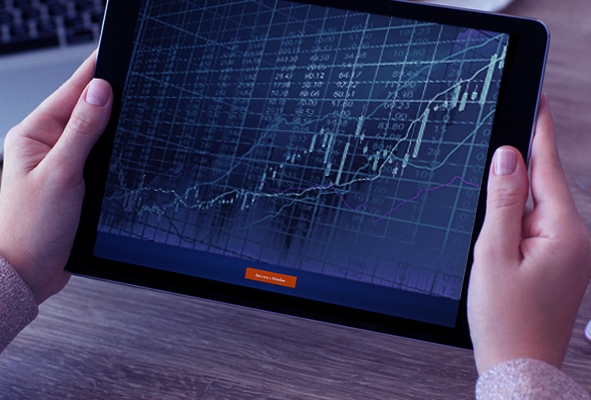 5. Analyzing what is not analyzed yet
Organizations with a higher level of analytics maturity will need new substrates. Hence, 2021 will see the rise of video, audio, text, content, and sentiment-analytics – paving the way for new insights, especially in the realm of consumer experience, media, and AR/VR product companies.
Takeaway
As the world transcends toward the other side of the pandemic – it is important to take bold yet informed decisions. Setting up a robust data analytics and embracing business intelligence services will provide everyone the insights to align their vision, strategy, and goals with that of the organization.
To learn how you can employ data analytics in pursuit of organizational excellence download our 2020 Report on Data Analytics and Business Intelligence. The report is a bite-sized brief for leaders looking to depart from the ordinary, drive business innovation, unlock new revenue streams, and outperform through a strong data foundation.